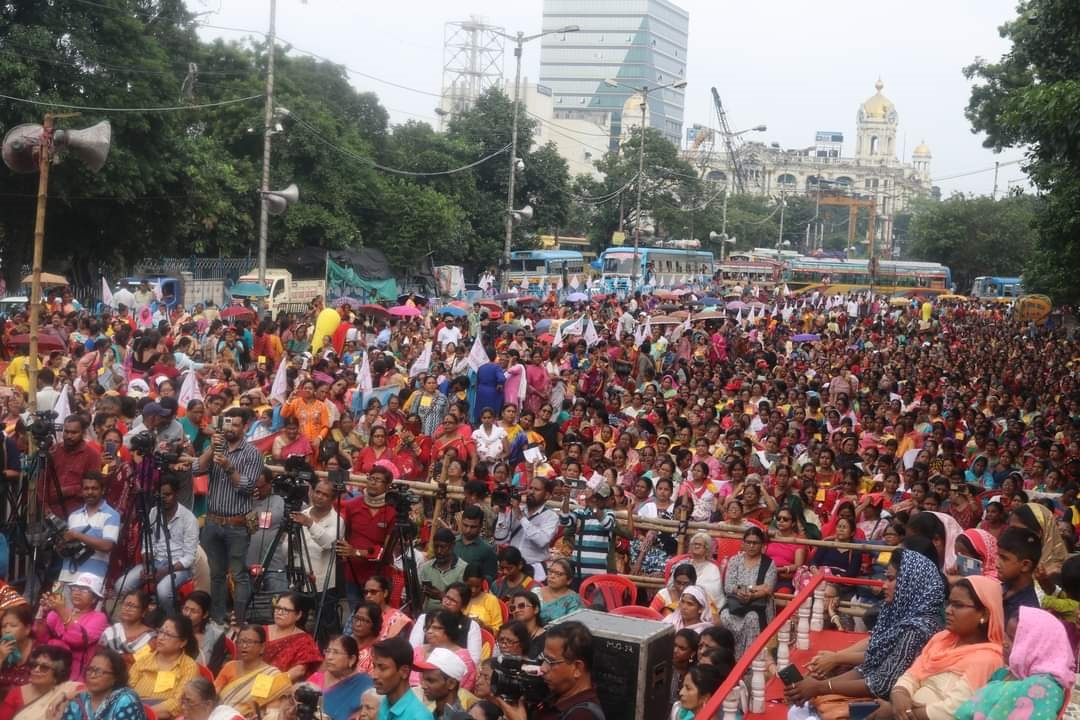 WB: AIDWA Holds Rally of Resistance in Kolkata
Subinoy Moulik
Enable Ginger
Cannot connect to Ginger Check your internet connection
or reload the browserDisable in this text fieldRephraseRephrase current sentenceEdit in Ginger×
THE All India Democratic Women's Association (AIDWA), West Bengal committee organised a mammoth rally against anti-women policies of Modi and Mamata governments at Rani Rashmoni Avenue on September 8 to convey the message of taking forward the spirit of resistance witnessed in the panchayat elections and to protest against the increasing incidents of women's violence. AIDWA patron Brinda Karat, AIDWA president PK Sreemathi and general secretary Mariam Dhawale, West Bengal secretary Kaninika Ghosh joined thousands of AIDWA activists in the rally. State president Jahanara Khan presided over the meeting.
People from different districts of the state came to the rally with vivid memories of panchayat election violence. They were angry. Family members of martyrs Rajibul Haque and Mansoor Alam also came to the meeting. AIDWA pledged to stand by them.
RALLY OF RESISTANCE
Brinda Karat said this meeting was of historic significance. This meeting has brought forward the message that women's rights, emancipation of women are crucial to democracy. The struggle and courage of the sisters of Bengal has set an example in front of the country. A month ago we gave a call to resist BJP's attempts to bulldoze the constitution. The central slogan of the national convention held a month ago in Delhi was "BJP-RSS hatao, Mahila Bachao, Desh Bachao." The convention has given a clarion call for mobilising over 10,000 women for an AIDWA-led national rally in Delhi on October 5, 2023.
Kaninika Ghosh said that we have termed this meeting the resistance rally as it is taking place against the backdrop of this year's panchayat elections in the state which saw Trinamool Congress's assault on democracy. Soma Das, AIDWA state leader was attacked while she was helping our comrades to prepare their nominations, and after a few days, she started campaigning with stitches on her head. Another leader of the state, Nasima Bibi, received severe wounds on her hand, but after a few days, she rejoined the campaign in terror-stricken Pingla, West Medinipur. Police worked together with the Trinamool forces to force the withdrawal of nomination of Sushma Sau from Ghatal, but they failed ultimately. It was evident during the polls how low police officials could stoop to be in the good books of political masters. Policemen acted like TMC-backed criminals wearing police uniforms.
Baisi Maddi, AIDWA state leader, had to go into hiding in Barabani simply to protect her right to contest polls. She couldn't even tell her husband her whereabouts. But Baisi did fight in the polls and made us proud. Rozina Bibi of Murshidabad was shot and even today the bullet has not been taken out, she is our brave soldier. In Raninagar, Ayesha Siddiqui not only won by resisting terror but she has also became an assistant pradhan. This mood of resistance marked the hugely unequal struggle.
PK Sreemathi said AIDWA is committed to achieve democracy, equality and women's emancipation. But where is equality even after 76 years of independence, she asked. It is non-existent because the government does not want to have equality. We are fighting for women's emancipation. But the Modi government is opposed to all progressive ideals. They say that India is nothing but a religious country. They believe in Hindi-Hindu-Hindustan. But ours is a secular country. We have the constitutional right to live together in harmony. What they are doing is like fascism. They are destroying secularism as well as federalism. In Bengal also in the last 12 years our comrades and the women in general are suffering. In several respects Mamata Banerjee's government is a miniature of the Modi government in terms of attitude. The cruelty with which TMC manipulated the panchayat polls is despicable. The chief minister's party did not even allow the opponents to file nominations peacefully, she said.
Mariam Dhawale said under the Modi regime everything is in doldrums. Prices have sky-rocketed. In the last few weeks tomatoes were selling at Rs 150 a kilo in Delhi. This is happening cyclically for almost every vegetable. Maybe it is potato's turn next. Many poor people are having to remain half-starved. Small manufacturing units are ruthlessly retrenching employees. Hospitals are running without adequate numbers of doctors and nurses. Schools and colleges are functioning without sufficient teaching and non-teaching staff. Employee strength has drastically gone down in banks, railways and the insurance sector. Government posts are lying vacant but no recruitment is happening. If there are no jobs, how can the kitchen be run, she asked. So women have taken to the streets in huge numbers and are holding protest rallies all over the country.
Leader of the women's movement Deblina Hembram also addressed the gathering congratulating the activists.
Enable GingerCannot connect to Ginger Check your internet connection
or reload the browserDisable in this text fieldRephraseRephrase current sentenceEdit in Ginger×
Enable GingerCannot connect to Ginger Check your internet connection
or reload the browserDisable in this text fieldRephraseRephrase current sentenceEdit in Ginger×