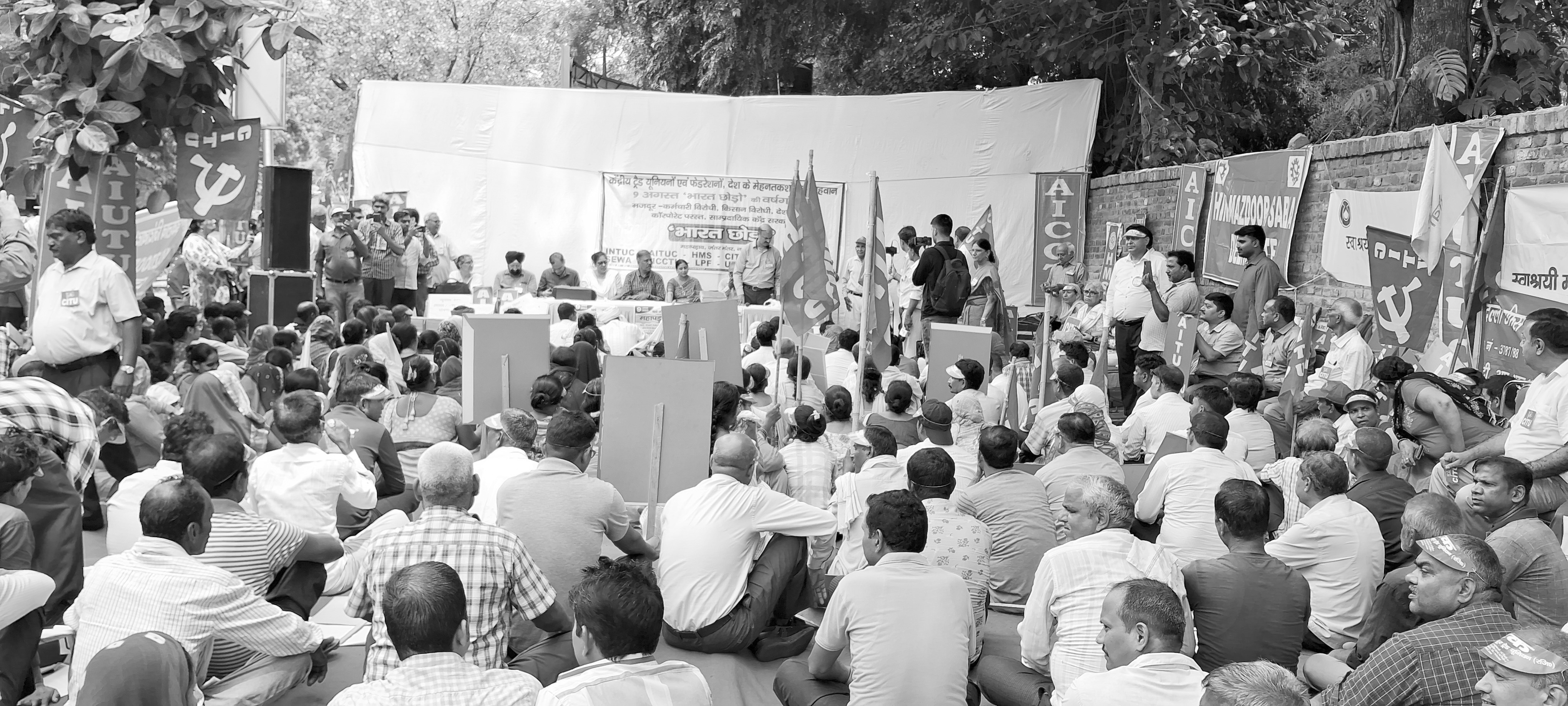 CTUs Observe Quit India Day
Enable Ginger
Cannot connect to Ginger Check your internet connection
or reload the browserDisable in this text fieldRephraseRephrase current sentenceEdit in Ginger×
FOLLOWING a call issued by the National Convention of Workers, jointly organised by the Central Trade Unions (CTUs) and independent federations/associations on January 30, 2023, the Quit India Day was observed across the country on August 9, 2023 by toiling masses with the rallying cry "Save the Nation, Save the People."
August 9 holds a unique historical significance in India's struggle for independence from British Rule. It marks the 'Quit India' day when a clear ultimatum was presented to the foreign rulers, demanding their departure from India. Today, a similar sense of oppression is felt under the governance of the BJP. The lives of the working masses, encompassing workers, farmers, students, youth, and women, have notably deteriorated in every aspect since the BJP assumed power in 2014.
National assets and resources, as well as public sector undertakings across various sectors, including strategic ones, are undergoing privatisation and are being offered for purchase to prominent domestic and foreign corporations. The increasing inequalities are making the lives of common people difficult. Escalating prices of essential commodities, unemployment, job losses, wage stagnation, and lack of social security measures for the majority of the population have become the prevailing reality. In response, the only recourse is to mobilise the masses to counter the pro-corporate, anti-people, and anti-national policies of the government.
The unions that initially issued the call on January 30th have diligently worked to spread their message across every corner of the country. This effort has involved hosting joint meetings, processions (rallies by foot, cycle, motorcycle, and jeep), gate meetings, demonstrations, engaging with elected representatives such as MLAs and MPs, and distributing informational pamphlets, among other activities.
As of now, reports have come from over 700 districts and numerous talukas/mandals in 26 states where protests and sit-ins have taken place. Notably, a joint demonstration was held at Jantar Mantar in Delhi, attended by central and state leaders. Prominent central leaders who spoke at the protest included Shehnaz from INTUC, Amarjeet Kaur from AITUC, Harbhajan Singh from HMS, Tapan Sen from CITU, Harish Tyagi from AIUTUC, Lata Ben from SEWA, Rajeev Dimri from AICCTU, Rashid Khan from LPF, and Shatrujit Singh from UTUC. Additionally, Santosh Kumar from MEC and Naresh Kumar from ICTU also addressed.
These demonstrations nationwide have been marked by their militancy, reflecting the growing discontent with the policies of the BJP government, which are making the lives of the people miserable. The government's claims of "double engine development" are thoroughly exposed, particularly as Manipur burns, and the harasser of our accomplished female wrestlers remains free, and as there is a calculated escalation of communal violence in Haryana. The pillars of democracy and secular values are under challenge.
There is no expectation from this BJP government. The people want and the nation needs a refreshing change. The working class will intensify its struggle in the coming days.
Enable GingerCannot connect to Ginger Check your internet connection
or reload the browserDisable in this text fieldRephraseRephrase current sentenceEdit in Ginger×
Enable GingerCannot connect to Ginger Check your internet connection
or reload the browserDisable in this text fieldRephraseRephrase current sentenceEdit in Ginger×