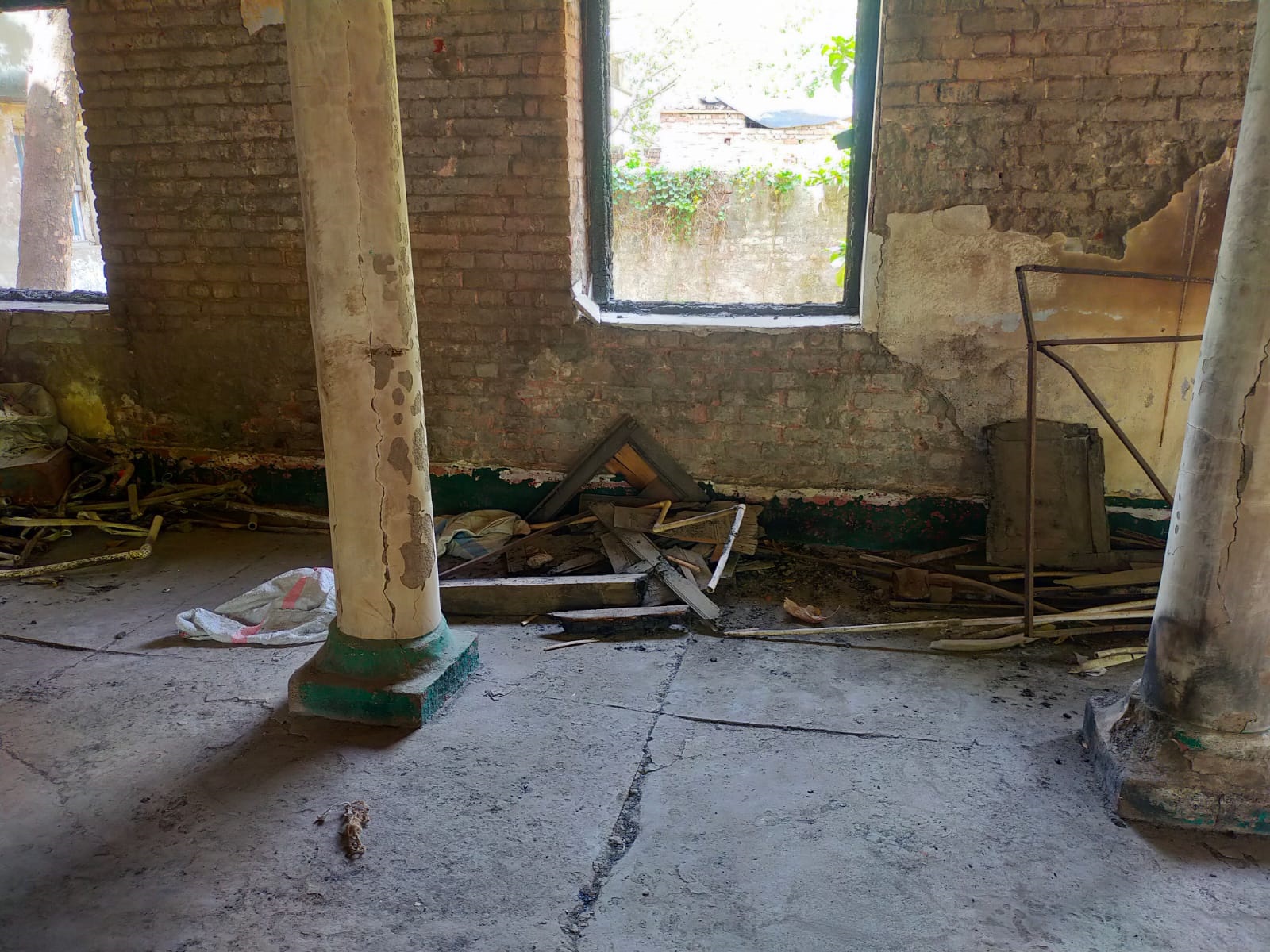 CPI(M) Delegation Visits Bihar Sharif
Subhashini Ali
THE Ram Navmi festival and procession this year was used by the Sangh Parivar in states like Delhi and Madhya Pradesh to instigate violence against the minority community. Madhya Pradesh is a BJP ruled state and the Delhi police is controlled by the home ministry and therefore the violent communal attacks that were carried out were not surprising. What was very shocking, however, was the fact that on Ram Navmi this year, violent attacks on religious structures, shops and businesses owned by Muslims were attacked in Bihar Sharif in the state of Bihar which has a Mahagathbandhan government with Nitish Kumar as chief minister. Most unfortunately, in Bihar Sharif, BJP leaders and their supporters were allowed to take out a procession in which swords and lathis were brandished, hateful slogans were shouted. Its participants carried out vicious attacks with complete impunity under the watch of the police and administration.
Since what happened in Bihar Sharif is of great concern to secular forces in the country, a delegation of the CPI(M) in which I was accompanied by Arun Misra and Ahmad Ali, CPI(M) state secretariat members, visited the affected areas of the city on June 2, 2023.
The Azizia Madarsa of Bihar Sharif is famous in many parts of the world. It was built in 1910 after a bequest made by Bibi Soghra, a wealthy and well-educated lady who also bought 4,500 priceless books and manuscripts for its library. We came straight to this important landmark and met Sultan Ansari of the management committee, Mohd Shakir, the principal and many other distinguished citizens. They told us that the character of the Ram Navmi celebrations and procession has undergone a big change in recent years. Now it is less of a religious observance and more of an offensive show of strength by one community to another. We were told that the administration held a flag march one day before Ram Navmi but the announcement made was that members of the minority community should stay at home while the procession was underway. In fact, the narrow streets outside their homes were all blocked with barricades. For more than a week, shopkeepers were being told to fly saffron flags and the local BJP MLA, Dr Sunil, had posters and banners put up all over the city saying 'Every home will be Ayodhya, every house will fly a saffron flag.' Many people, including non-Muslims, told us that money and swords were distributed freely in many areas. The administration did nothing to prevent these provocative and dangerous actions.
March 31 was the first Friday of Ramzaan. The procession was given permission to gather in the Shram Kalyan ground and start by noon but it only left after 3.00 p.m. The participants were shouting objectionable slogans and flourishing swords and lathis made the Madarsa Azizia their first target. They attacked it with stones and set the library and classrooms on fire using petrol that they had brought with them. The ashes of the thousands of books that were burnt were later buried in a 12'x12' pit that we were shown. We also saw that cupboards, chairs, tables and funs had all been destroyed. The mosque next to the Madarsa had also been attacked and a saffron flag planted on its minaret that was broken. Outside, the shops belonging to the Madarsa that did not have saffron flags were all burnt and looted. Footwear shops, dry fruit shops, a tailor's shop even a shop with baskets full of chickens were all consigned to flames.
Outside, on the main road, Asia Hotel belonging to Humayun Akhtar Sadiq, state secretary of JD(U) and City Palace Marriage Hall belonging to Sultan Ansari were attacked and set on fire. The Soghra College, half of whose students are Hindus, was also attacked but was defended by its guards that belonged to both communities. A mosque in its compound was also attacked.
The Savera hospital down the road, owned jointly by a Muslim and a Hindu was also not spared. Opposite, the wall of the graveyard was broken and the members of the peace committee sitting there were threatened with knives and forced to shout 'Jai Shri Ram!' Among them, Akbar Azad, Shakil Bisnavi and Amir Khan were injured.
We were told that the looting and arson continued unhindered for more than two hours. No one from the administration was taking any calls. The fire engines were not allowed to enter the affected area. It was only when senior officials in Patna were contacted that the local administration forced the mob to disperse and the fires could be doused. But they remained extremely lax and, the next day, they announced that everything was normal and lowered their guard. In the evening, small groups of people started collecting and attacking each other. There was firing and the police also fired. As a result, a 17 year old, Gulshan Kumar s/o Ravinder Kumar was shot in the head and he died. We visited his home and met his grieving father, mother and family members. They told us that the police had put a lot of pressure on them to 'name' the killer but they only replied that they saw nothing in the dark. They are extremely poor, landless people. Eight of them share two small rooms with a cow, their main source of livelihood. They have received Rs 4.89 lakhs as compensation.
We were visiting Bihar Sharif more than two months after these ghastly incidents. In this period, not a single minister or leader of the ruling coalition has bothered to meet the affected people here. Only the MIM MLA and members of Muslim organisations have met with them. Most of the affected shopkeepers have not even been able to register FIRs and, of course, none of them has received any compensation. Sultan Ansari told us that he was given a cheque of Rs 1 lakh which did nothing to cover the damage he had suffered but even Humayun Akhtar Sadik has not been able to register an FIR so far.
People denied justice are beginning to lose their faith in secular forces. They are feeling very isolated and threatened. On the other hand, those responsible for inciting and organising violence are in a celebratory mood. We were told that a Bajrang Dal leader, Chandar, who had been arrested and was one of the main accused, was let off on bail after two days. None of the BJP leaders whom people named were included in the FIRs lodged.
In this situation, mending relationships between the two communities is becoming more difficult. Sultan Ansari said 'We hold each other's hands but there is not meeting of our hearts'.
Bihar Sharif used to be known for its strong community ties. Even this year on Ram Navmi, Hindu shopkeepers tried to save Muslim shops. The Hindu and Muslim partners of Savera Hospital are still together but the indifference of the government and the administration is increasing bitter feelings and giving communal elements in both communities an opportunity to keep them apart.
Cannot connect to Ginger Check your internet connection
or reload the browserDisable in this text fieldRephraseRephrase current sentenceEdit in Ginger×
Enable GingerCannot connect to Ginger Check your internet connection
or reload the browserDisable in this text fieldRephraseRephrase current sentenceEdit in Ginger×