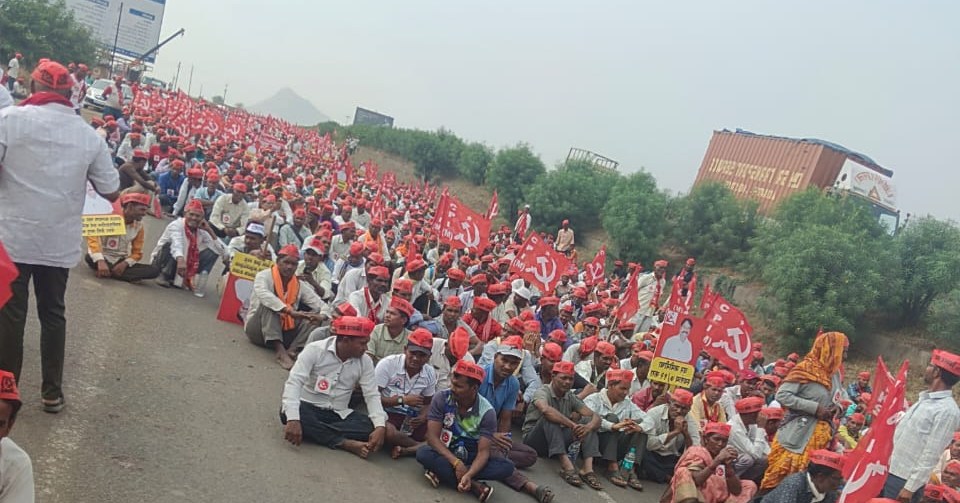 Maha: AIKS Leads Kisan March on Onion Price
Ashok Dhawale
Enable Ginger
Cannot connect to Ginger Check your internet connection
or reload the browserDisable in this text fieldRephraseRephrase current sentenceEdit in Ginger×
THE AIKS in Maharashtra began a 10,000-strong kisan long march from Nashik to Mumbai on March 13, 2023 on a 17-point charter of demands, the most prominent among which was remunerative price particularly for onions, and also for cotton, soyabean, tur, green gram, milk, and hirda. The march demanded Rs 2000 per quintal for onions, and an immediate subsidy of Rs 600 per quintal, along with changes in export policies.
Other major demands were: complete loan waiver to the peasantry; waiving of pending electricity bills and 12 hour daily supply of power; compensation by the government and by insurance companies for the damage sustained by peasants due to unseasonal rains and other natural calamities; vesting of all forest land, pasture, temple, inam, waqf, and benami land in the names of the cultivators; increase the PM Housing Scheme subsidy from Rs 1.40 lakh to Rs 5 lakh, conduct a fresh survey and include the applicants' names in the 'D' list; give compensation in cases of necessary land acquisition as per the Kerala formula; increase old age and special pension amount up to Rs 4000 per month; restore the old pension scheme for government employees who have joined after 2005; give 100 per cent grant to partially aided schools; fill all vacancies in government posts; regularise all contract workers and scheme workers as government employees; and remove bogus adivasis in government posts and replace them by genuine adivasis.
The marchers gathered outside Nashik city and amidst great enthusiasm they marched into the city on March 13, and at the Dindori Chowk they threw away onions, tomatoes, brinjals, potatoes and other vegetables on the road in anger and frustration.
The long march was led by AIKS leaders J P Gavit, ex-MLA, Ashok Dhawale, Ajit Nawale, Umesh Deshmukh, Uday Narkar, Ajay Burande, Subhash Choudhary, Savliram Pawar, Irfan Shaikh, Mohan Jadhav, Ramesh Choudhari, Bhika Rathod, Chandrakant Ghorkhana, Radka Kalangda, Chandu Dhangda, CITU leader D L Karad, AIDWA leader Mariam Dhawale, and DYFI leader Indrajit Gavit.
Enable GingerCannot connect to Ginger Check your internet connection
or reload the browserDisable in this text fieldRephraseRephrase current sentenceEdit in Ginger×
Enable GingerCannot connect to Ginger Check your internet connection
or reload the browserDisable in this text fieldRephraseRephrase current sentenceEdit in Ginger×