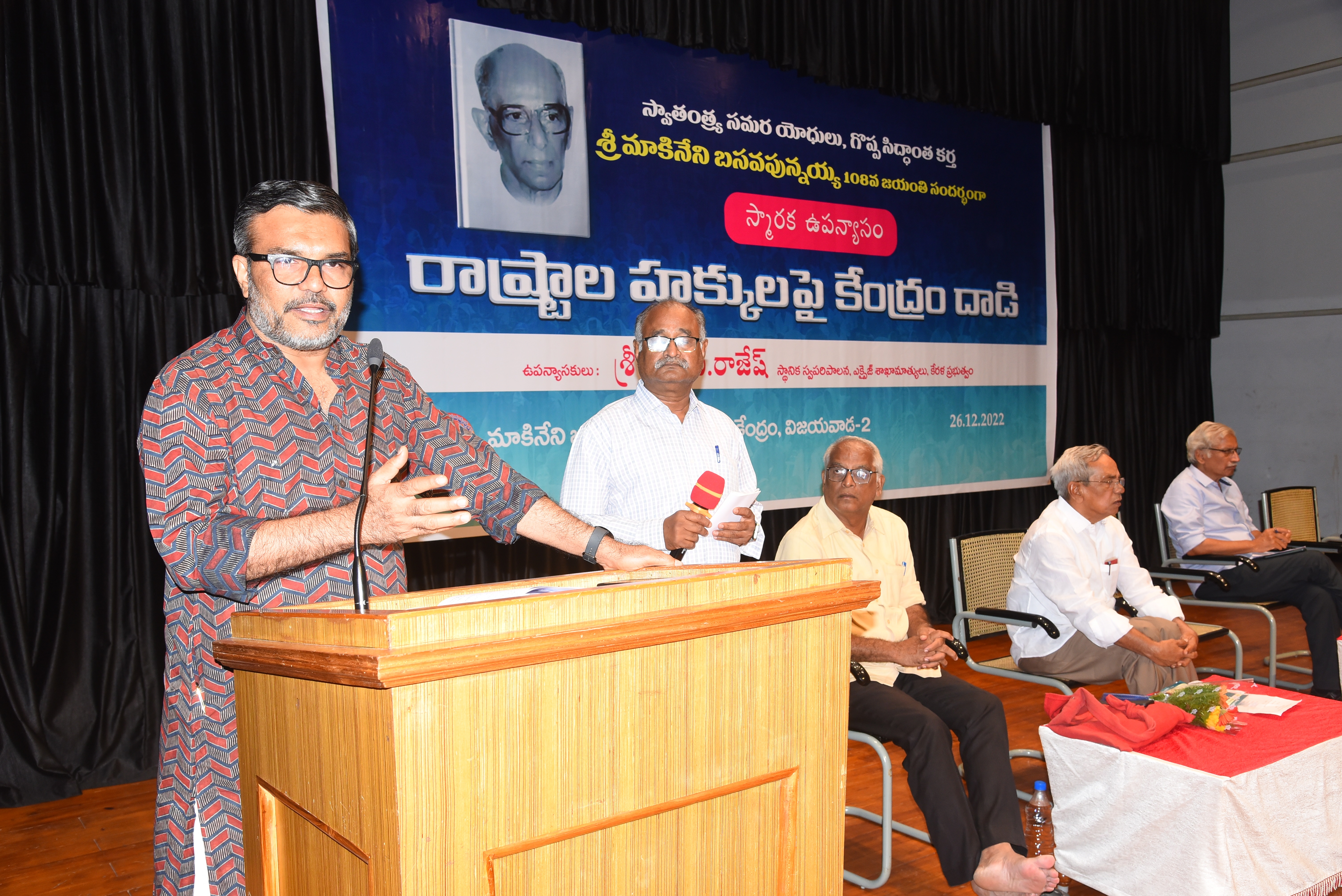 AP: M Basavapunnaiah Memorial Lecture
K Nethaji
ON the occasion of the 108th birth anniversary of Marxist theoretician and Party leader, Makineni Basavapunnaiah, the Makineni Basavapunnaiah Vignana Kendram organised a memorial lecture on the theme, "Central Government's Attacks on State's Rights". MB Rajesh, minister for local self government and excise, government of Kerala, delivered the lecture on December 26.
Speaking on the occasion, Rajesh said Makineni Basavapunnaiah, popularly called as MB, played a very important role in the formation of the Communist movement in India. He was one of the members of the first Polit Bureau of CPI(M).
Talking about the present situation in the country, Rajesh said that with the coming of the Modi government, all the basic features of the constitution are under attack. There is a direct attack on the fundamental pillars of our country and on the constitution itself. Modi government is run by the Hindutva ideology and by the big corporate forces. Rajesh said that the Sangh Parivar led by the RSS is pulling the country towards Hindutva. That is why the rights of the states are being attacked so seriously. He said that it is the ideology of the RSS that the centre should be strong and the states should not be strong, rather they should be weak. And the corporate forces also want the centre to be strengthened for their own interests. That is why these two forces are attacking the rights of states.
Rajesh underlined the importance of fighting the centralisation tendencies, and safeguarding federalism to keep the country united. He pointed out that the central government is attacking the states in three ways – politically, economically and through the governor system. He mentioned how the governors in Rajasthan, Kerala, Tamil Nadu and other states are trying to undermine the elected state governments' authority.
MB Rajesh strongly condemned the authoritarian attitude in allocating and sharing funds which are generated from states. When the Modi led BJP government came into power, it abolished the planning commission and held all the funds in its control, he said. He continued that states lost their major income sources due to implementation of the GST system. Rajesh called upon the progressive and democratic forces to fight against the BJP government's attacks on states' rights.
Former CPI(M) MP and MBVK Trust chairman, P Madhu chaired the session. MBVK secretary P Murali Krishna submitted the kendram's annual report. MBVK Trust secretary Y Venkateswara Rao, BR Tulasi Rao were on the dais.
Cannot connect to Ginger Check your internet connection
or reload the browser
Disable in this text field
Rephrase
Rephrase current sentence
Edit in Ginger
×