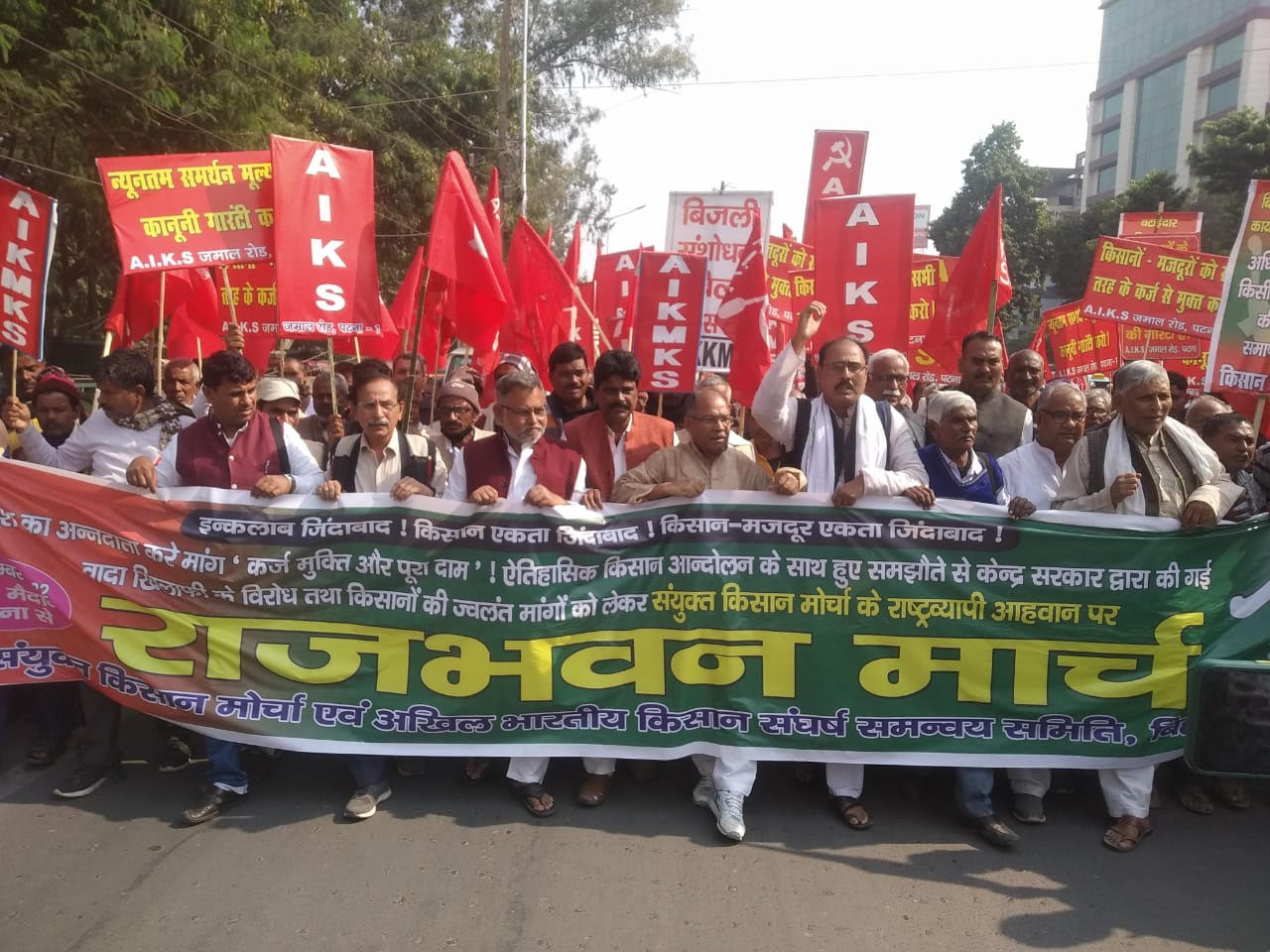 26 November 2022: Lakhs of Farmers March to Raj Bhawans
Ashok Dhawale
Enable Ginger
Cannot connect to Ginger Check your internet connection
or reload the browserDisable in this text fieldRephraseRephrase current sentenceEdit in Ginger×
AT the call of the Samyukta Kisan Morcha (SKM), lakhs of farmers, supported by workers, students, youth, women, and ordinary people, held mega foot-marches and rallies on the Raj Bhawans (Governor's Residences) on November 26, 2022, at 25 state capitals of the country. Rallies and demonstrations were also held that day at more than 300 district headquarters and numerous tehsil headquarters. They registered their protest against the anti-farmer BJP-led union government and sent memorandums of demands of farmers to the president of India through state governors, to intervene and stop the anti-farmer and pro-corporate activity of the BJP, the ruling party at the centre.
Massive gatherings of thousands of people were witnessed at Chandigarh, Lucknow, Patna, Kolkata, Trivandrum, Chennai, Hyderabad, Bhopal, Jaipur, Bhubaneswar, Guwahati, Ranchi, Agartala, and other state capitals. As information photos and videos kept pouring in from all over India, it was evident that it was a massive show of collective strength to continue the struggle till all the just demands of the farmers are met.
The demands include:
· Legally guaranteed Minimum Support Price (MSP) at C2+50% for all produce for all farmers.
· Freedom from indebtedness through a comprehensive central loan waiver scheme.
· Withdrawal of Electricity Amendment Bill 2022.
· Dismissal and legal action against union minister of state for home affairs, Ajay Mishra Teni, who is accused in the Lakhimpur Kheri massacre of farmers and a journalist.
· Comprehensive and effective crop insurance scheme to speedily compensate farmers for crop loss due to natural calamities.
· Farmers' pension of Rs 5,000 per month to all marginal, small and medium-scale farmers and agricultural workers.
· Withdrawal of all false cases registered against farmers during the farmers' movement.
· Payment of compensation to families of all farmers who were martyred during the farmers' movement.
As per the figures gathered in an online meeting of all AIKS state secretaries on November 29, the AIKS mobilisation was spread over 23 states, and it crossed the total figure of 81,000. In Maharashtra, as per the AIKS state conference decision, mahapadavs were organised in several districts and tehsil centres for four days from November 23 to 26, with big rallies on November 26. In all states, local demands like compensation for the massive crop loss due to unseasonal rains, and other issues were taken up along with the national demands enumerated above.
The SKM congratulated all farmers, agricultural workers, workers, students, youth, women and other concerned citizens for the grand success of the 'raj bhawanchalo' programme and appealed to all across the country to prepare for and join continuous and committed nationwide struggles till all the demands are met.
From December 1 to 11, the SKM will submit memoranda of farmers' demands to all MPs and MLAs in every district of the country and will urge them to take up and support the legitimate issues of farmers in parliament and in the state assemblies.
Earlier, as per the AIKS call, November 15, the birth anniversary of the legendary freedom fighter and adivasi peasant martyr, Birsa Munda was widely observed all over the country as Flag Day. In thousands of units in 25 states, the AIKS raised the red flag to salute the memory of Birsa Munda and all other martyrs. This call was given to propagate the ensuing 35th all-India conference of the AIKS which will be held at Thrissur in Kerala from December 13-16, 2022. In Thrissur district itself, over 1.5 lakh houses raised the AIKS flag. All 26,000-odd AIKS primary units in Kerala also raised the flag that day. In thousands of village units in the rest of the country, flag day was enthusiastically observed.
Enable GingerCannot connect to Ginger Check your internet connection
or reload the browserDisable in this text fieldRephraseRephrase current sentenceEdit in Ginger×
Enable GingerCannot connect to Ginger Check your internet connection
or reload the browserDisable in this text fieldRephraseRephrase current sentenceEdit in Ginger×