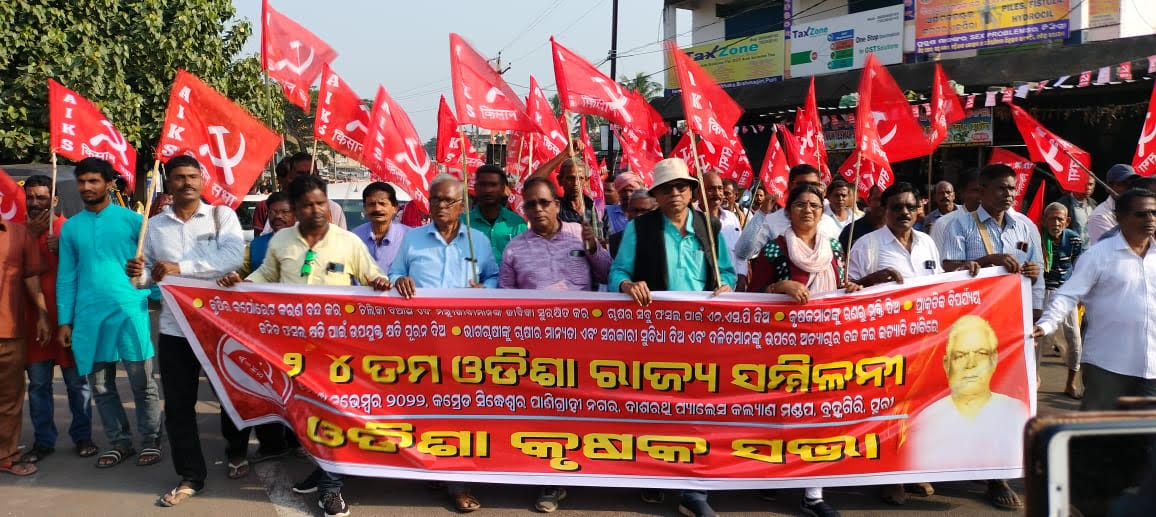 AIKS Odisha State Conference
Suresh Panigrahy
Enable Ginger
Cannot connect to Ginger Check your internet connection
or reload the browserDisable in this text fieldRephraseRephrase current sentenceEdit in Ginger×
THE 24th AIKS Odisha state conference was held at Brahmagiri in Puri district on November 15-16, 2022. It began with a rally of hundreds of peasants, followed by a public meeting. It included a good number of women and youth. It was presided over by AIKS state president Yameswar Samantaray, and it was addressed by AIKS president Ashok Dhawale, joint secretaries Vijoo Krishnan and Amal Haldar, state secretary Suresh Panigrahy, and state vice president Jagannath Mishra. November 15, the day of the rally, was the birth anniversary of the legendary Adivasi freedom fighter Birsa Munda. This was enthusiastically celebrated.
After the flag hoisting, floral tributes were made at the martyrs column. The conference was inaugurated by Ashok Dhawale. leaders of CITU, DYFI, SFI and the Secondary School Teachers Association greeted the conference.
The conference was attended by 170 delegates from 21 districts. The report was placed by Suresh Panigrahy. The AIKS in Odisha has been active in struggles on peasant issues. It also took a leading part in the SKM-led actions in the state.
On November 16, 23 delegates took part in a good discussion on the report, after which it was adopted, as were resolutions on important issues. The credentials report was also placed.
The conference decided to launch struggles on issues of land, sharecroppers' rights, implementation of the Forest Rights Act and a legal guarantee of MSP. The SKM rally to Raj Bhawan will be held on November 26. Intensive preparations will begin for the April 5 Delhi Rally and the campaign preceding it.
The conference unanimously elected a 52-member new state committee, which in turn elected 13 office bearers, with Yameswar Samantaray as president, Suresh Panigrahy as general secretary and Abhiram Behera as finance secretary. Delegates to the all India conference were also elected.
The conference ended amidst enthusiasm after the concluding speech by Vijoo Krishnan.
Enable GingerCannot connect to Ginger Check your internet connection
or reload the browserDisable in this text fieldRephraseRephrase current sentenceEdit in Ginger×
Enable GingerCannot connect to Ginger Check your internet connection
or reload the browserDisable in this text fieldRephraseRephrase current sentenceEdit in Ginger×