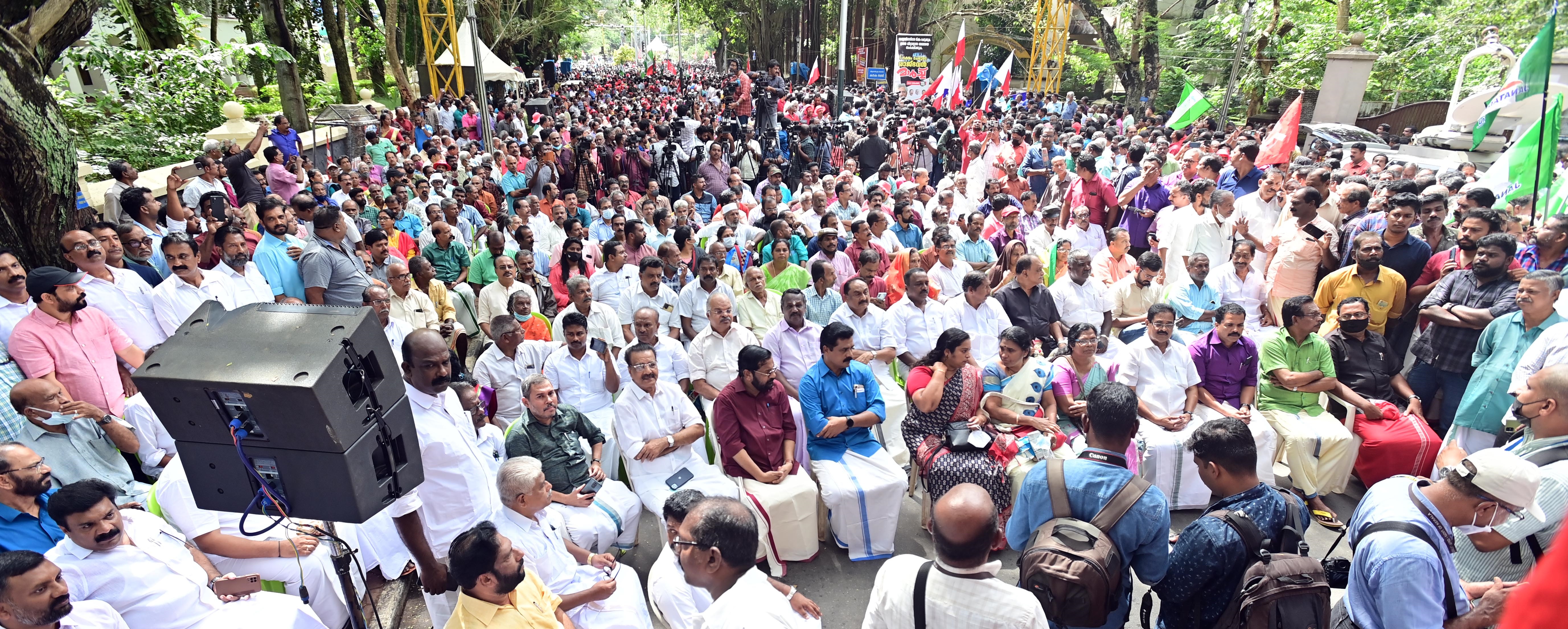 Kerala Raj Bhavan March: Stop Misuse of Governor's Post
N S Sajith 
THOUSANDS of people in Thiruvananthapuram marched towards Raj Bhavan on November 15, to register their protest against Governor Arif Mohammed Khan's persistent interventions in the functioning of universities of Kerala. A massive gathering organised by the Higher Education Protection Committee consisting of academicians, educationists, cultural activists, artists, various political party leaders and public figures, was inaugurated by CPI(M) general secretary Sitaram Yechury.
The protest march of students, youth, workers, farmers and women activists was a sharp warning against RSS controlled governor's dubious attempts to scuttle the higher education system in Kerala. The march began from the Museum Police Station at 10 am. Thousands of people had to remain on the roads as they could not reach the venue at Kowdiar near the gate of Raj Bhavan, the office cum residence of the governor. Apart from the Raj Bhavan march, massive protest marches were held in all district headquarters.
CPI(M) Polit Bureau member M A Baby inaugurated the protest march in Kannur. Central Committee members K K Shailaja and Sreemathi Teacher, inaugurated the marches at Kasaragod respectively. CPI(M) state secretariat member K K Jayachandran (Pathanamthitta), Janata Dal leader Neelalohitadasan Nadar also inaugurated the marches.
CPI(M) state secretary M V Govindan, CPI state secretary Kanam Rajendran, DMK leader in Rajya Sabha Thiruchi Siva, Kerala Congress leader Jose K Mani, Janata Dal leader Mathew T Thomas, NCP leader P C Chacko were among those who addressed the gathering.
While inaugurating the march in Thiruvananthapuram, Sitaram Yechury said that the intervention of the governor is a very peculiar and unhealthy situation and a matter concerning higher education too. It is harmful for the health of democracy. This conflict situation is happening not only in Kerala but all over India. The Tamil Nadu assembly has passed a new law on the question of the chancellor and governor. West Bengal passed new laws removing the governor from the post of chancellor. It is now happening in Telangana and happened earlier in Maharashtra. The role of governor is a constitutional position. Now it is reduced to an office advancing the political objectives of the BJP. This is also connected to the larger issue of centre-state relations, he said.