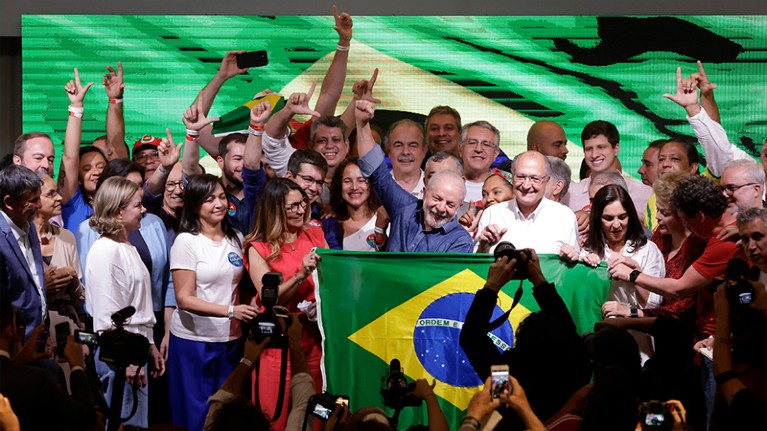 The Importance of Lula's victory
THE victory of Luiz Inacio 'Lula' da Silva in the Brazilian presidential elections was welcomed by the entire world with a sigh of relief. His election as the president of Brazil defeating the extreme-right incumbent president Jair Bolsonaro will have an impact on the future of Brazil and the entire Latin American region.
Lula, a candidate of the Workers' Party (PT) won 50.9 per cent of the votes, as against Bolsonaro's 49.1 per cent in the run-off held on October 30, 2022. He won with a difference of 21,25,334 votes, in what was a closely fought presidential election since the restoration of democracy in the 1980s. This is also the first time that an incumbent president lost the election.
Many polls and commentators had predicted an easy victory for Lula in the first round of polling itself. Consistently various surveys showed that Lula led Bolsonaro by double-digit points. However, all these predictions were proved wrong in the first round held on October 2. Lula won 48.43 per cent of the valid votes, while Bolsonaro received 43.20 per cent. The failure to win the required 50 per cent votes by either candidate made the run-off necessary.
Lula twice served as Brazil's president between 2003 and 2010. This is the third time that Lula won as the president of Brazil. Lula's third term is going to be extremely challenging because Brazil had considerably changed during this period.
When he was elected as the president for the first time, there was a boom in the commodities market, capitalising on which, the PT government was able to administer many social welfare programmes that had lifted millions of Brazilians out of poverty. By the end of 2014, thanks to the policies pursued by Lula and his successor Dilma Rousseff from the PT, Brazil was declared to be free from hunger. That situation has reversed now. According to the Brazilian Research Network on Food and Nutritional Sovereignty and Security, 33.1 million Brazilians are currently suffering from hunger, a number that has almost doubled from the previous year.
Nearly 7,00,000 Brazilians died during the Covid-19 pandemic, due to the mismanagement of the Bolsonaro administration. Bolsonaro was on record denying the virus and its spread, which naturally made the country ill-prepared to tackle the health crisis. Denial of science and cuts in health expenditure due to neoliberal policies pursued by the government accentuated the crisis created by the pandemic. Allegations of bribery in vaccine production and supply exposed the government's inhuman nature.
Bolsonaro was not only anti-rational and anti-science, but also a climate-change denier. These views and his pro-corporate stance, led to the weakening of environmental protection norms that led to a large-scale burning of Amazon rain-forest. Huge tracts of Amazon forest were cleared in spite of widespread opposition from environmentalists and green activists. These lands were opened for cultivation by agri-corporations and big landlords.
In the political sphere, Bolsonaro launched a vicious attack on democratic rights. He had openly expressed his support to the earlier military, dictatorial regimes in Brazil. He unashamedly flaunted his pro-fascist sympathies, vehemently attacked trade unions, indigenous people, women and sexual minorities. He celebrated his anti-communist and anti-Left credentials.
Because of his anti-science, anti-rational, anti-minority and anti-communist positions, he gained the support of Evangelical Christians and they constituted his most important support base. Evangelical pastors, who constitute a powerful conservative force in Brazilian politics and society, threw their support behind Bolsonaro and his moralistic positions. These sections of the religious right actively preached against Left and claimed that 'Lula would close down churches'. In this manner, Bolsonaro managed to mobilise right-wing ideologists across the country and deepen social divisions.
Apart from the Evangelical Christians, Bolsonaro's support base also constituted of the adherents of neoliberal, hardcore free-market economic policies – the upper-class, business, and sections of big bourgeoisie. Agri-corporations and big landlords too stood with him. Thus it is essentially the extreme-right wing that stood behind Bolsonaro. Because of this support from the ruling classes and extreme-right, he exercised total control over dominant sections of media and used social-media to spread lies and fake news.
In contrast, Lula drew support from the poorer sections of the society. Fearing the widespread support that Lula was able to win from these sections, Bolsonaro, tried to win them over by Auxilio Brasil, a social programme that directly transfers money to low-income citizens. This programme was started as a limited-time scheme during the Covid pandemic as a response to the all-round criticism on the government's failure to address people's grievances. However, given the positive response it evoked and finding it denting Lula's support among the poorer sections, he continued with this scheme.
As a result of all these efforts, Bolsonaro was able to give Lula a close fight in these presidential elections. It also led to the right-wing forces, along with the centre parties winning a majority in the Congress, governorships and in the regional assemblies (for which elections were held simultaneously with the first round of presidential elections). Bolsonaro won 14 of Brazil's 27 states. The right-wing parties increased their representation in the Congress to 249 deputies (of 513), just under the half-way mark, while Lula's PT and allies have only 141 seats.
The strong legislative presence of right-wing will make it difficult for Lula to implement his agenda. He may need to reach out to the centre and make some compromises and adjustments during his period in office.
Already Lula had made some compromises to win. He tried to appeal to the masses following the Evangelists by quoting scriptures and God in his speeches. His vice-presidential candidate is Geraldo Alckmin, a former rival and leader of the centre party. Lula's coalition encompasses parties ranging from communists, socialists to liberal-bourgeois. All of them had come together with a common aim – safeguard democracy, defeat the right-wing growth, protect Amazon forest and save the environment.
Lula's victory was celebrated by poor people across Brazil and was hailed as a 'return of freedom and democracy'. He himself stated that this is a victory for the democratic movement. He promised to immediately address the issue of poverty, hunger, increase minimum wages and protect Amazon from deforestation.
Ruling heads of various countries in Latin America led the world leaders in congratulating the president-elect. His election will certainly bring a new hope to multilateral groupings like BRICS, where India too is a part and CELAC in Latin America.
Though Bolsonaro was defeated in these elections, the votes he had won clearly demonstrate the penetration of right-wing ideology among the common people. Unless the Lula administration works to implement all its poll promises, restore democratic rights, protect people's livelihood and initiate steps to eliminate hunger and poverty, the threat of the right cannot be warded off.
(November 2, 2022)