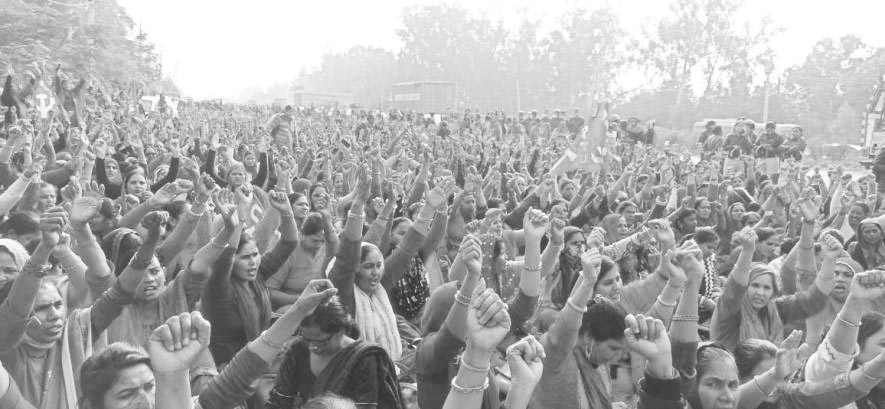 Towards the Foundation Conference of ASHA Workers Federation
A R Sindhu
THE crucial role played by around one million ASHA workers to maintain the public health system in our country became part of the mainstream discussions only during the deadly Covid-19 Pandemic. In 2022, the World Health Organisation announced the 'Global Health Leader' award to ASHA workers for their service to the nation during the pandemic.
ASHA stands for Accredited Social Health Activist and there are nearly 10 lakhs of them, working under the NHM (National Health Mission). The NRHM (National Rural Health Mission) was started in 2005 (during UPA I government) for a period of seven years, to improve delivery of basic health services to rural population. Its term was later extended and it was renamed as NHM, due to its extension to urban areas as well. ASHA workers act as a link between rural population and public health services, imparting basic health education and services to the poor as well as helping them to access public health facilities.
ASHA workers have played a crucial role in contributing to an improvement in the health indices of the country, including an increase in institutional deliveries and decrease in the infant and maternal mortality rates, creating awareness and facilitating access to healthcare.
During the Covid-19 pandemic and the lockdown, ASHA workers worked with selfless dedication, risking their own lives with scores succumbing to the deadly disease and many losing their dear and near. They worked for 12-16 hours a day, were even denied leave, doing works like surveys of migrant workers; working in quarantine centres; door-to-door monitoring, hospitalisation and later on implementing the vaccination drives.
While there were many including the WHO who have praised the role of ASHA workers, the mainstream discourse on ASHA workers misses the crucial questions of the right to public health of the people and the right of the ASHA workers as workers. In the design of NHM, ASHA workers are treated as 'volunteers', paid a pittance as incentive for each of the tasks they perform. They are not entitled to any social security or pension. They constitute one section of around one crore 'scheme workers' delivering basic services to the people, employed by the government for its schemes like the ICDS, Midday Meal Scheme, NCLP (National Child Labour Programme) etc. They are all grossly underpaid in the form of incentives, honorarium, etc. It is a form of contractualisation of the workforce employed in public services. Most of them are women, providing the 'gendered care services' that are socially considered to be 'women's responsibility' within the household.
The irony is that ASHA workers who educate rural women on their maternity entitlements are not entitled for maternity leave! They are 'part time' workers according to the government but are supposed to be available for work round the clock! Due to social stigmas, they work in very hostile atmospheres. Even when they were on covid duty, there were cases of ASHA workers being beaten up by the anti-socials. They have to work at odd hours for deliveries and other medical emergencies. Once the patient is admitted, there is no place for ASHA workers in the hospitals. There are hundreds of cases of sexual harassment and even rape of the workers. They do not have even a place to sit in the PHCs/CHCs where they work. They are being forced for compulsory retirement without any compensation. The payment of their remuneration is delayed for up to six-eight months.
Even during the pandemic, the much acclaimed Rs 50 lakh life insurance compensation was never paid to the heirs of those affected. The meagre amount paid as risk allowance in the name of 'covid incentive' of Rs 1000 per month was withdrawn by the Government of India while the country has yet to withdraw the orders on health emergency.
UNIONISATION AND STRUGGLES
With the experience of organising the anganwadi workers and helpers, CITU has been organising the ASHA workers since the inception of NRHM in 2005. There have been many militant struggles in various states since then. The struggle of ASHA workers in Bihar where the government unleashed terror on their demonstration, the more than hundred days' long struggle by ASHA workers in united Andhra Pradesh and militant and consistent struggles of Haryana ASHA workers are a few to mention.
With militant unions in more than ten states, CITU had organised a national convention and formed the All India Coordination Committee of ASHA workers, AICCAW (CITU) in 2009 with late Comrade Ranjana Nirula as the convenor.
Since then the AICCAW has taken up many struggles and campaigns at national level on the basic demands of making NHM permanent, for monthly payment, minimum wages and social security and pension. The major struggle during this period was on the demand of the continuation of the NRHM which the government planned to close down in 2012. Due to consistent campaigns and struggles throughout the country, and the support of organisations of various sections of the people, the government was forced to not only extend the NRHM but also had to expand it to the urban areas to make it NHM.
Continuous struggles including seven marches to parliament, campaigns among people supported by studies could get support from various sections. Due to our efforts the parliamentary committee on empowerment of women (2009-10) in its eleventh report placed in both houses of parliament, recommended monthly remuneration for ASHA workers along with its other recommendations. Due to the long struggles along with other scheme workers, in 2013 the 45th Indian Labour Conference discussed on the issues of scheme workers including ASHA workers and recommended that they should be recognised as workers, that they should be paid minimum wages and they should get all social security benefits, etc.
Although the government has taken no action on these recommendations, these helped in building the pressure on the government for improving the working conditions. The government announced a minimum of Rs 1000 per month for a few fixed tasks to all ASHA workers. In 2018, following the Mazdoor Kisan Sangharsh Rally by CITU, AIKS and AIAWU, the Modi government doubled the amount to Rs 2000 per month.
In various states like Andhra Pradesh, Assam, Telangana, Haryana, Kerala, West Bengal, Odisha, Madhya Pradesh, Maharashtra, Gujarat, and Punjab, there were militant struggles by the ASHA unions led by CITU and at present ASHA workers in many of these states get a fixed payment up to Rs 10,000 per month. Even during the pandemic, ASHA workers while dedicatedly doing their duty risking their lives, led many heroic struggles for their rights and could earn many benefits from various state governments.
Under the corporate communal BJP government led by Modi, like all the other sectors, the health sector is also being privatised on massive scale. As it is, financial allocations for health services in India are one of the lowest in the world. It is estimated that 86 per cent of health expenditure in our country is out of pocket and this results in around 4 crore people being pushed into poverty, every year. The shift to insurance based healthcare and introduction of digital health mission and recommendations for privatisation of district hospitals by the NITI Aayog, is detrimental to the already weak public health system in India.
There have been drastic cuts in budget allocations for health in general and NHM in particular in many years. For example it has been reduced from Rs 24,491 crore for 2014-15 to Rs 18,000 crore for 2015-16. Even during the pandemic, there has not been any increase in the budget allocation for NHM. AICCAW has been taking up these issues and this has been made a major issue in the struggles. We could develop joint movement and struggles along with other scheme workers as well as ASHA workers organisations of other central trade unions at national as well as state levels. Facing severe repression, even during the pandemic we could successfully organise two all India strikes of ASHA workers and facilitators.
In many states ASHA workers and facilitators are getting organised and are joining the CITU unions. With continuous monitoring and help by the CITU and AICCAW all India centre, we could organise ASHA workers and facilitators in 21 states. CITU has decided to form an all India federation of ASHA workers to further consolidate the organisation and build a national movement. As of now, we have enrolled more than 1.25 lakh ASHA workers in various states, although our influence is much more. After the sudden demise of Ranjana Nirula, convenor in 2021 due to Covid-19, at present a committee consisting of A R Sindhu, Amitava Guha, Usharani, Madhumita Bandopadhyay, secretaries of CITU and Surekha, president Haryana state union functions as the AICCAW centre.
The foundation conference to form the ASHA Workers' and Facilitators' Federation of India (AWFFI) will be held on September 16-18, 2022 at Kurukshetra, Haryana. Nearly 300 delegates and few observers from 23 states will participate in the conference. This convention will chalk out future course of movement and plan for consolidation of the organisation.