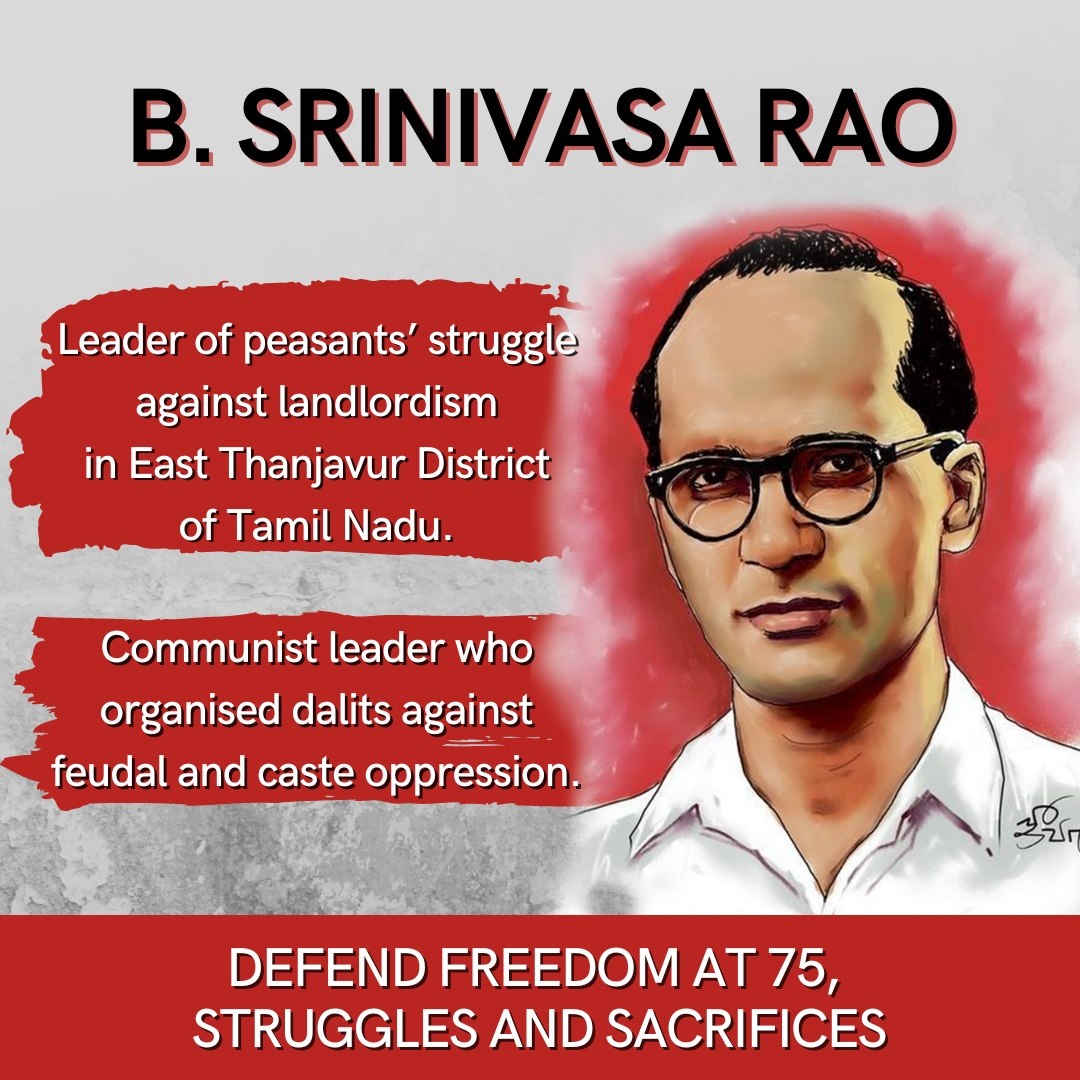 Social Justice Still A Mirage after More Than Seven Decades
B V Raghavulu
OUR country is now commemorating 75 years of independence. At this time, it is our misfortune that the BJP, which was never part of the struggle for independence is heading the government that called for the observation of Azadi ka Amrit Mahotsav, all the while working overtime to undermine the noble values of our freedom struggle – democracy, secularism, social justice and federalism. The last eight years of Modi government under the tutelage of fascistic Hindutva communal forces have been a disaster for the country in every respect. What has happened to social justice during this period will illustrate this. Whatever little gains achieved with regard to social justice are being nullified by the communal-corporate policies of the Modi government.
After the attainment of independence in 1947, the democratic and secular constitution drafted by Dr B R Ambedkar provided for various measures of positive discrimination in favour of dalits and tribals. It abolished untouchability. It declared that all are equal before law and gave 'one person one vote' irrespective of caste and other social distinctions. Reservation in government employment, educational institutions and positions in legislatures were provided. Prevention of Atrocities Act was brought to curb caste atrocities. Various welfare schemes were implemented. Some attempts were also made at undertaking superficial land reforms.
All these affirmative actions created an initial euphoria that social justice was going to be achieved and caste system was going to meet its end. Although the results of implementation of these policies during the last seven decades are disappointing, and when compared to the total population of these sections, the impact may be miniscule, nevertheless the affirmative actions certainly benefited to some extent. Reservations provided some scope for social mobility for persons from these groups through the employment in government and public sector and through political positions in legislative bodies. Reservations have catalysed the spread of education among socially disadvantaged communities. Some households benefited from targeted schemes to overcome poverty. But overall, the agenda of human rights, dignity, education, equality of opportunity are largely still unrealised. Vast mass of the socially disadvantaged people are still haunted by poverty, illiteracy, ill-health, unemployment, oppression and discrimination in their daily life.
Now under the Modi dispensation, in the last eight years, whatever small improvements were gained through implementation of affirmative provisions provided in the constitution and through struggles conducted in the past, are being undermined.
OPPRESSION AND ATROCITIES INCREASE
Caste based atrocities against dalits have shown a big increase under the BJP tenure. After 2014, Manuvadi environment created by the BJP and Sangh Parivar emboldened the casteist, feudal forces to act against the dalits and tribals with impunity. The growing frequency of caste-based atrocities reflects how BJP rule encourages and promotes Manuvad/Brahminic violence. Official connivance is also encouraging several Sangh Parivar vigilante groups to indulge in reckless attacks on dalits and minorities. The Una episode in which seven dalit men were stripped and beaten shows the naked agenda of the BJP government. Hathras atrocity exposes the horrible targeting of dalit girls in this caste violence.
NCRB data points to a surge in crimes against dalits. Cases of violence against dalits increased to 50,291 in 2020 from 33,719 in 2011. Crimes against dalits and tribals increased by 27.3 per cent and 20.3 per cent respectively in 2018 over 2017. But these figures are only an understatement. Many incidents have gone unreported.
The rate of atrocities is high in BJP governed states. Highest number of cases in the past decade were reported from Uttar Pradesh (95,751), Bihar (63,116), Rajasthan (58,945), Madhya Pradesh (44,469) and Andhra Pradesh (26,881). The rate of crimes – which is a measure of crime cases relative to the population of SCs was highest in Rajasthan, followed by Madhya Pradesh and Bihar.
Pending rate of court cases under the PoA Act stood at 90.5 per cent in 2020, up from 94 per cent in 2019. In Bihar, with 49,008 atrocity cases on trial, only 55 were disposed in 2020, leaving 48,953 (99.9 per cent) pending. And out of these 55 cases, 53 led to acquittal.
Resurgence of caste oppression in its cruel forms in rural India during the last decade testifies to the increase of Manuvad prejudices under the BJP rule. The survey done by Navsarjan trust in 2010 in 1589 villages of Gujarat revealed 98 forms of untouchability faced by dalits. Blatant segregation of children in rural schools; separate caste localities still intact; separate glasses in roadside tea-stalls for dalits; presence of dalits overwhelmingly in the so-called unclean occupations etc, continuing abuse and attacks point to increasing caste oppression. Even now these oppressive practices are rampant. The state government itself admitted in legislative assembly in 2018 that crimes against SCs rose 32 per cent and those against STs went up by 55 per cent in five years between 2013 and 2017.
RESERVATIONS NULLIFIED
Modi government's unprecedented and aggressive privatisation programme sounded the death-knell of reservations. Niti Aayog prepared a four year route map for privatisition of around 250 public sector undertakings. As part of that, the central government announced the privatisation of even core sectors like railways, defence, outer space, electricity, oil, financial sector, and banks, etc. It is a direct attack on the benefit of reservations enjoyed by dalits and other weaker sections, because the public sector has been the largest provider of reservations for weaker sections.
During the last decade, education and employment opportunities in public sphere have been rapidly shrinking because of privatisation. Hence, the space for implementing reservations is daily becoming narrow. Even the limited usefulness of reservations has been fast diminishing.
Higher educational institutions like IIT, IIM are the worst culprits in dodging implementation of reservations. In spite of the repeated promises made by the central government for implementation of reservations, not much was done. Out of 6043 faculty members at the 23 IITs, only 149 were SCs and 21 were STs – accounting for less than 3 per cent of the total faculty members (2019). Out of 642 faculty members across 13 IIMs, only 4 belong to SC and one belongs to ST. A parliamentary committee found that of the 1,111 faculty positions at the AIIMS, 275 posts for assistant professors and 92 for professors remained vacant at the institute. The committee noted: "despite having proper eligibility, competence, fully experienced, SC/ST aspirants were not being inducted". Similarly, in Delhi University, out of sanctioned strength of 264 professors, only 3 are from SC and none from STs (2019).
The New Education Policy pushed by the BJP is going to harm the poorer sections especially dalits because it promotes commercialisation, privatisation and communalisation of education.
SUB-PLANS SCUTTLED
Modi government sabotaged the whole idea of special component plans for the development of SCs and STs. The SC and ST sub-plans are meant for raising the incomes of the households by channelising the budgetary plan funds to targeted schemes. The union government is required to allocate funds for the development of SCs and STs across central ministries in proportion to their population share. For the five years 2015-16 to 2019, allocation for SC/ST sub-plans was 51 per cent and 41 per cent less than the policy provision based on the proportion of population. Even out of the allotted funds, only 21 per cent were given to directly benefiting schemes. To circumvent the idea of special component plan, the central government merged the plan, non-plan budgets in 2017-18, which further led to the reduction of actual expenditure of SC and STP amounts.
POVERTY PERSISTS
Under Modi's regime, poverty levels widened in the last decade between dalits, tribals and others. According to Oxford Poverty and Human Development Initiative, poverty level was the highest among STs (50.6 per cent) followed by SCs (33.3 per cent) and OBCs (27.2 per cent) in 2021. In contrast, the poverty level was lowest, 15.6 per cent, among others. India ranks 66 out of 109 countries as per Multi-dimensional Poverty Index (MPI) in 2021. In 2013, 45 per cent of country's wealth was owned by high castes with a 21 per cent share population, only 7 per cent by SCs with a population of share of 16 per cent. Unemployment among Scheduled Castes (SCs) rose to 6.4 per cent in 2018-19 from 6.3 in 2017-18. Among STs, it increased from 4.3 per cent to 4.5 per cent, while general unemployment rate declined from 6.1 per cent to 5.8 per cent.
SKEWED LAND OWNERSHIP
The Modi government has been resorting to direct or indirect measures to dilute and weaken all the laws that protect the interests of SC, STs and other poor. It has put tremendous pressure on state governments to amend their land reform legislations. The pace of amendments has accelerated since 2014, with states across political dispensations amending laws to enable land diversion for non-agricultural purposes, including industry and real estate. After failing to amend the 2013 Land Acquisition Act, central government is encouraging states to tamper with this Act by bringing their own legislations negating many of the pro-farmer provisions in them.
It did not spare even the tribals. The centre amended the Rules for the Forest Conservation Act to allow corporates and private companies to gain access and control of India's
forests. It is an outright attack on the rights of gram sabhas and of tribal communities
and other traditional forest-dwellers. It is also urging the states to establish land banks under various pretexts which is leading to deprivation of land given to dalits and tribals in the past.
These policies are exacerbating the already existing disparities in land ownership. The NSO data reveals that for 2018-19, SC households own merely 9.5 per cent of total land, a much smaller share in comparison to their share in population. OBC households and those belonging to upper-castes have a higher access to land in comparison to their share in population, 48 per cent and 29 per cent respectively.
Although prime minister Modi occasionally talks about social justice, the policies and practice of his government during the last eight years are mainly directed at dismantling all the programmes of social justice and at reinforcing gender, caste and all other social inequalities.
Unless we fight back this communal-corporate-Manuvad danger of BJP rule, social justice will become a thing of the past for dalits and tribals and other weaker sections.
So, the need of the hour for the people of our country is observing Sankalpotsav – the sankalp to fight for the protection of the values of our freedom movement that are enshrined in our constitution – democracy, secularism, federalism and social justice.