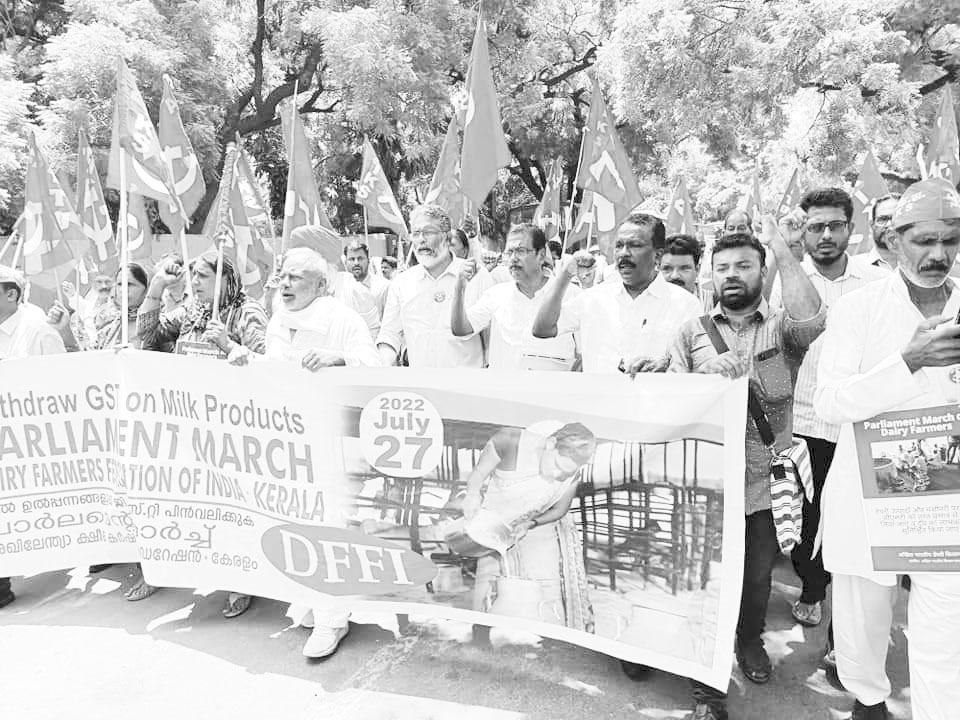 Dairy Farmers' Protest Demands Revocation of GST on Dairy Products, Machinery
THE GST Council in its 47th Meeting held on June 28-29 had recommended imposition of 5 per cent GST on dairy products and 18 per cent GST on dairy machinery. Dairy Farmers Federation of India has been of the opinion that this move, along with absence of a Fair & Remunerative Price (FRP) and rising costs of green fodder is going to adversely impact small dairy farmers, who constitute 75 per cent of nine crore households engaged in dairy production in India.
On July 27, about 150 dairy farmers from Rajasthan, Haryana, Uttar Pradesh, and Kerala came to Delhi and held a demonstration at Jantar Mantar when the parliament session is on, against the imposition of GST, and demanded FRP for milk and reduction in their costs of production. Through MPs, these farmers have sought a meeting with the union minister of animal husbandry and dairy, Parshottam Rupala to submit a memorandum on their demands.
On the same day, at the national-level call given by DFFI, dairy farmers held demonstrations at local milk booths, cooperatives, and district collector's offices, demanding revocation of the GST and introduction of FRP in the milk sector. Dairy producers from states like Karnataka, Telangana, Kerala, Andhra Pradesh, Tripura, Madhya Pradesh, Uttar Pradesh, Rajasthan, Haryana, and other states took part in demonstrations in their regions. A week prior to this, DFFI's activists in these states had been collecting signatures from dairy producers to convey their rejection of the new GST.
The national protest in Delhi was addressed by Bharat Singh, president of UP Kisan Sabha; Ashok Dhawale, president of AIKS, and the meeting was chaired by V S Padma Kumar, joint secretary of Kerala Karshaka Sangham and convenor of DFFI. Members of Parliament, A A Rahim, V Sivadasan, and A M Arif, attended to protest and extended solidarity. P Krishnaprasad (finance secretary, AIKS), Sumit Singh (secretary, Kisan Sabha Haryana), Inderjit Singh (vice president, Kisan Sabha Haryana), Dinesh Siwach (Haryana convenor, DFFI), and kisan leader Dimple also took part in the protest.
Signatures from across the country were collected on this issue. A delegation of DFFI will meet the union minister and submit the signatures along with a memorandum on their demands.