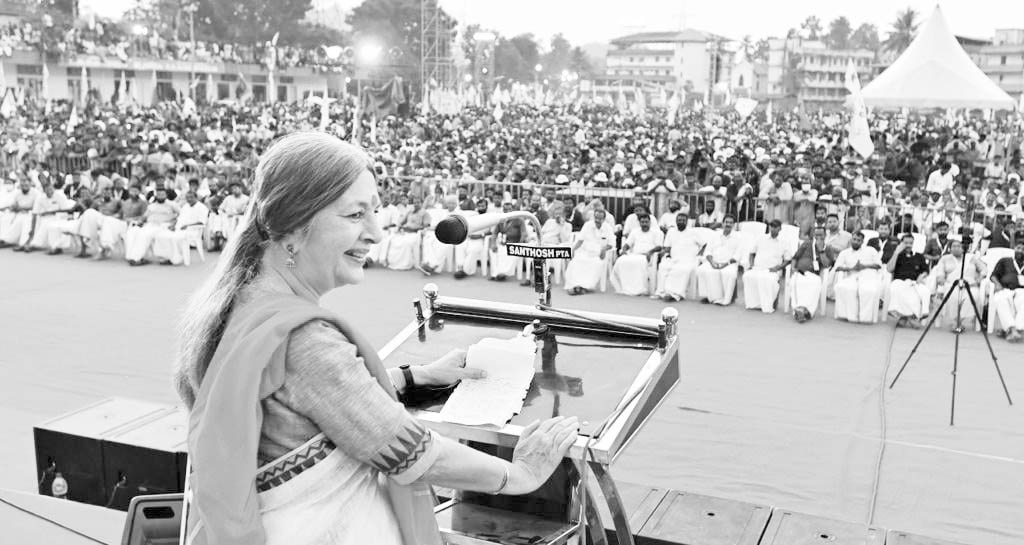 Kerala: DYFI Holds State Conference
N S Sajith
THE 15th state conference of the Democratic Youth Federation of India's Kerala unit was held from April 27-30, at Bhagat Singh Nagar in Pathanamthitta. The state conference concluded on April 30 with a huge public meeting.
Inaugurating the public meeting, CPI(M) Polit Bureau member, Brinda Karat made an appeal to the people across the country to come forward against the bulldozer raj unleashed by the BJP. She said the bulldozer is not a mere machine right now; it has become a symbol of destruction. This machine is deployed by the BJP-RSS to destroy the values of the constitution, secularism as well as the livelihoods and shelters of minorities. BJP has changed this machine into a symbol of destruction of the livelihoods of the working people and toiling masses. The mansions of the super-rich like Adani and Ambani remain intact in the way of these bulldozers, Brinda Karat said.
BJP is terrorising the common people. Their right to live a decent life is being usurped by the Sangh Parivar. Every minority community is under threat in the BJP rule, she said.
Among the key decisions of the state conference is the decision to replicate the 'morning farm' project started by the DYFI Malappuram district committee in all districts and expand the scope of its housing scheme for the homeless, to more areas. At least four centres would be established along the lines of the 'red care' centre started by the DYFI Thiruvananthapuram district committee to coordinate the services of health service volunteers. Plans are also afoot to open science clubs at the zonal level.
The conference elected V Vaseef as its new state president and V K Sanoj as secretary. S R Arun Babu is the new treasurer. Laya Maria Jaison, a transwoman from Changanassery, has become the first from the community of gender minorities to make it to the DYFI state committee, which also comprises representatives from the linguistic minorities, such as Sherif Khan of Lakshadweep and A Raja.