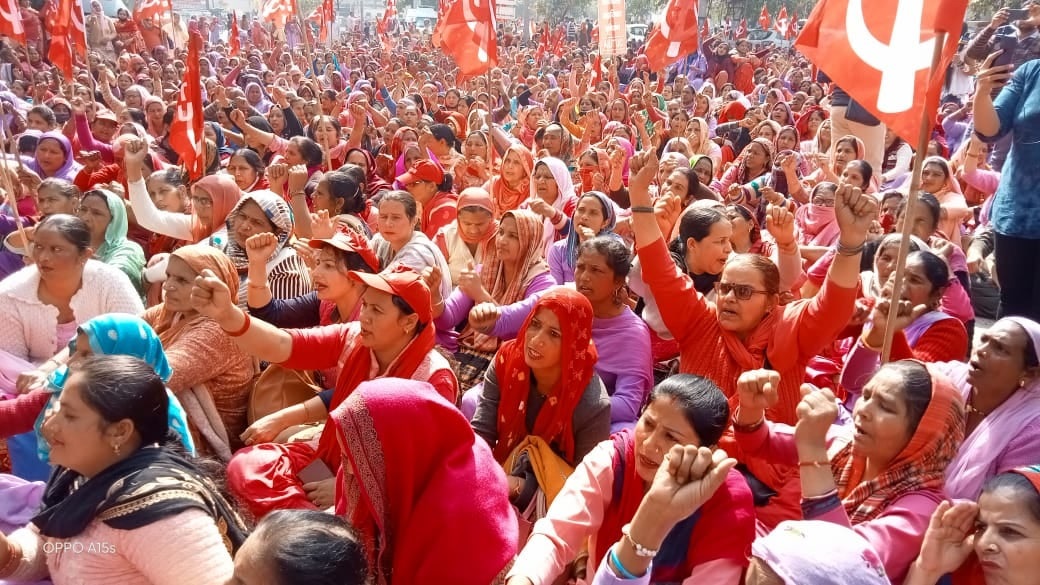 Haryana: Anganwadi Workers Protest Near CM's Residence
AS the state-wide strike of the anganwadi workers and helpers in Haryana enters its third month, they staged a mahapadav near chief minister Manohar Lal Khattar's residence in Karnal on February 14, demanding the government to resume talks with the agitating workers. Over 30,000 anganwadi workers and helpers from 18 districts took part in the programme. They also took out a rally in the city, raising slogans against the BJP-JJP coalition government in the state.
February 14th marks the 68th day of the indefinite strike of the anganwadi workers and helpers in Haryana. The workers and helpers are demanding, among others, an increase of Rs 1500 and Rs 750 for workers and helpers in their monthly honorarium – the increase was promised to them by the central government in 2018.
The last round of talks between the representatives of the workers and the state government officials, held on January 10, failed to end the stalemate for the fifth time. Since then, the BJP-JJP government, while refusing to address the demands of the workers has resorted to victimisation of the protesters. More than 100 of the AIFAWH union members have been terminated till now, and also many FIRs have been filed across the state against their leaders.
The Sarva Karamchari Sangh (SKS) in Haryana expressing support to the struggle, has announced financial support to the anganwadi workers and helpers who have been on strike.