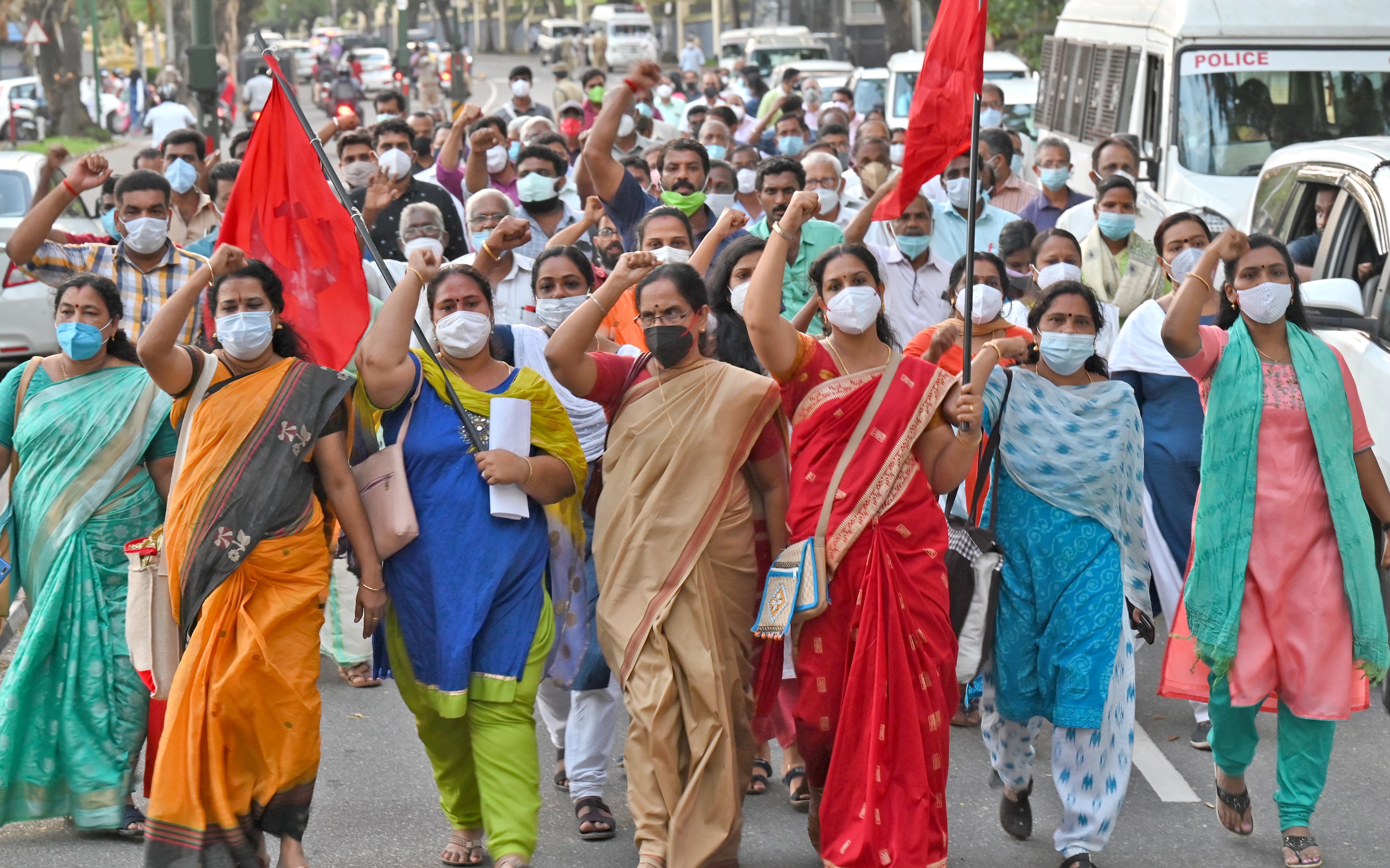 Kerala: LDF Protests Centre's Disruption
ON NOVEMBER 30, 2021, Left Democratic Front mobilised thousands of people to express state's protest against center's approach to sabotage the developmental projects. Dharnas organised in district centers have sent a strong message to the central government and the Congress led opposition, who join hands with the the centre to disrupt the developmental pace.
Kerala Chief Minister, Pinarayi Vijayan, while inaugurating a dharna before Raj Bhavan in Thiruvananthapuram, said that the central projects are the rights of the state, not a general gift of the central government. The chief minister asked, is the name Keralam the reason for this kind of obstruction? The centre offered to spend 50 per cent of the total expenses for the Sabari rail project and now it seems reluctant. The Centre is also trying to strangle the developmental plan of Calicut Airport. The Kerala government is ready to bear the expense of K Rail but the centre is too reluctant to move forward.
BJP is also hand in glove with the group which opposes developmental projects in Kerala. The people who oppose the projects are trying their maximum to interrupt their execution, it is learnt that their activities are influencing the centre, he said.
CPI leader, Kanam Rajendran(Kollam), LDF convener, A Vijayaraghavan (Kozhikode), CPI(M) Central Committee members, E P Jaryaran,(Kannur), P K Sreemathi (Malappuram), T M Thomas Isaac(Alappuzha), A K Balan(Palakkad), state secretariat member, M M Mani (Idukki), NCP state president, P C Chacko (Ernakulam), Janata Dal leader, Mathew T Thomas (Pathanamthitta), CPI leader, Pannyan Raveendran(Kasarkode), Kerala Congress leader, N Jayaraj (Kottayam), and Congress S leader, Kadannappalli Ramachandran (Wayanad), inaugurated the dharnas in various districts.