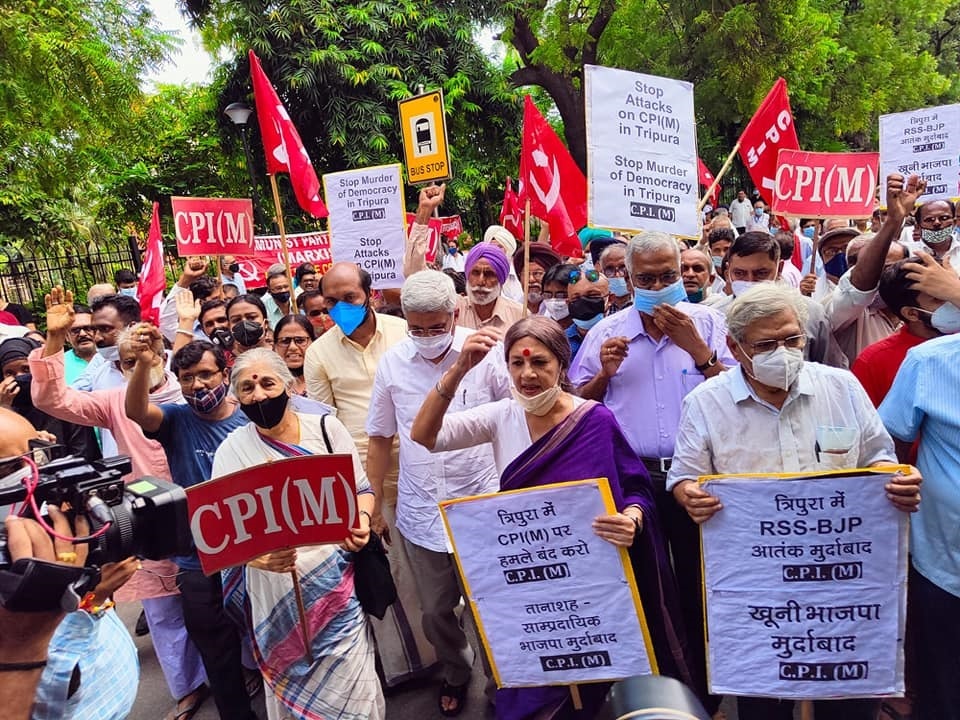 Protests across the Country against Attacks in Tripura
DELHI
THE Delhi state committee of the CPI(M) organised a protest demonstration on September 10 at Jantar Mantar against the attack on CPI(M) offices in Tripura by the RSS-BJP. CPI(M) general secretary Sitaram Yechury, Polit Bureau member Prakash Karat and CPI national secretary D Raja addressed the meeting which was held thereafter. The demonstration which was conducted by Delhi state secretary of the Party, KM Tiwari was attended by Polit Bureau members Brinda Karat, BV Raghavulu, Subhashini Ali, Nilotpal Basu and other leaders of the Party.

Speakers have underlined that the mainstream media has given a wrong colour to the entire violence unleashed on the Party, by portraying it as CPI(M)-BJP clashes while the truth is that the BJP-RSS is trying to muzzle the mass movement initiated by the CPI(M) and its mass organisations against the anti-people BJP government in Tripura. Many CPI(M) offices including the state headquarters, houses of Party activists and offices of media houses were attacked. They underlined that the Communist movement in Tripura has lived up to many such ruling class repressions in the past and would transcend this as well with the support of the people. The repression must immediately stop, the leaders said.

Besides Jantar Mantar, protests were held at four places in Ghaziabad and one place in Noida. The anti-people face of these BJP governments, whether central or states have got exposed before the people during the pandemic. Raising solidarity with the people of Tripura means raising the banner of protest against the anti-people policies of the BJP led governments throughout the country.