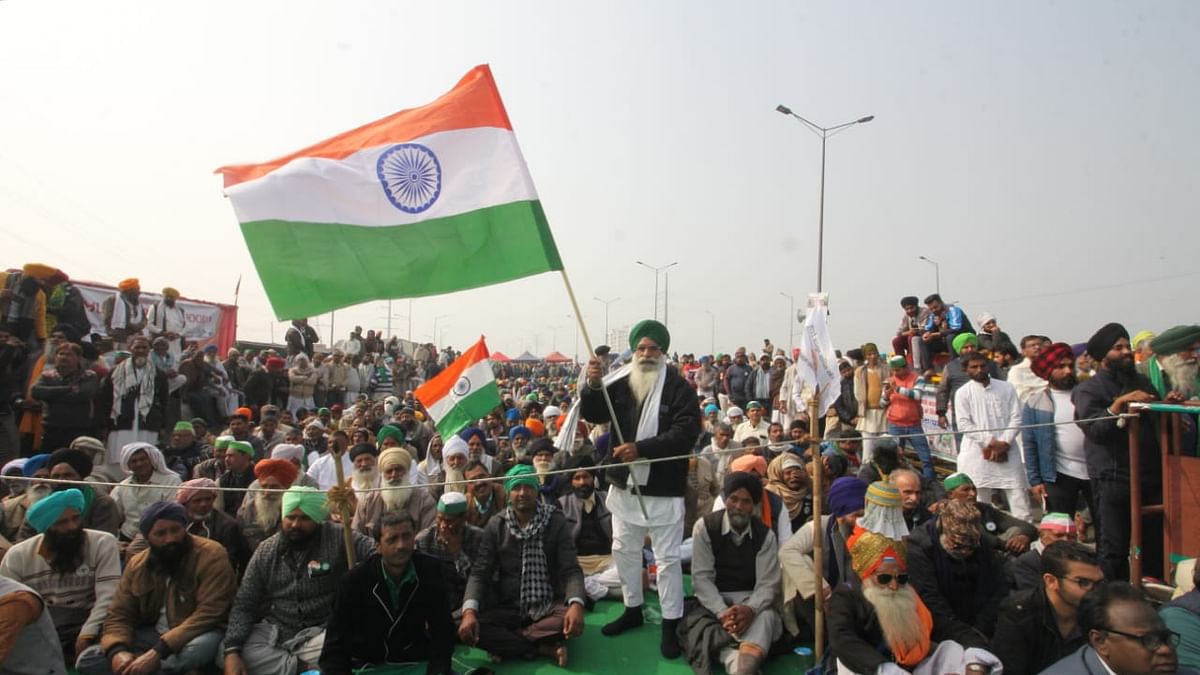 Aug 15: Lakhs Join Tiranga Rallies as PM Rolls Out Lies and Deceits
Ashok Dhawale
WHILE Prime Minister Narendra Modi was rolling out more than even his usual quota of lies, deceits and jumlas in his speech at the Red Fort, India's 75th Independence Day on August 15, 2021 was marked by lakhs of farmers and workers organising huge Tiranga Yatras on 'Kisan Mazdoor Azaadi Sangram Diwas' all over India, including at the protest sites at Delhi's borders.
Reports are pouring in from different locations about the various ways in which the day was marked with Tiranga Yatras by farmers and workers. Women farmers took the lead in different places in Haryana, Punjab and elsewhere. At the various morchas of the farmers' agitation including Dhansa, Palwal, Ghazipur, Shahjahanpur, Singhu and Tikri, there were special events to mark the day. The Azaadi Sangram Diwas was also marked at different toll plazas which have become pucca morchas of protesting farmers over the past several months. As expected, the Uttar Pradesh police did not allow the Tiranga Yatras of farmers in some locations to proceed.
Maybe never before in independent India was the day marked so visibly and with so much fervour. Thousands of vehicles of farmers were taken out in Tiranga Yatras in different places, spanning hundreds of kilometers. In agricultural fields and in the chowks of urban centres, the Tiranga was held high, with farmers and other ordinary citizens taking the lead, even as they highlighted issues that need redressal for true freedom to be experienced by all citizens, especially by the most marginalised.
The Tamil Nadu state government presented its maiden agriculture budget and dedicated it to the protesting farmers at Delhi's borders. Several other state governments, including the LDF government of Kerala, have also expressed their support to the ongoing farmers' movement.
AIKS LAMBASTS PM'S SPEECH
Meanwhile, the prime minister's Independence Day speech refused to make any mention of the historic farmers' movement, and instead made hollow claims yet again about policies in favour of small and marginal farmers of the country. There was a deafening silence on the claims and commitments of "doubling farmers' incomes". The AIKS, in a press note released on Independence Day, condemned the lies and deceits resorted to by the prime minister and resolved to intensify the countrywide campaign to expose this callous BJP government.
The AIKS statement said, "The prime minister Narendra Modi who refused to speak on the plight of the farmers in parliament or resolve issues raised by them, used the solemn occasion of Independence Day to hoodwink the nation and falsely portray that the BJP government has been doing a lot for farmers. Farmers have been protesting on the borders of Delhi and across the country for more than nine months and over 600 farmers have become martyrs in the struggle, but the prime minister adamantly pursues the policies promoting corporate profiteering. If he was really concerned about small farmers he should have announced the decision to repeal the three Farm Acts, amendments to Electricity Act and announce a law to make MSP a legal right.
"The bitter truth is that in the last seven years of Narendra Modi's rule farmers' incomes have dwindled instead of his claim of doubling incomes and farm suicides have crossed a lakh. The Pradhan Mantri Fasal Bima Yojana (PMFBY) which he highlighted as helping small farmers has actually become a monumental failure. Farmers' claims are not being settled although premium is paid by them as well as by state and central governments. Many states including Andhra Pradesh, Bihar, Gujarat, Punjab, Telangana, West Bengal and others have opted out of the PMFBY scheme because of its inefficacy. The prime minister has claimed that cheap credit is being made available to small farmers, but this strategy which is in place from even before he took over excludes millions of tenant cultivators. No relief or loan waiver has been done even in times of the Covid Pandemic when farmers have suffered huge income losses.
"Yet again the lie that the Minimum Support Price (MSP) has been increased to 1.5 times the cost of production was peddled from the Red Fort while the government has not implemented the C2+50 per cent formula as recommended by the National Commission of Farmers. It is also to be noted that procurement at even this MSP which is in most crops 40-50 per cent below C2+50 per cent is not assured. According to a report in October and November 2020, in 11 major agricultural states, farmers got about Rs 1,900 crore less than MSP for crops sold in those two months…
"The costs of all agricultural inputs, especially the back-breaking increases in diesel, petrol and fertilisers are making agriculture unviable. The PM-Kisan scheme is pittance when compared to the increase in production costs and loss of incomes for which the BJP government's policies are solely responsible. In reality the small farmers and tenant cultivators are the worst-hit by the BJP government's policies."
INTERNATIONAL SUPPORT WIDENS
On our Independence Day, American farmers extended a message of solidarity with protesting Indian farmers. The American counterparts of the protestors here described their suffering and distress in a free market policy environment which has impoverished farmers there, while making corporations richer and capitalists wealthier. Their story of near-extinction is a good lesson for Indian farmers.
To extend their support and solidarity to the protesting farmers on this Independence Day, sleep-out events were organised in different parts of the world by Indian diaspora. This includes Vancouver, London, San Jose (USA), Seattle, Toronto, Vienna etc. In London, at the well-known Westminster Bridge over the River Thames, a huge banner was unfurled that demanded Prime Minister Narendra Modi's resignation.
NATIONAL CONVENTION
ON AUGUST 26-27
To mark the completion of nine months of intense protests by farmers at the borders of Delhi, the Samyukta Kisan Morcha (SKM) is organising an All India Convention on August 26-27, 2021 at Delhi, for which participation call has been given to farmers organisations, trade unions and other mass fronts. Enthusiastic response is being received from all over India. The national convention will see the presence of delegates from all states and union territories of India.
The response of the farmers' movement to the arrogant, insensitive and undemocratic attitude of the central government towards farmers and their demands shall be discussed and deliberated upon and further directions and actions in the protest movement shall be jointly determined and then implemented. The central government has always tried to pretend that this historic farmers' movement is limited to a few states, overlooking the fact that farmers all over the country are struggling to remain afloat. This convention shall hammer another nail into the package of lies that the Modi regime has been feeding the nation.
PREPARATIONS IN FULL SWING
FOR SEPTEMBER 5 RALLY
Preparations are underway, in full swing, for the very large kisan mahapanchayat of lakhs of farmers being planned at Muzaffarnagar on September 5, as part of Mission Uttar Pradesh-Uttarakhand. This mission is aimed at ousting the BJP governments in both these states in the assembly elections due in six months. Mobilisation meetings are being organised not just in the Western Uttar Pradesh districts but in the whole of UP and other nearby states too. It is planned that the message of anti-farmer and pro-corporate policies adopted by the Modi and Yogi governments and various state BJP governments too, will be taken to every nook and corner of Uttar Pradesh and Uttarakhand from this historic assembly of farmers.