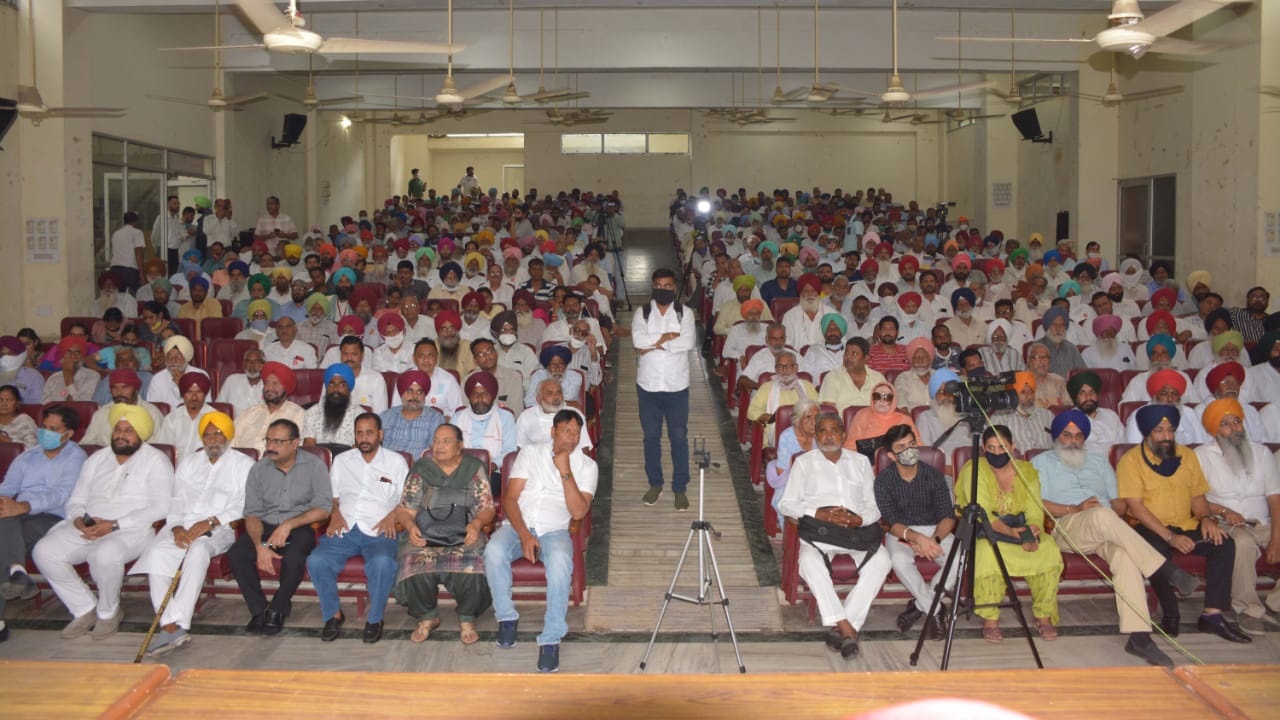 Com Surjeet's Anniversary Meeting
Roshan Lal Moudgil
STRENGTHENING the resolve to defend our secular democratic republic with all our might and defeating RSS/BJP efforts to destroy it will be the best tribute to Comrade Harkishan Singh Surjeet, said Sitaram Yechury while speaking to a gathering at Bhakna Bhawan, Chandigarh on the occasion of Comrade Surjeet's 13th death anniversary on July 29, 2021.
Sitaram Yechury recalled his long association and opportunity to attend many meetings at international and national levels with Comrade Surjeet. Commenting on the present national scenario, Yechury said that the BJP/RSS is attacking the constitutional institutions, trying to dismantle the federal structure thereby turning the states into beggars, discrediting and misusing judiciary, CBI, election commission, ED, income tax and NIA. He said in their pursuit of a Hindu Rashtra, they have a target to declare India a Hindu Rashtra on the 75th independence day of 2022 and change the Constitution by 2025, the centenary of the foundation of RSS and declare India a Hindu Rashtra. Abolition of Article 370 in J & K and Ram Temple judgement are being propagated as great achievements of RSS/BJP. He condemned the attacks on top educational institutions like JNU, Central University Hyderabad, Jamia Milia, IIT Chennai , Jadavpur University and many more stating that they find students or teachers an obstacle to their communal politics. Young men and women protesting against CAA, Delhi riots, abolition of Article 370, NEP are being booked under UAPA and Sedition Act and put in jails.
He said democratic rights are under attack and gave examples of the recent tragic institutional death of Father Stan Swamy, a Christian priest, and many more social activists languishing in jails without trial for many years. The peasantry of the country is in protest for the last eight months against anti peasant and pro-corporate farm laws enacted by the Modi government to please his crony capitalist friends. He also mentioned how the Modi government is using intelligence agencies and Spyware equipment to target opposition leaders, bureaucrats and other inconvenient persons to the BJP/RSS/government. Pegasus revelations are a glaring example of deep snooping to which BJP is bent upon.

The function which commemorated the 13th death anniversary of Comrade Surjeet, former general secretary of CPI(M) was organised by the Punjabi daily newspaper Desh Sewak. Though the anniversary falls on August 1, due to the busy schedule of Sitaram Yechury the date was advanced to July 29th. More than 500 people from all walks of life participated in the function. All leaders, prominent personalities and other participants led by Sitaram Yechury paid floral tributes at the portrait of Comrade Surjeet. The function was presided over by Gurchetan Singh Bassi , state secretariat member, CPI(M) and son of Comrade Surjeet. Lehmber Singh Taggar, state secretariat member conducted the proceedings.
Bant Singh Brar, state secretary , CPI while addressing the gathering recalled the role played by Comrade Surjeet to prevent the BJP from coming to power at the centre as he had the stature and ability to convince anti-BJP parties to unite against the communal and divisive BJP in the national interest. Veteran Akali leader and MP, Sukhdev Singh Dhindsa, who is now president of United Akali Dal, recalled his association with Comrade Surjeet. He said Comrade Surjeet played a prominent role in national politics, though he never accepted any post. He further said that he was instrumental in the election of many prime ministers and presidents by unifying various regional and national parties.
Sardar Balwant Singh Ramoowalia, the former central minister also shared his experiences with Comrade Surjeet. He said that the nation needed him the most in the present scenario when the communal–fascist RSS/BJP is ruining the country through their policy of polarisation of people on the basis of religion, caste and region etc. Professor Chaman Lal, former president of JNU Teachers Association and presidium member AIPSO Punjab explained the role of Comrade Surjeet during 1990s when Cuba faced an economic crisis. Sukhwinder Singh Sekhon, state secretary CPI(M) said that Comrade Surjeet not only played a vital role in national politics but he worked for strengthening the communist movement worldwide. He further elaborated that after the collapse of the Soviet Union when many Communist Parties were changing their names, Comrade Surjeet organised a convention of the world Communist Parties at Kolkata in the 1990s. The subject of the convention was that Marxism - Leninism is a science that can never fail. There could be mistakes in implementing Marxism – Leninism.
Gurchetan Singh Bassi, president thanked the guests and participants.