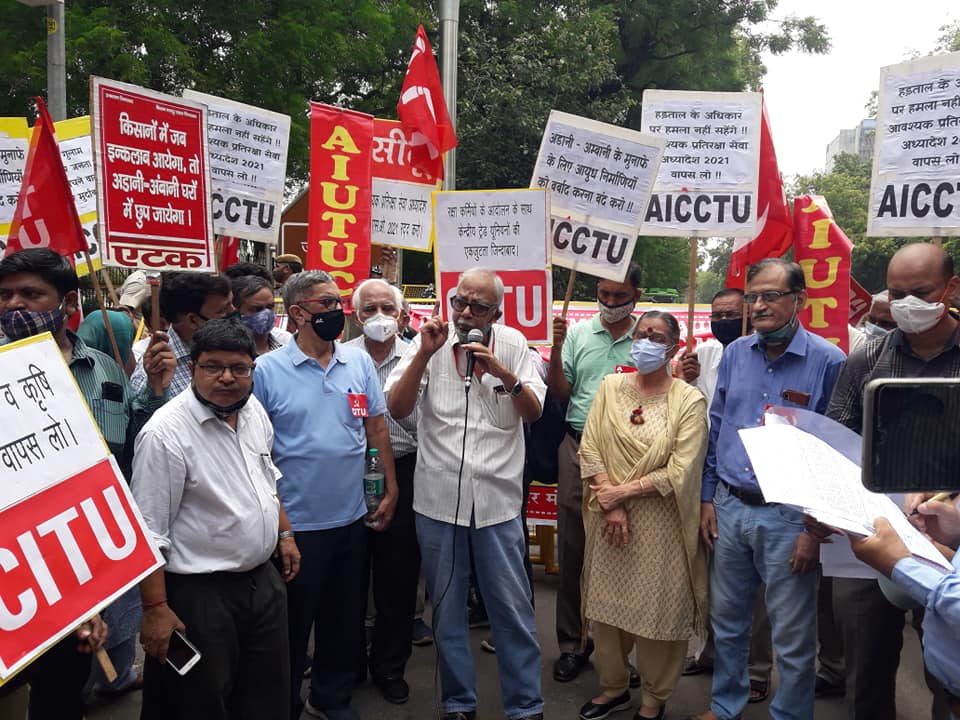 Stop Muzzling Voices of the Defence Workers
IN a letter written to director general of the International Labour Organisation, Geneva, on July 24, 2021, Tapan Sen, general secretary of CITU requested the intervention of the ILO against the move of the Indian government to ban industrial actions by civilian workers of defence production organisations.
He asked the director general to recommend the government of India to withdraw a bill which has draconian provisions against the workers going for an industrial action. Tapan Sen said that the bill is aimed not only to prohibit any industrial action by the employees and unions in defence sector, but would also destroy the trade unions in this sector. He said, "The ordinance had violated Constitution of India, several Conventions and recommendations of ILO, in addition contravened decisions of the Freedom of Association Committee of the governing body of the ILO."
Tapan Sen giving reference of the defence material production and services set up in India stated that there are three sections of
military requirement together with supplying many equipments and process for civil purposes. It has nearly 44 and odd industrial establishments together with research institutions which are producing number of arms, ammunitions and systems and accessories making the country almost self reliant. More than 75 per cent requirements of Indian defence forces are being successfully and timely produced and supplied by the ordnance factories with incomparable efficiency and assured quality. Thousands of workers are employed in this sector fully owned by the government department.
Lamenting on the privatisation drive carried out by the government of India, he said that the central government has been actively moving to privatise this sector in favour of private corporate owners.
Workers are opposed to this privatisation and hence they decided to go on a strike. Initially, through dialogue, the ministry of defence had settled the issue acknowledging that privatisation move of the government would be stalled. The unions in this sector immediately withdrew strike notice served on the government. Thereafter there was no agitation by the workers. But the government decided to continue with their move of corporatisation of ordnance factories. The unions of the workers were to issue a notice of industrial action against this move.
Explaining the reason for the ordinance brought by the central government on June 30, 2021, and later a bill tabled in the parliament, Tapan Sen said this is to muzzle the voices of the workers. This he said violated the ILO conventions including the Core Conventions, resolutions and policies declared on freedom of associations. He said his letter should be treated as a formal complaint against actions of the government of India for grossly violating the basic principles of labour rights and also the ILO Standards.