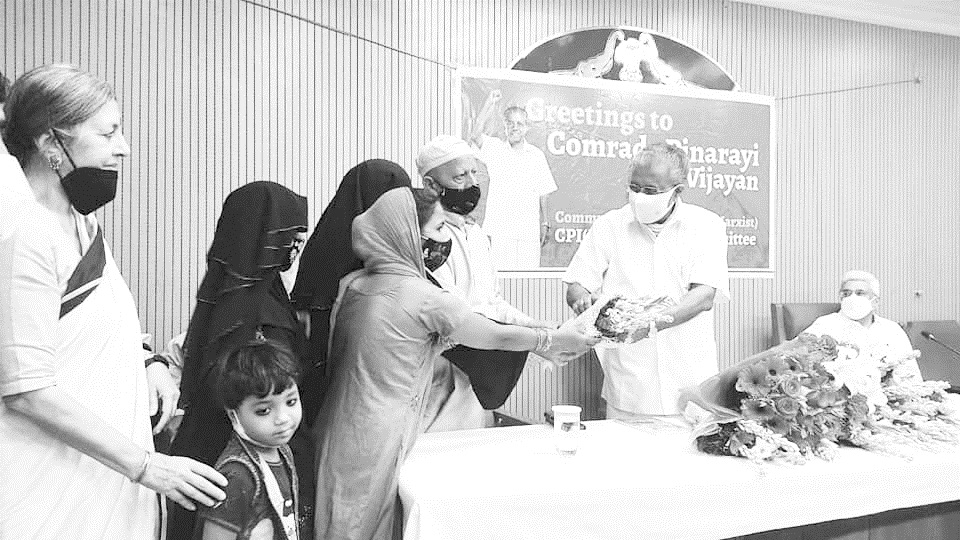 Warm Reception for Pinarayi Vijayan
The CPI(M) Delhi state committee organised a reception for Pinarayi Vijayan, chief minister of the LDF government in Kerala upon his coming to Delhi after getting re-elected. The representatives from the CPI(M) Delhi state committee and mass organisations like CITU, JMS, DYFI, SFI, DSMM, Jansanskriti and AIDWA (centre) participated in the programme. Five persons from families affected by the communal violence in North-East Delhi also greeted Pinarayi Vijayan.
Presiding over the meeting, K M Tiwari, CPI(M) state secretary, thanked him for the monetary contributions made by the people of Kerala towards riot-relief work in North-East Delhi. The CPI (M) Delhi state committee and other mass organisation presented bouquets to Pinarayi Vijayan during the reception. Addressing the meeting, Vijayan said the LDF government in Kerala would continue with the pro-people alternatives in spite of the heavy toll on the state's economy by the pandemic.
Prakash Karat, Polit Bureau member, while speaking at the reception stressed that the LDF government could fulfil 570 out of the 600 promises made in the manifesto amidst the worst floods and pandemic and charted a Left alternative for the whole country. CPI(M) Polit Bureau members Brinda Karat, B V Raghavulu, Tapan Sen and Hannan Mollah also participated in the meeting.