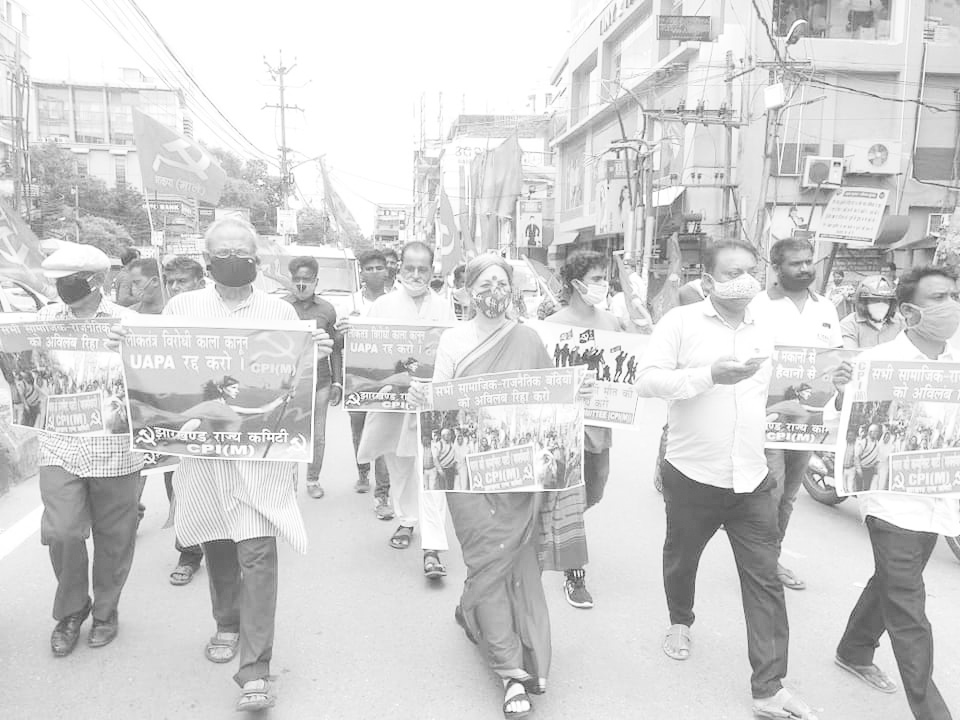 JHARKHAND: Dharna Demanding Judicial Probe Into Father Stan Swamy's Death
AT the call of the Jharkhand United Platform of Left parties, social and mass organisations, NGOs, college students and concerned citizens, a march to Raj Bhavan was held in Ranchi on July 15, demanding a judicial probe into the death of Father Stan Swamy, and the release of all political prisoners.
Hundreds joined the march including Brinda Karat, CPI(M) Polit Bureau member, and Party state leaders Prakash Biplav, Praful Linda, Suknath Lohra and other activists of the Left parties and mass organisations.
The meeting was presided over by Dayamani Barla, noted activist and fighter for tribal rights. Apart from Brinda Karat, speakers included Vinod Singh CPI(ML) MLA, Bhuneshwar Prasad Mehta, veteran CPI leader and many others. A memorandum was handed over by the leaders to the office of the governor demanding judicial inquiry into Father Stan Swamy's custodial murder, release of all political prisoners, scrapping of UAPA and release of innocent tribal, dalit and poor under-trials who were arrested in the name of curbing Maoists in Jharkhand.
Addressing the demonstration, Brinda Karat said that in order to suppress the voices which speak against the government as part of conspiracy Father Stan Swamy was sent to jail by implicating him in fake cases where he died due to lack of treatment. She said that if the centre fails to order for a judicial probe, more severe agitation will be launched. Bhuneshwar Prasad Mehta said that after coming to power, the party in the centre is mentally harassing the people who raise voices against the government or they are being framed under fake cases. He said that the death of Father Stan Swamy is a conspiracy to create pressure on those who raise voice over the issues of jal, jungle and zameen.