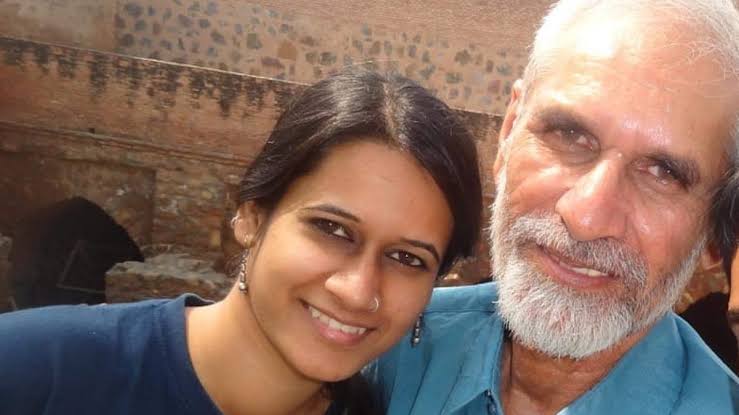 Mahavir Narwal : A life lived with Revolutionary Ideals in Practice.
Inderjit Singh
SOME traumatic incidents do completely expose the extent of degradation in the existing times. The untimely and tragic passing away of Mahavir Narwal turned out to be ironically one of those incidents. Narwal passed away on May 9 due to Covid related complications. His demise at a time when his daughter was locked up in a prison cell on totally baseless and malafide charges has shaken all the democratic sections of our society.
In the face of this extremely painful tragedy, our judiciary seems to have proved itself to be completely insensitive towards any human values. Had Natasha been granted special bail on Saturday, May 8, to see her ailing father, she could have spoken to him one last time. However, on a bail plea that was filed on May 7, the hearing was postponed for May 10, by which time her father was no more. Mahavir's son Akash had also tested positive for COVID 19. This not only shows this government's cruel disregard towards saving the lives of its citizens during this pandemic but also reveals the extent to which they go to violate basic human rights to restrain a daughter from meeting her father one last time. He could be cremated only on May 11, as Natasha reached late at night the previous day.
People will miss Dr Narwal for a long time because he was an extraordinary human being and his passing away has created a huge vacuum in society.
During his student life, Narwal was an integral part of the SFI and by becoming a gold medalist at the BSc and MSc levels he gave true meaning to the organisation's slogan 'study and struggle'. Natasha too became part of a feminist organisation called Pinjara Tod, while pursuing her MPhil in Delhi. In 1976 Mahavir was working on his MSc in plant breeding when he was arrested for opposing the excesses of emergency. Many years later, Natasha enrolled in a PhD at the Jawaharlal Nehru University (JNU), and was later arrested for participating in the anti- CAA protests.
We should not look at these two stories just as mere chance incidents completely separate from each other. Natasha has in her own way successfully carried forward the struggles waged by the previous generations. There is nothing uncanny about this repetition of history; this link between father and daughter is part of a larger chain, the passing down of a baton of resistance through generations. It will not end here.
Mahavir Narwal's father, Natasha's grand-father Pratap Singh had retired from the army as a subedar before he returned to his village Banwasa in Haryana. In his village in Sonepat district he became very active in organising people and participating in struggles related to farmer's and social issues.
Subedar Pratap Singh didn't just oppose Purdah, but also possessed that rare caliber to openly raise his voice against the caste system. He encouraged his daughters to choose their own life partners and stood firm with Narwal and his sister when they chose to marry outside their caste. Mahavir's three sisters and their spouses have been active in social movements.
In 1976 when emergency was imposed MISA warrants were issued against both Narwal and myself and later we were arrested. Even though both of us were locked up in the same prison for almost one year, we were never allowed to meet even once. We felt extremely privileged to have inherited progressive values from our previous generation, which we tried to take forward in our political struggles. It is this progressive politics that Natasha is the third-generation flag bearer of.
Since our graduation days at Haryana Agricultural University (HAU), Hisar, we were actively occupied with organising students in Haryana while constantly being in touch with and guided by the students' and teachers' movements in Delhi University and JNU. We also succeeded in getting student union recognised and representation in decision making bodies. Eventually we became candidate members in 1974 and full members of CPI(M) the following year.
Narwal also had the added responsibility of looking after his three sisters' education, so he joined HAU as assistant professor. He had an outstanding grasp of the subject of plant breeding and understood the crucial role of seed science in ensuring food security.
He was so popular amongst his students and even senior colleagues that he was later elected as the president of the HAU Teachers' Association. He played an important role in connecting the Haryana teachers with teachers' organisations at the national level. He played a very active role in the literacy and post-literacy movements. Along with Comrade Prithvi Singh, CPI(M) leader, he gave leadership to several movements against fee hikes in private educational institutes. He also played a role in the founding and running of the Haryana Vigyan Manch and was the editor of their science bulletin.
In 1986 he married Neelam, a school teacher associated with JMS. Throughout her serious and long-lasting illness related to an immunity syndrome, Narwal had to shuffle between several responsibilities. His dedication towards Neelam and his two children showed the depth with which he had so naturally emulated the best human values. Unfortunately, in 2001 Neelam passed away and from then he raised his two children as a single parent.
After his retirement from HAU, he settled down in Rohtak. He was actively involved with the Haryana Vigyan Manch and people's science movement. In 2016 he played an active role in forming Sadbhawana Samiti to bring communities together in the aftermath of Jat reservation agitation in Haryana.
He also initiated the work of collecting financial and other support in the urban sectors of Rohtak towards the ongoing farmers' movement. On the occasion of International Human Rights Day on December 10, 2020, from the BKU (Ugrahan) stage he raised his voice on the issue of freedom of speech and release of all political prisoners.
The way he unflinchingly supported his daughter Natasha after her arrest in May 2020 has become a source of inspiration for all those who are engaged in fighting the present authoritarian regime. He offered solidarity to all who have been languishing in Indian prisons for raising their voice against undemocratic government diktats.
In the last week of April, he started showing symptoms of COVID19. To avoid any complications due to his co-morbidities, it was decided to move him to a hospital in Rohtak. However, his lungs failed to maintain oxygen saturation and on the evening of May 9, he passed away.
His largeness of heart is seen in how people seem to want to claim him as being closest to them. This is testimony to his having been a people's person. During his fight for justice for Natasha, Narwal went far beyond immediate concerns, forming connections with so many others, standing firm with them in their personal quests and struggles.
Narwal's death leaves a gaping hole in all the lives he so dearly touched. Democratic movements across the country have surely lost a crucial ally in his passing.
State Party leaders, leaders of mass fronts, and those belonging to the social movement lined up in front of the hospital and showered flowers on the ambulance when it came out carrying his body as a mark of love for Narwal. Jagmati Sangwan, Satvir Singh, Virender Malik, Savita, Manisha, Sabita, Jai Bhagwan, Surekha, Vinod Deswal , Satish, Pramod , S P Singh and others were there on the occasion.
Natasha performed the final rites. CPI(M) Haryana state secretary, Surender Singh offered a wreath on behalf of the Party. A wreath was also placed by the science movement activists.
Inderjit Singh paid revolutionary homages to beloved Comrade Narwal and urged the small gathering at the crematorium to bear the loss with resilience and courage as a family. On behalf of all, he expressed condolences to Natasha, Aakash and other family members. On social media and phone, condolence messages are pouring in from across the country and abroad. Sitaram Yechury, Prakash Karat, Brinda, Gurjeet Kaur ( Shahid Bhagat Singh's niece) and others spoke to Inderjit expressing their deep grief.
At this point came the sad news of Comrade Ranjana Nirula's passing away and it was mourned with two minutes of silence.