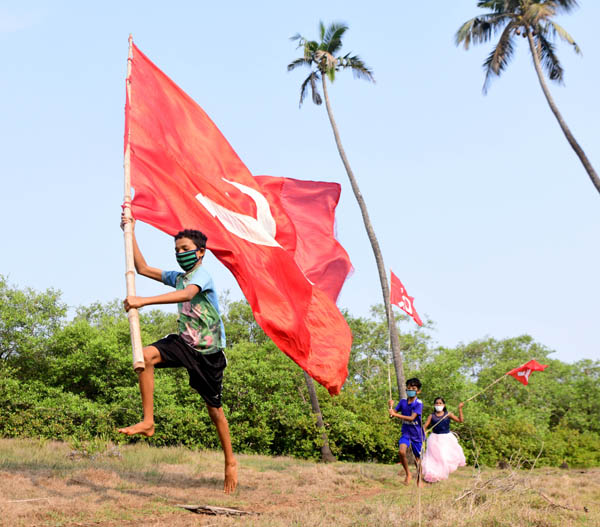 LDF landslide victory in Kerala
N S Sajith
ENDORSING the achievement made by the Pinarayi government in the last five years and its effort to resist the communal forces, the people of Kerala have once again voted CPI(M) led Left Democratic Front to power with a thumping majority. LDF bagged 99 seats and Congress-led United Democratic Front was restricted to 41 seats.
Most of the LDF candidates won with huge margins, while some candidates lost by thin margins, especially in those where BJP transferred thousands of votes to UDF.
Chief Minister and CPI(M) Polit Bureau Member, Pinarayi Vijayan reelected from Dharmadam with a margin of 50,123 votes, while health minister and CPI(M) Central Committee member, K K Shailaja won with a margin of more than 61000 votes. Central Committee Members, M V Govindan, and K Radhakrishnan won with huge margins. Chief Minister, Pinarayi Vijayan said that this victory makes us more humble. CPI(M) alone won 62 seats and CPI(M) supported independents won in five seats. Ministers, CPIM state secretariat members, M M Mani and T P Ramakrishnan won from Udumbanchola and Perambra respectively, while ministers and state committee members and Kadakmapalli Surendran and A C Moideen won from Kazhakkoottam and Kunnamkulam respectively. Ministers, E Chandrasekharan, K Krishnan Kutti, Kadannappali Ramachandran and Dr K T Jaleel also won.
As the Covid19 protocols were strongly implemented, all jubilations were suspended across the state. LDF has urged the people to celebrate the victory on the evening of May 7th, by lighting the torches.
BJP LOST ITS LONE SEAT
NDA has lost their only seat, Nemom in Thiruvananthapuram which they managed to win with the help of the Congress votes in 2016. V Shivankutty of CPIM wrested Nemam seat defeating BJP's Kummanam Rajashekharan. UDF fielded Lok Sabha member, K Muraleedharan who finished third. BJP president, K Surendran lost in both constituencies he contested, Manjeswaram in Kasargod and Konni in Pathanamthitta. Metroman, E Sreedharan, who claimed to be the chief ministerial candidate of NDA lost in Palakkad constituency.
TEN WOMEN FROM LDF
With the historic victory of the LDF, there is now a strong line of ten women on the ruling bench in the state assembly. Ten of the 15 LDF candidates who contested won by a landslide margin. Apart from K K Shailaja, Veena George(Aranmula), U Prathibha(Kayamkulam), R Bindu(Iringalakkuda), O S Ambika(Attingal), K Shanthakumari(Kongad), Kanathil Jameela(Koyilandi), and well known playback singer, Daleema Jojo(Aroor) (all from CPI(M), and CPI candidates- C K Asha (Vaikkom), J Chinjurani (Chadayamangalam) have emerged victorious. UDF supported candidate K K Rama (Vadakara) is the lone woman member from UDF. Fisheries minister J Mercykutti Amma lost the seat in Kundara to UDF. In 2016, the BJP secured 20,257 votes and in this election they got just 6,100 votes.
Vote trade happened in Thrippunithura where sitting MLA, M Swaraj lost by a thin margin of 1,050 votes. BJP's vote share was reduced by 6,057 votes. Thavanoor a constituency in which former minister and LDF backed independent candidate Dr K T Jaleel also witnessed a vote trade between BJP and Congress. Despite this factor, Dr Jaleel won by 2,564 votes.
DYFI all India president, P A Muhammad Riyas won from Beypore and SFI state secretary, K M Sachin Dev won from Balusseri with a thumping majority. Deshabhimani chief editor and former Rajya Sabha Member, P Rajeev and K N Balagopal (both are state secretariat members of CPIM) have won from Kalamasseri and Kottarakkara respectively and former parliament member and CPI(M) state committee member M B Rajesh won from Thrithala .
FIVE ELECTED WITH 60% OF POLLED VOTES
The following CPI(M) candidates have gained more than 60 per cent of total polled votes: Health minister, K K Shailaja (Mattannur-61.96 per cent), electricity minister- M M Mani (Udumban Chola-63.94 per cent), T I Madhusoodanan (Payyannur- 62.67 per cent), A N Shamseer (Thalasseri-61.51 per cent), M Vijin (Kalliasseri-60.29 per cent). Chief minister, Pinarayi Vijayan has got 59.24 per cent votes.
Following LDF candidates gained more than 50 per cent of total polled votes: Minister E Chandrasekharan (Kanjangad), M Rajagopalan(Thrikkarippur), P A Muhammad Riyas(Beypore), Sachin Dev(Balusseri), Minister A K Saseendran(Elathur), P Nandakumar (Ponani), Muhammad Mohsin (Pattambi), K Krishnan Kutti(Chittur), K Babu (Nenmara), K D Prasenan (Alathur), K Radhakrishnan (Chelakkara), N K Akbar (Guruvayoor), C K Asha (Vaikkom), P S Supal (Punalur), M Noushad (Iravipuram), V Joy (Varkala), D K Murali (Vamanapuram),

Though the LDF has made a landslide victory, Lok Janshakthi Party leader M V Shreyamskumar and Kerala Congress (M) leader Jose K Mani lost their seats in Kalpetta and Palai.
Opposition leader, Ramesh Chennithala, former chief minister Oommen Chandy, IUML leader KPA Majeed and Dr M K Muneer are the prominent leaders who won from the UDF.

CREDIT OF THIS HISTORIC VICTORY GOES TO PEOPLE OF KERALA: PINARAYI
Chief Minister, Pinarayi Vijayan said that the credit of this historic victory goes to the people of Kerala. This great victory is humbly dedicated to the people of Kerala. This is in recognition of the political alternative being promoted by the Left. Undoubtedly, this result is a beacon for future Indian politics. Kerala has so far adopted a system of accepting successive governments. So there is a historical significance to this success. This result is a reflection of the people's acceptance of the government and the actions of the government.
It is a great political struggle. With the election atmosphere, there were conscious moves to subvert the atmosphere of the state. There were a variety of attacks. The state faced many crises. But the people stood with the LDF. That's why we were able to survive everything, he added.
LDF gains 47.47 per cent, while BJP loses four lakhs votes. LDF vote base has been strengthened compared to the elections held in 2016 as the front got more than 10 lakh votes. According to the latest data of the election commission the ruling front got 47.74 per cent of the total polled votes. UDF got just 42.91 per cent while BJP lost 4,28,531 votes. LDF's vote share has increased in all 14 districts. The total number of votes polled for LDF is 99.44 lakhs and UDF is 89.4 Lakhs. NDA got 25.07 lakhs while BJP got 30 lakh membership in the state.
The statistics shows that BJP had diverted votes to UDF in 90 seats out of 140. Around 10 UDF candidates won because of this vote trade.
---
CPI(M) Kerala State Secretariat Statement on LDF's Historic Victory
THE people of Kerala have given a historic mandate to the Left Democratic Front for another continuous term for the first time. CPI(M) salutes the voters who have rewritten history and thank all those who worked for it. The party would like to assure that the new government would live up and do justice to the aspirations of the people. This verdict would give renewed confidence for the CPI(M) and Left democratic forces to work among the people. The various Left Democratic Front governments since 1957 have worked for the upliftment of the marginalised and this verdict strengthens its continuation. This verdict also establishes that the Left democratic forces of Kerala have got a foundation strong enough to challenge the vile campaign of the reactionary forces. This victory will strengthen the popular struggles against the BJP led central government's coup against democracy, secularism, and constitution. This adds to the confidence of those fighting against these policies in the country.
This victory also establishes that the people want continuity and expansion of the development efforts of the government led by the chief minister, Pinarayi Vijayan. The LDF government, during its last five years, has worked tirelessly to carry out development that ensures social justice and upholds democracy and secularism. The tremendous support from the people to a government that held them close during all crisis situations has also become evident in this election. This victory will also help to uphold the left alternative to the anti-people economic policies and extreme communal agendas of the BJP government at the centre. Both the UDF and BJP, during the last five years, made all attempts to topple the government by unleashing violent protests and baseless allegations. The fleet of anti-communist media too strongly supported these campaigns. Anti-left forces tirelessly tried to sabotage the elections with the help of large amounts of hawala money and by organising fake protests. The overt public calls made by some community leaders to defeat the LDF can also be seen as part of this attempt. The central BJP government used all the central agencies to topple Kerala's LDF government. The LDF has been able to overcome all these wrong moves because of the strong support of the people of Kerala. The election results prove this.
The people of Kerala wishes to have a continuity of the development efforts carried out under the leadership of chief minister, Pinarayi Vijayan. The LDF has put forward a manifesto that aims at the multifaceted growth of the state. It's a mandate to bring that into practice as well.
The 'BJP account' which was opened with the tacit support of the UDF five years back is closed by the people of the state led by LDF. Kerala has given a strong rebuff to BJP's communalism. The campaign led by the Modi-Shah duo and a string of central ministers worth crores did not work. The BJP state president contested two seats to give an impression that they are vying for power. The party which boasted to come to power even with 35 seats couldn't manage anything inspite of the work of central agencies. Kerala has given a strong reprimand to the efforts of the central government to destabilise the state government by violating federal principles and abusing central power. This supreme democratic consciousness is also a clarion call that the people of Kerala will not bow under communal terror.
The UDF aim for a communal consolidation along with the Jamaat-e-Islami also was rejected by the people. Once again Kerala has proved that it upholds the politics of secularism. All sections of society have supported the LDF. This unprecedented popular verdict makes the CPI(M) and its activists more responsible and humbler. Governance which is committed to the people and finding answers to the issues of the people by siding with them will be continued. It's our appeal to the millions of people of Kerala to extend wholehearted support in that endeavour. Once again, the CPI(M) state secretariat thank all who have contributed to this historic victory of the Left Democratic Front.