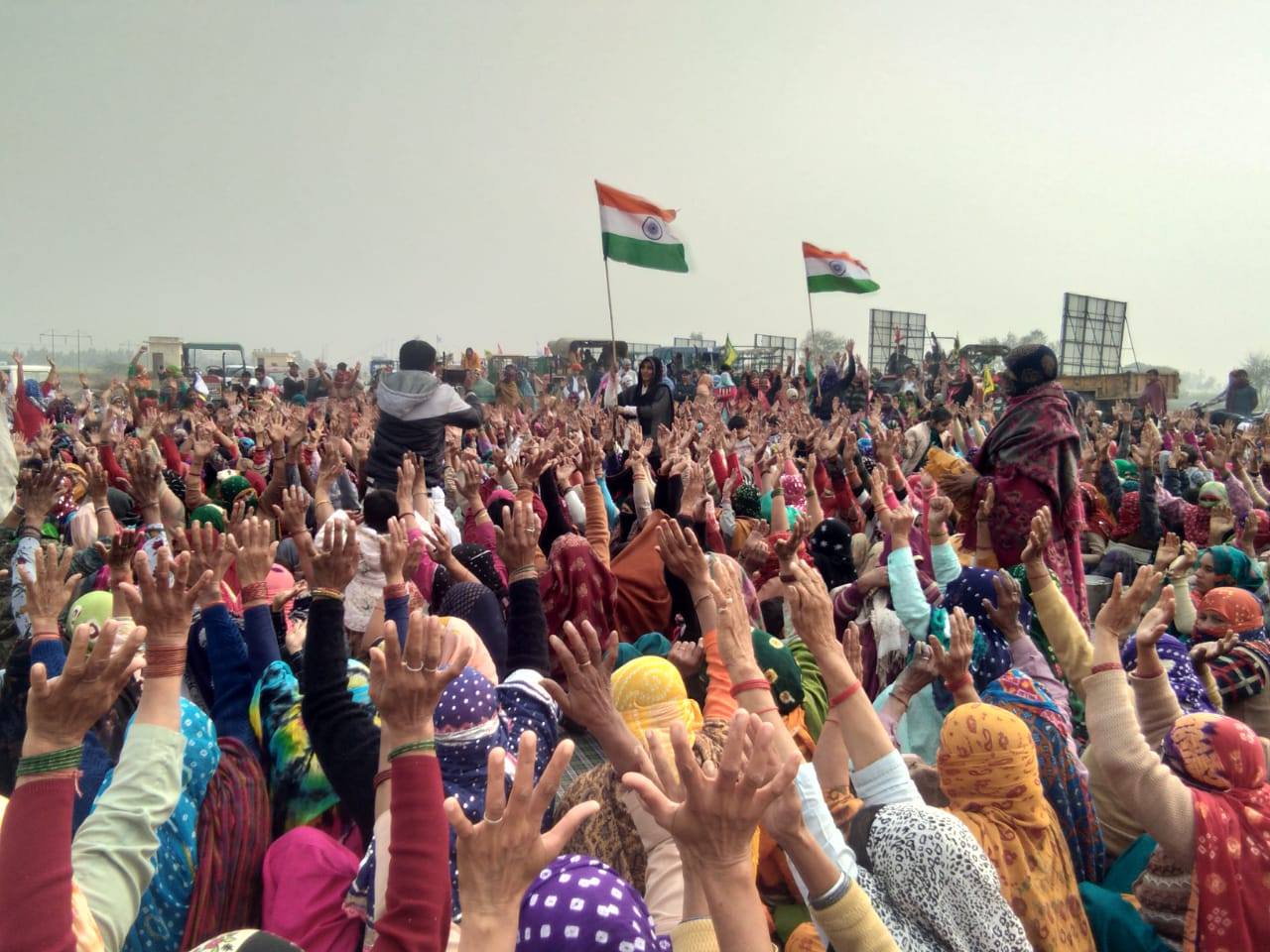 Thousands of Women Lead Protests on Mahila Kisan Divas
Mariam Dhawale
THERE was massive and enthusiastic participation of thousands of women all across the country on Mahila Kisan Divas on January 18. Six national women's organisations – All India Democratic Women's Association (AIDWA), National Federation of Indian Women (NFIW), All India Progressive Women's Association (AIPWA), Pragatisheel Mahila Sangathan (PMS), All India Agragami Mahila Samiti (AIAMS) and All India Mahila Sanskritik Sangathan (AIMSS) had decided to hold joint protests on January 18 to express solidarity with the farmers' struggle. Apart from the demands of the struggle, women also demanded food, work, health services, waiver of loans of SHGs and action against harassment by MFIs.
WOMEN'S ISSUES HIGHLIGHTED
The three farm laws and the power bill will further worsen the situation for women whose lives are already facing a severe crisis due to skyrocketing prices of essential commodities which has made it impossible to make both ends meet. The new Essential Commodities (Amendment) Act will aggravate the situation even more. The targeted public distribution system is in disarray. The distribution of free food grains has been discontinued since December. Regular food grains distribution through the ration shops has been disrupted. The NFHS5(National Family Health Survey) shows that in 13 out of 22 states, child stunting has deteriorated over the preceding four years.
Even after all the tall promises regarding the provision of work made by the central government, the reality is that no work is available. MNREGA work has been practically stopped. Women in the unorganised sector have been demanding the implementation of the Urban Employment Guarantee Scheme as the means of livelihood have shrunk during this pandemic. Indebtedness has increased manifold.
Women are forced to sell their jewellery or other household valuables to tide over the family crunch, cut kitchen expenses or make several other compromises to clear debts. Anger amongst women against the Modi government was clearly perceptible during this campaign. Here is a brief state-wise report of January 18.
AIDWA has been organising a continuous campaign against the three farm laws in Haryana, Punjab, Uttar Pradesh, Madhya Pradesh, Rajasthan, Uttarakhand and in several other states for the last three months.
Haryana – The Haryana unit of AIDWA has been very active. Women have held meetings, distributed leaflets in Hindi and Punjabi, written songs and slogans and participated in the protests at all five Delhi borders in increasing numbers. Many of the women were arrested too. AIDWA activist teams held meetings in 150 villages and 70 colonies in Haryana and distributed 35,000 leaflets.
Women jathas are organised to the toll plazas and to Tikri and Singhu borders to encourage women's participation. A large number of women are now reaching these places by tractors and trollies, enthusiastically singing songs and shouting slogans. A women's jatha reached the Shahjahanpur border on December 27. District level dharnas were held against the weakening of the Essential Commodities Act and dismantling of the public distribution system. AIDWA leaders and activists are participating in the blockades since they began on November 26. A camp was set up at the Tikri border from December 15 to 21 and women from different districts participated daily. Help was organised for women from Punjab who had joined the sit-ins.
Kisan Mahila Divas was observed in 50 places in 20 districts of Haryana with participation of 500 to 4000 women in each of these demonstrations. Women themselves drove tractors and trollies to reach the places of protest. Women also took part at the Singhu, Tikri and Palwal borders on that day. To ensure massive participation of women, AIDWA held a widespread campaign amongst women farmers and also distributed leaflets which explained the gender aspect of the three farm laws. Banners were put up at various places depicting the role of women farmers. Women will participate in huge numbers in the January 26 Republic Day Kisan Parade.
Punjab – Women from districts near Singhu border have been participating in the blockades at regular intervals. AIDWA Amritsar unit organised a 'Jaggo' (wake up) on January 9-10. Copies of the three farm acts were burnt in Hoshiarpur, Amritsar, Jalandhar and Bhatinda. Dharnas, candle marches and rallies were held in Chandigarh, Bhatinda, Hoshiarpur, Jalandhar, Pathankot and Gurdaspur on Mahila Kisan Divas. AIDWA mobilised a large number of women in the joint rally held in Amritsar.
Rajasthan – AIDWA held a protest in Jaipur on January 17 and a bus with women activists joined the farmers at Shahjahanpur border on January 18. Women protested in several villages and at the collector office in Ganganagar. Women from Bikaner district have been continuously present at the Shahjahanpur border. Women from Sikar, Hanumangarh and Alwar also participated at the Shahjahanpur border in large numbers. Hanumangarh saw protests in 10 places in villages and at the tehsil level. A torchlight march was held at the district level. Kota and Jodhpur held demonstrations. Memoranda demanding the repeal of the three farm laws were sent to the President of India from many districts.
Delhi – Meetings and leaflet distribution were organised at the local level in districts to explain the anti-farmer aspects of the three farm laws. These laws were burnt in five places jointly with the Delhi for Farmers platform. A large number of women participated at the Singhu, Tikri and Ghazipur borders. General secretary, Mariam Dhawale, joint secretary, Asha Sharma and vice-president, Jagmati Sangwan were present at the Singhu and Tikri borders on January 18.
Uttar Pradesh – The three farm laws were burnt in Lucknow, Kanpur, Agra, Chitrakoot and Jalaun districts on January 13. A jatha of women from Kanpur under the leadership of vice president, Subhashini Ali arrived by bus and took part in the protest at Ghazipur on January 18. Women from Agra participated at the Palwal border. Scores of women took part in actions in Sultanpur, Chandoli and Sonbhadra districts.
Madhya Pradesh – Women from Bhopal, Gwalior, Guna, Morena, Datia, Jabalpur and Bhind are regularly participating in the blockade at the Palwal and Mewat borders. They are holding meetings of women in the nearby villages surrounding these borders. Actions were organised in Bhopal, Rewa, Gwalior, Morena, Kailaras, Bhind, Guna, Anuppur and Sehore districts. Leaflets were distributed for this campaign. Meetings were held in the rural areas of Bhopal. On January 3, AIDWA and BGVS jointly organised a jatha to Palwal and had an enthusiastic cultural programme and gave speeches despite heavy downpour.
Kerala – AIDWA along with nine women's organisations, under the banner of Left Democratic Women's Front, organised a protest rally in front of the Raj Bhavan at Trivandrum on January 18, in which 350 women took part. All state office-bearers of the nine organisations participated in this march. More than 4,000 women participated in the day-long satyagraha held in all 14 districts. At Palghat, women farmers came riding the tractors filled with their crops. AIDWA conducted a webinar related to the Kisan Mahila Divas in which Mariam Dhawale and Annie Raja delivered speeches.
West Bengal – Mahila Kisan Divas was observed in 20 districts. Actions were held in more than five local committees in each of these 20 districts. Effigies of the prime minister, Narendra Modi and the three farm laws were burnt. Hundreds of women will participate in the three-day sit-in organised jointly with the AIKS from January 20-22 in Kolkata. Various women's organisations including AIDWA organised programmes in different districts.
Tripura – Due to police repression and attack on the AIDWA state secretary, Jharna Das Baidya by BJP goons the protests in the state had to be postponed.
Tamil Nadu – A militant protest demonstration of more than 200 women broke the police cordon and marched to the Raj Bhavan in Chennai. This protest was jointly organised by the All Women Federation consisting of 40 women's organisations. The police later arrested all the women.
Andhra Pradesh – Around 3,000 women participated in rallies, meetings, dharnas and human chains organised at 65 places in 21 districts. In Visakhapatnam city a scooter rally was held. Impressive rallies were held in Vijayawada and Anantapur. Nearly 10,000 anganwadi workers actively participated in 186 areas.
Telangana - Joint rallies under the banner of United Action of Women's Associations were held in 10 districts attended by 863 people. Women's organisations and transgenders held a rally at the state centre. Effigies of the central ministers were also burnt.
Karnataka – Joint jatha was organised in the state. Women on 20 bikes and two tractors protested at the district collector's office in Mandya. A total of 400 women participated in protests in Bellary, Gulbarga, Bijapur, Bidar, Kolar and Bengaluru.
Maharashtra – More than 2,000 women participated in actions in over 100 places in Thane-Palghar, Solapur, Mumbai, Raigad, Nagpur, Wardha, Amravati, Pune, Sangli and Satara districts. The three farm laws were also burnt. The protest action in Mumbai and a convention of women farmers in Pune was organised jointly with other women's organisations. Thousands of women will take part in the vehicle jatha of the AIKS, CITU, AIAWU, AIDWA, DYFI and SFI from Nashik to Mumbai on January 23-24 and in the joint state-level mahapadav and march to Raj Bhavan from January 24 to 26 in Mumbai.
Bihar – A joint demonstration was held at the Kargil Chowk in Patna. Around 5,000 women took part in the protests in Muzaffarpur, Sitamarhi, Madhubani, Phulparas, Ghoghardiha, Saharsa, Khagaria, Isuapur, Parsa, Samastipur, Arrah, Bhabua, Gaya, Bhagalpur, Bettiah and Darbhanga.
Odisha – A colourful march to Raj Bhavan was organised at Bhubaneshwar. Demonstrations were organised in Balasore, Bhadrak, Cuttack and Ganjam. AIDWA conducted campaigns at the unit and block levels with announcements through loudspeakers fitted on autorickshaws. Joint rallies were held in Kendrapara, Sundargarh and Mayurbhanj. Nearly 500 women participated in these protests.
Assam - AIDWA organised protest actions in 14 places in 10 districts with a total participation of 873 women. Joint protests with fraternal organisations were held in five districts. Memoranda were sent to the prime minister.
Jharkhand – Hundreds of women participated in 18 units in Pakur, Dhanbad, Ranchi, East Singhbhum, Godda, Seraikela, Jamtara and Sahibganj districts.
Gujarat – More than 250 women participated in the joint protests held in the state.
Protests were also held in Uttarakhand, Chhattisgarh and other states.