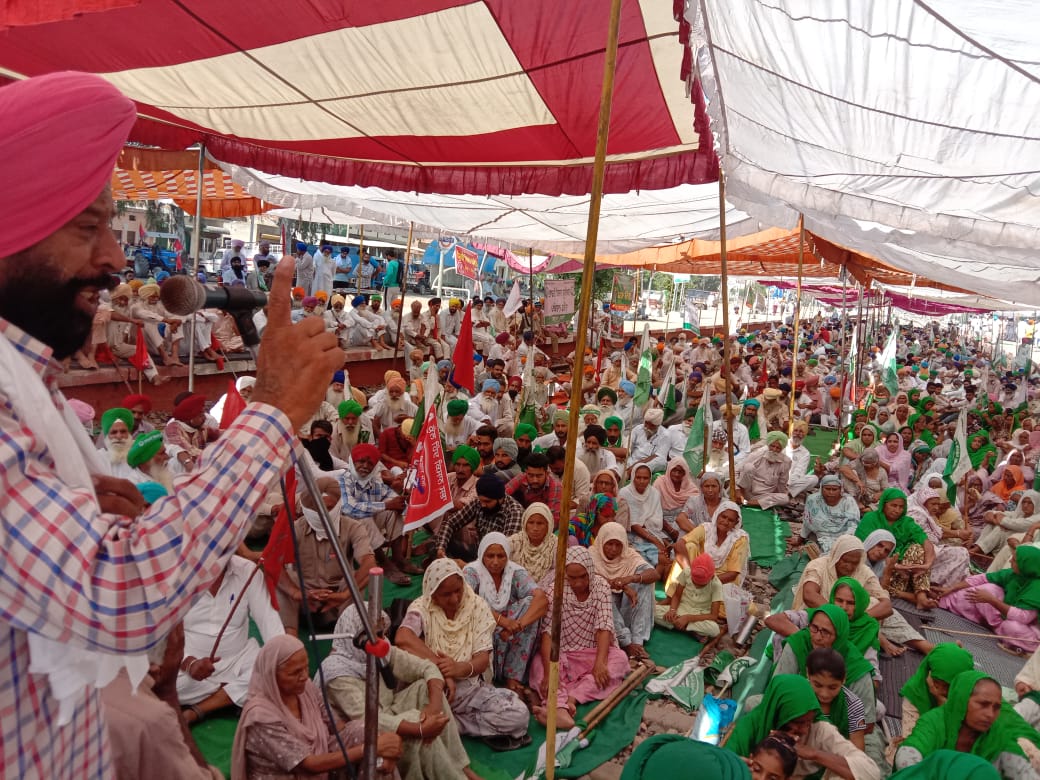 Punjab: Farmers' Movement Against Agricultural Laws
Balwinder Singh Tiwana
THE government of India passed Farm Ordinances on June 5, 2020, regarding agricultural reforms and then passed the Acts in September in the Parliament on September 22, 2020. Questions are also being raised about the legality of these laws as agricultural production comes under the preview the state governments according to State List of the Indian Constitution. The movement against these laws had started in Punjab since June 2020.
As a result of the Green Revolution, there have been drastic changes in the cropping pattern of Punjab. Presently there is monocropping in Punjab with a rotation of paddy and wheat as only these crops are being assuredly purchased in APMC at MSP. The market structure and network of roads for APMC have been well developed during the last five decades. Presently there is a good market structure in Punjab. These three laws not even posed the danger to this structure rather it will create the conditions for the dismantling of the MSP itself.
There is a potential threat to the ownership of land as about 67 per cent farmers are cultivating less than 10 acres of land in Punjab.
Immediately after the passing of these three Ordinances in June, leader of farmers' organisations and pro-people intellectuals initiated some dialogue/conversation regarding the devastating effects of these Ordinances on farmers and people of Punjab. Slowly various organisations of farmers organised meetings of farmers to make them aware regarding anti-farmer provisions of these Ordinances. Some protests were held during the month of July 2020. Farmers burnt effigies of BJP-SAD on July 20, in a large number of villages of Punjab. Then on July 27, 2020, there was impressive 'tractor march' and a memorandum was submitted to the concerned members of Parliament of the area. The tractor has emerged as a symbol of protest by farmers against three black agricultural Ordinances. Slowly with the advancement of agitation, the participation of youth and women increased.
On August 19, 2020, all 31 organisations of farmers decided to work together and unitedly. All 31 farmers' organisations of Punjab decided is work in coordination with AIKSCC.
Some organisations even banned the entry of BJP and Shiromani Akal Dal(SAD) leaders in the villages of Punjab in the month of August. Jail Bharo call was given from September 7-10. The government of Punjab started filing criminal cases against farmers for violating Section 144 of Criminal Procedure Code and guidelines of Covid-19. Strong protests were held in Pipli and Karnal in Haryana in the second week of September where the police lathi-charged the protesting farmers. Punjab farmers protested against this lathi-charge on September 11. Under the pressure of increasing anger and struggle of farmers on September 16, the chief minister of Punjab announced to withdraw all FIRs filed against protesting farmers.
Farmers' organisations of Punjab called for Punjab Bandh on September 25 and to block all roads and rail networks. But the Modi government presented the three farmers related ordinances as Bills in the Indian Parliament on September 14 and on this day all the 31 farmers' organisations called for 'lalkar rallies' and these were very successful at Patiala, Phagwara, Barnala, Amritsar and Moga. In these rallies, farmers called upon the SAD to clarify its stand. Then SAD came out of union ministry and started speaking against these laws and Harsimrat Kaur Badal resigned from union cabinet on September 17.
In Punjab, the farmers' organisations started rail roko from October 1, 2020. And after this, the farmers started a boycott of Reliance petrol pumps, malls and picketing at toll plazas. A large number of toll plazas were opened without any charge to the people and slowly all toll plazas of Punjab were made access free and the farmers started 24-hour dharna at these toll plazas and Reliance petrol pumps.
The 'rail roko' protest continued and then on October 21, 2020, the central government itself stopped the trains up to November 23. The kisans participated in large numbers on the AIKSCC call for 'chakka jam' (roadblock) on November 5 and 'Delhi chalo' on 26-27 of November 26-27, 2020.
After this call by AIKSCC (now called Samyukta Kisan Morcha) the Modi government held regular meetings with farmers' organisations of Punjab on November 13 in which railway minister, Piyush Goyal and minister of agriculture and farmers welfare, Narendra Singh Tomar and minister of state for commerce and industry, Som Nath was present.
Then the farmers of Punjab started moving towards Delhi on November 24-25 on the call of SKM. But on November 26, thousands of Punjab farmers broke the barricades at the borders of Haryana (at Sambhu, Khanori and Mandi Dabhwali) and moved towards Delhi. In this struggle to reach Delhi, the farmers of Haryana helped in a big way to the Punjab farmers. Then the farmers started morcha (blockade) at Singhu and Tikri borders from November 27, 2020, onwards.
The farmers' organisations have failed all the schemes and ill wills of the Modi government. With thousands of tractors-trolleys, buses, cars etc., lakhs of farmers sat at the borders of Delhi. Artists, employees, workers, students, intellectuals and other sections of people started to come to Delhi in support of the farmers. Even the NRIs provided support to these struggling farmers. Large number of women and children are also fully participating in these morchas .
The farmers at these borders have established as newly inhabited villages/cities/towns. Lakhs of people are there at Singhu and Tikri. There are about 12,500 villages in Punjab and farmers from every village are at these borders of Delhi. Now from the beginning of December farmers of other states are also coming to Delhi.
In the midst of meetings with the leadership of the farmers with the government, thousands of farmers with tractor-trolleys and other vehicles have come to Delhi after braking barricades from Uttrakhand, UP, MP, Maharashtra, Rajasthan etc. They have blocked the national highways at Hazipur, Shahjahannpur and Palwal.
Protest actions continued in the background of the continuous meeting with the government. The people burnt copies of farm laws on Lohri in all the villages of Punjab on January 13 and January 18, 2021, was celebrated as Mahila Kisan Diwas on the call of KSM.
Lakhs of farmers, workers, women, children, elderly and many other sections of the people are there on roads in this extreme cold. Till date, more than 103 persons have sacrificed their lives in this struggle, but the Modi government is not sensitive towards the demands of farmers. Farmers have already chalked out the protest actions up to January 26.
For January 26, a 'tractor parade' in Delhi with large scale mobilisation of the people is underway by all the organisations. In some villages, it is decided unanimously that at least one person from every family will participate in this parade and those who are unable to participate they will contribute financially. During this movement, a large number of university, college and school students participated in the Delhi morcha. A large number of cultural troupes have emerged/formed by the students and youth. For this mobilization of January 26, these troupes are actively helping the organisations. The awareness level of common Punjabis has risen and they are awakening about the danger of corporate loot of Punjab and India. New narratives are coming to the fore which are very steek for the Punjabis to understand the situation.
The three organisations, AIKS, AIAWA and CITU of Punjab held a joint meeting on January 18, 2021, at Ludhiana to make the action of January 26 successful. It has decided to mobilise the people in large numbers with tractors from all the districts of Punjab. Some districts already held the meeting for this purpose and many are going to hold the meetings from January 20-23. All the farmers' organisation are making all efforts and due to this lakhs of farmers, workers, women and children of Punjab will be part of January 26, 2021 parade being organised by SKM.
One thing is very clear, that this is a totally different type of movement by the farmers. After independence of India this is the first movement in which all the farmers' organisations (more than 500 at the national level and 31 at Punjab level) are participating and all sections, except corporates, are part of this peoples' movement and almost all parties except BJP and NDA allies are supporting. Presently this has become an international movement. Farmers will not go back without repeal of these three anti-farmer Acts.