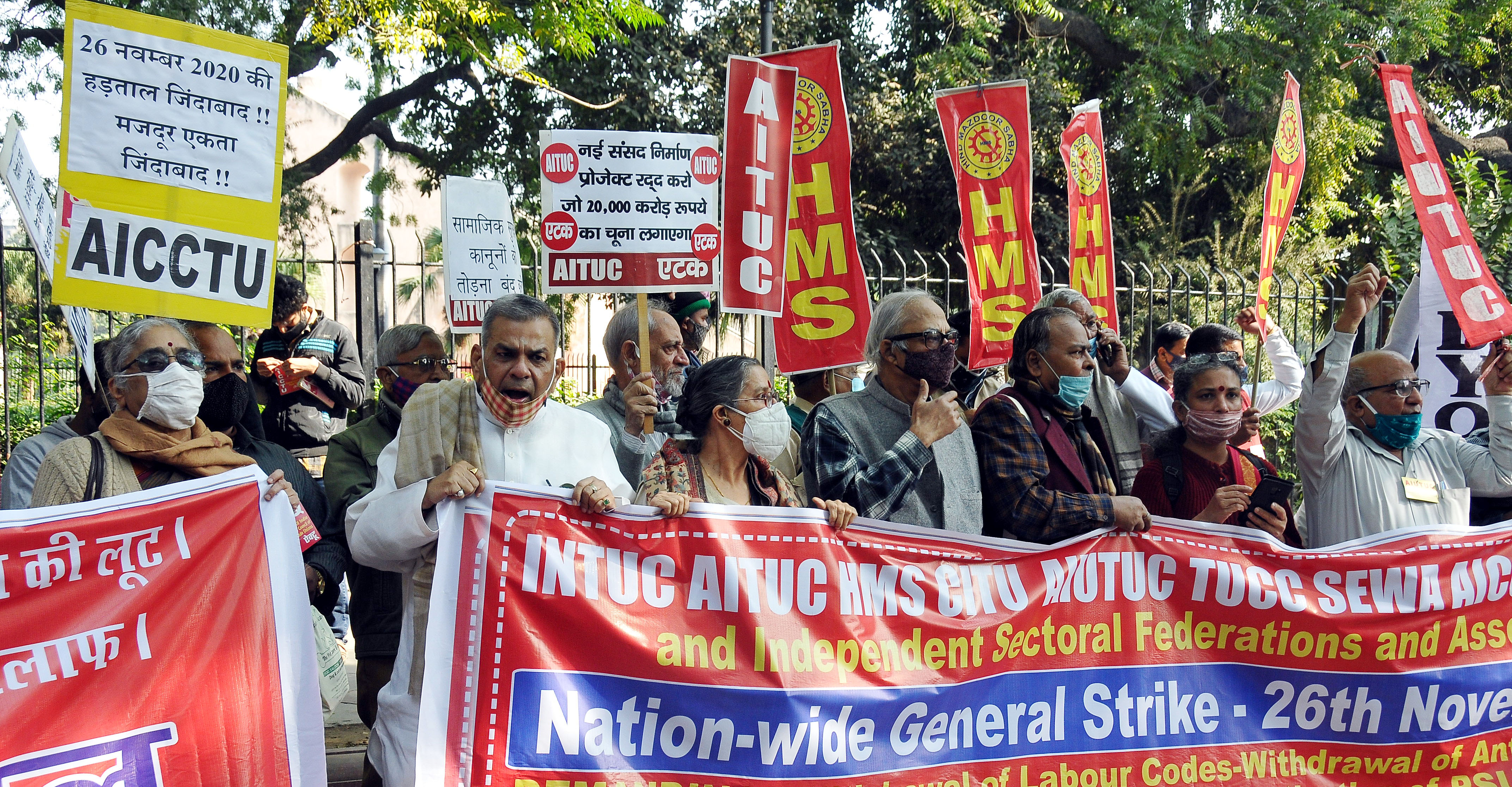 Huge Success of Countrywide Protests
CPI(M) Polit Bureau has issued the following statement on November 26
THE Polit Bureau congratulates the working class, peasantry and agriculture workers all over the country for observing very successfully protests against the anti-national, anti-people policies of the central government, particularly large scale privatisation and loot of national assets, abrogating labour laws and new agri laws.
The call of the central trade unions was for a nationwide general strike today. The kisan and agricultural workers organisations will continue with their protests tomorrow as well, in accordance with
their call.
These successful protests are taking place despite severe repression, intimidation and largescale arrests across the country particularly in BJP ruled states. All the entry points on the highways connecting Delhi were heavily barricaded to prevent kisan and agricultural workers from reaching Delhi for their protest before parliament. Wherever they were stopped with tear gassing or heavy water cannons in this cold wave conditions, the highways have been blockaded by the protesters.
The general strike called by the trade unions have received immense response all across the country. The strike in public sector undertakings was more effective this time than earlier. All major
ports, PSUs like HAL, BHEL, BEML, BEL, steel plants in Vizag, Salem and Bokaro, coal and iron mines, electricity sector, public transport works, road transport including truck operators; construction workers, headload workers, beedi workers and scheme workers like anganwadi, Asha, mid-day meal workers struck work along with medical and sales representatives, sections of IT employees and central and state government employees all across the country.
Kerala witnessed a virtual bandh like situation with an estimated 1.6 crore workers and peasantry participating in the protests. Despite physical attacks on striking workers by the ruling TMC goons in West Bengal, the strike was a big success, total in the jute mills, private bus transport, steel factories and 80 per cent in cement, banking and insurance sectors, apart from government employees. In Tripura, despite the ruling BJP government's attacks and its directions to keep all establishments open and functioning and resisting attacks by BJP's anti-social elements, the protest turned into a virtual bandh.
Likewise, in BJP ruled states of Assam, Karnataka, Bihar and elsewhere the protests were a big success.
The Polit Bureau of the CPI(M) strongly condemns the repression unleashed by the central and state governments controlled by the BJP.
The central government and PM Modi must now reconsider, in the face of such widespread anger and protest by India's working people, annadatas, agricultural workers and workers in the unorganised sector, its anti-national and anti-working people policies that are ruining the livelihoods of crores of our people and imposing greater misery in the country.
The Polit Bureau of the CPI(M) strongly demands that the central and BJP state governments surrounding Delhi stop this repression and permit our kisan and agricultural labourers to exercise their
constitutional guarantees for peaceful protests against the retrograde agri laws tomorrow i.e., November 27.