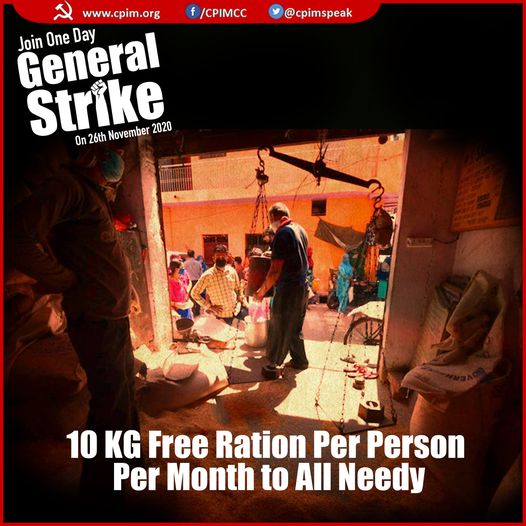 Make Nov 26 Grameen Harthal Successful: AIKS
THE All India KisanSabha (Ajoy Bhavan) and All India Kisan Sabha (36, Pt.RS Shukla Lane), in a statement issued on November 18, have jointly appealed the peasantry and agricultural workers across the country to observe grameen harthal on November 26, 2020, in solidarity with the general strike call given by the joint platforms of ten central trade unions, sectoral federations and associations. The village units of both the AIKS' will join hands with trade union activists and organise chakka jaam (road blockade) struggle at village/block centers on that day.
The units of both the AIKS in Haryana, Punjab and Western UP will join the Delhi Chalo struggle on November 26 as per the call given by the AIKSCC. And the kisan organisations of Jharkhand will march to the Governor's House at Ranchi and submit a memorandum on November 27.
Widespread campaigns are going on at village level with leaflet distribution, conventions, public meetings, jeep/cycle/pedestrian jathas etc propagating the message of the grameen harthal and the general strike. The major demands of the grameen harthal include repeal of the three pro-corporate Farm Acts, Electricity Bill and four labour codes along with the other demands of ensuring C2+50 per cent MSP with guaranteed procurement for all crops, minimum wage and full employment to agricultural workers along with immediate local demands.
The abject surrender of BJP-RSS led union government to the neoliberal forces increases the sufferings and pauperisation of the people with resultant growing unemployment, decline of economy and concentration of wealth in the hands of few corporate houses. This makes the life of the ordinary people horrible.
The growing unity of the working class with the peasantry was witnessed in the recent struggles jointly organised by the platform of central trade unions and the AIKSCC, the largest platform of kisan organisations on August 9, jail bharo andolan and September 25, all India protest day observed against the enactment of three Farm Acts. The current phase of struggles will develop in the near future as a country-wide strong and massive worker-peasant united movement against the neoliberal, corporate driven policies of the RSS-BJP led union government.