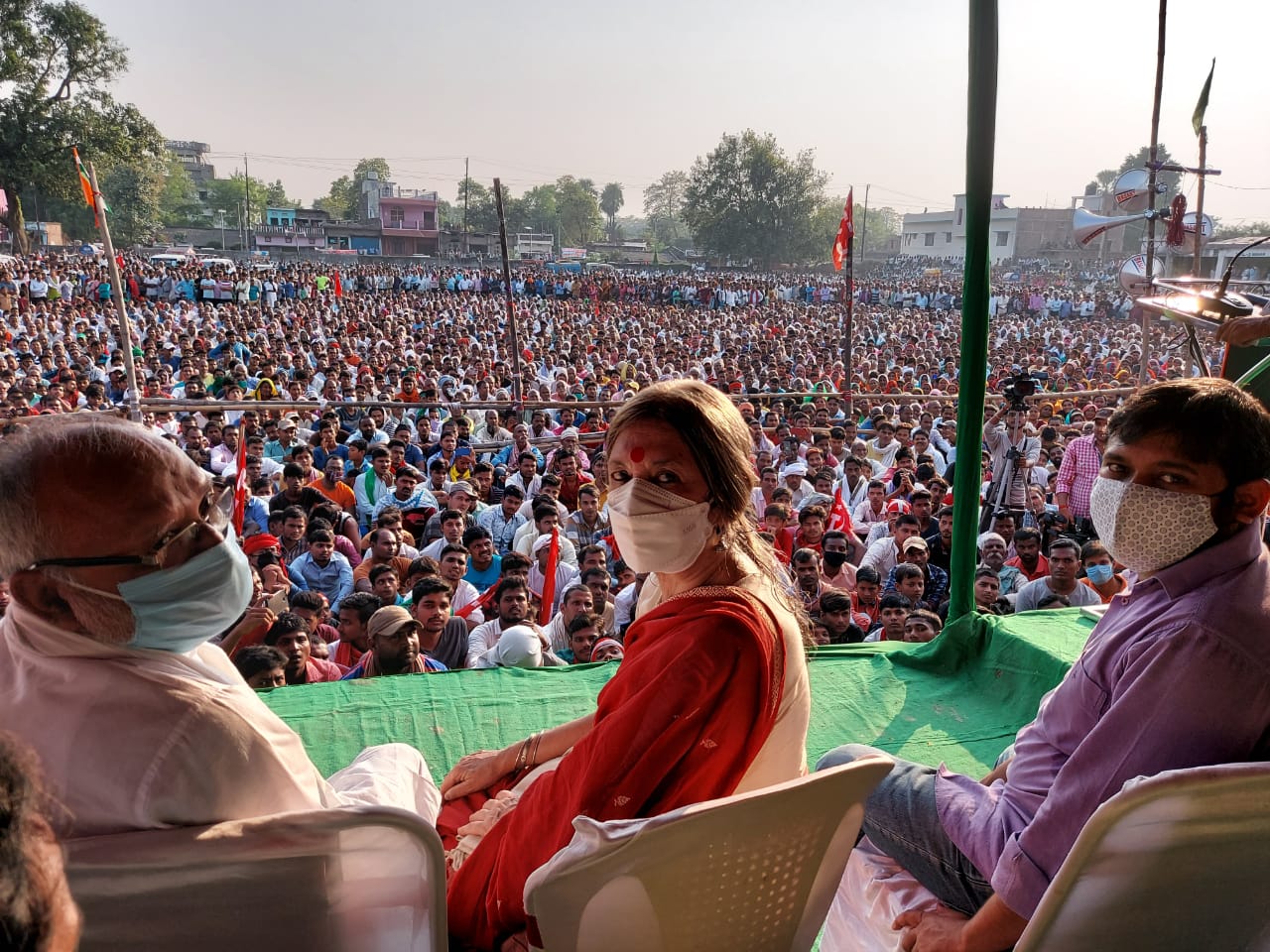 BIHAR: First Phase of Elections: Mahagathbandhan Gets Good Response
Arun Kumar Mishra
THE first phase of voting in 71 constituencies of out of 243 ended with more than 50 per cent voter turnout. All the indications from different sources point towards a change of government on November 10 in Bihar; the people of Bihar particularly workers, peasants, youth have shown their enthusiasm in favour of the issues raised by the Mahagathbandhan. Promises – of 10 lakhs jobs, regularisation of contract teachers, health workers, enhancement of honorarium for anganwadi workers and helpers, Mamta, Asha and other such scheme workers, loan waiver for peasants and enhancement of pension money and unemployment allowances, equal pay for equal work – have changed the narrative of Bihar elections. Initially Nitish Kumar and his deputy chief Sushil Modi mocked at these promises and raised the issue of finances to implement these promises. But later on, BJP promised to create 19 lakh jobs and other pro-people issues.
The prime minister and Nitish Kumar have lost their cool and seeing the writing on the wall, are trying to resurrect the ghost of jungle raj and have also started attacking Tejaswi and his family members. The most obnoxious comment came from Nitish Kumar himself who personally attacked Lalu Prasad for fathering nine children and thus setting a bad example for the common people. The measured reply by Tejaswi Yadav, showing respect to the chief minister, has earned him the affection and respect of the common people of Bihar. The rural women have taken the words of the chief minister as a personal insult and will certainly react through the ballot.
After the first phase of election, Mahagathbandhan constituents along with the Left allies held a press conference and thanked the voters for coming out to vote defying the fear of coronavirus. The spokespersons of Mahagathbandhan have claimed to get a majority of seats out of the 71 that went to polls and thanked the voters for setting the agenda for change.
The BJP will resort to all sorts of dirty games to cling to power but Bihar has always shown its political maturity to foil such games. Nitish Kumar will heavily pay for his opportunism as he has lost his plot to stay afloat in Bihar politics.
CPI(M) CAMPAIGN
CPI(M) has put four candidates as an ally of Mahagathbandhan in Bibhutipur, Manjhi, Pipra and Matihani. Since two months, door-to-door campaign is going on in all the constituencies barring Matihani. Campaigning started late in Matihani but now it has picked up. Young leaders Aishe Ghosh, Dipsita Dhar, Abhishek Nandan have addressed dozens of street corner meetings in each of the four constituencies. AIDWA all India vice-president Rampari has visited most of the constituencies and has addressed several meetings. Road shows have also been organised. CPI(M) Polit Bureau member, Brinda Karat addressed two big rallies in Bibhutipur and Matihani. Kanhaya Kumar also addressed an election rally at Bibhutipur along with Brinda Karat. Party state secretary Awadhesh Kumar and secretariat member Arun Kumar Mishra participated in district committee meeting of Samastipur and cautioned the members about Manju Prakash fighting as an independent candidate from Bibhutipur. While the state secretary has been touring and addressing the Party comrades in all the constituencies, Arun Kumar Mishra, Ganesh Shankar Singh and Sarvodaya Sharma are looking after the centre and associated work. Ahmed Ali, Lalan Choudhary and Shyam Bharti, Ramashray Singh and Prabhuraj Narayan Rao have been made in-charges of Manjhi, Matihani and Pipra constituencies. Awadhesh Kumar will be in Bibhutipur till the voting is over.
The ground report suggests that the Party will get most of the seats and will certainly get representation in the assembly after a gap of a decade.
On October 29, CPI(M) general secretary Sitaram Yechury, CPI general secretary D Raja and CPI(ML) Polit Bureau member Kavita Krishnan addressed a joint press conference at Patna and called upon the people of Bihar to vote in favour of Mahagathbandhan and its Left allies in the next two phases of voting. They thanked the voters of the first phase who have overwhelmingly come in support of Mahagathbandhan and the Left candidates.