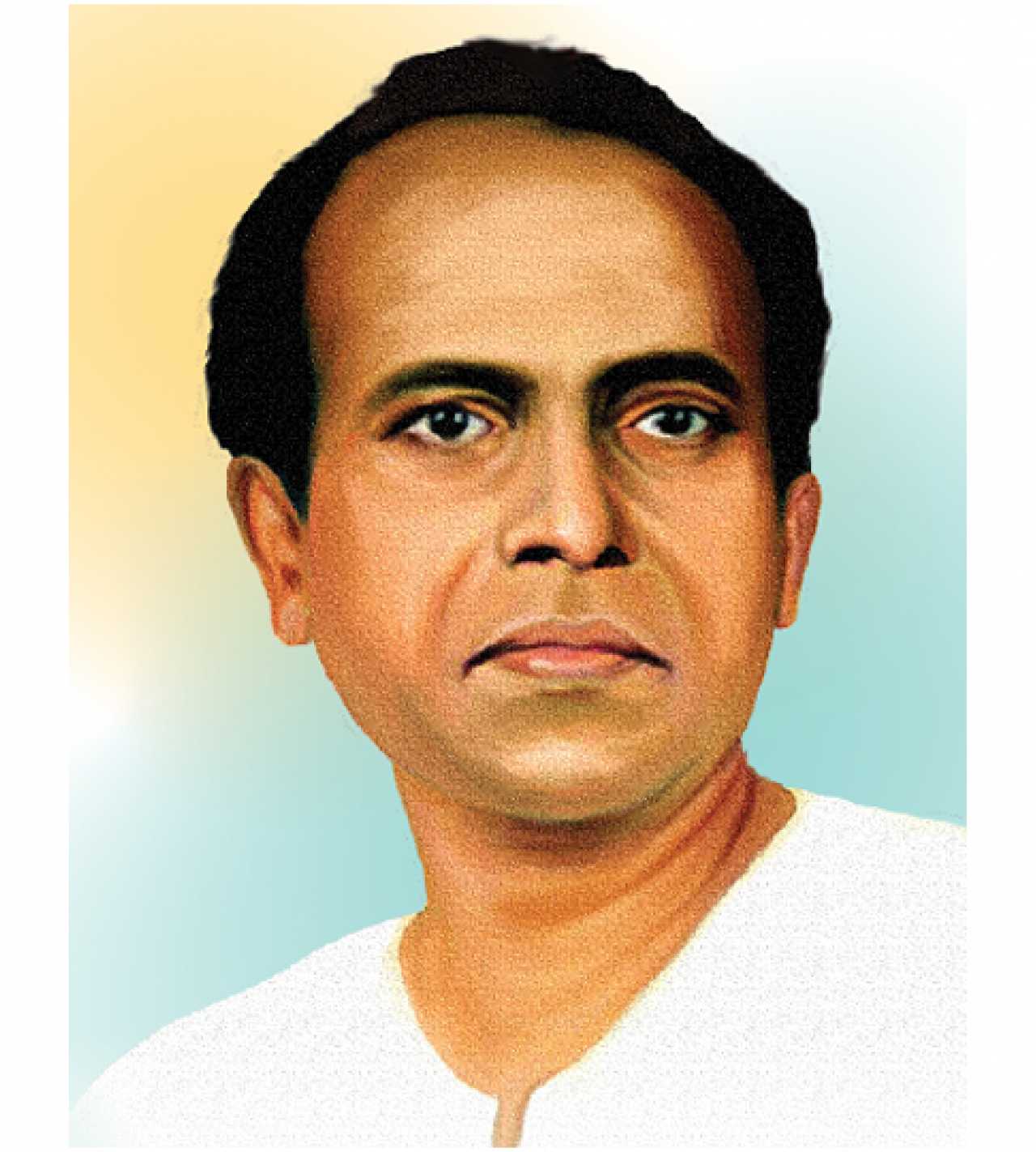 Birth Centenary of Anna Bhau Sathe- People's poet
Subodh More
TITLED as Gorky of Maharashtra, Anna Bhau Sathe was born in a dalit family on August 11, 1920 in Vategaon village in Satara district in Maharashtra. Anna Bhau's journey from his village to one of the most astounding figures of literature in Maharashtra is nothing less than a fairy tale. A person who did not even know the letters till he started working in Bombay rose to one of the finest poets that the state has ever produced. And all this happened in due course of his struggle against the social system based on caste differentiation, his work in the cotton mill and his association with the communists and other progressive groups of contemporary times.
Anna Bhau's family shifted to Bombay in 1930 and he at a young age started working as a porter, then as a helper in the cotton mill. There was a strike in Lal Bawta Mill in 1934 and Anna Bhau participated as a mill worker in that strike. He was also a witness to the police attacks on the workers in Shivdi area during the course of the strike. This strike had begun in memory of martyrdom of mill workers and in remembrance of a dalit leader, Parshuram Yadav; his posters were pasted all along the cotton mills. Anna Bhau was attracted towards the workers movement. But it was in 1936 when he shifted to stay in a slum in Matunga labour camp colony that he came closer to the Communists. R B More was organising the workers in the camp and he was also associated with Bhim Rao Ambedkar in his 'Maha Satyagraha'. Also with him was K M Salvi who once again was associated with Ambedkar in 'Kalaram Mandir Satyagraha'.
CLOSER TO SOCIALIST CONSCIOUSNESS
Anna Bahu was the first person to come in contact with such leaders who were also a part of widespread social movements. Through this association he came to know the struggles taking place on social platforms and also the larger struggles in the world; the October Revolution and formation of a new society.
During those days a study struggle was run to build political consciousness of the workers and their leadership. This study circle was conducted by B T Ranadive, R V More, S V Deshpande and others. Through this circle the first cadre of the workers emerged that included Salvi, Shankar Narayan Pagare, Kisan Khawle and Sartape. Later, Anna Bhau also started participating in this study circle. In this labour camp Anna Bhau learnt the Marathi alphabets for the first time in his life. That is how he started learning the words in Marathi language and started reading film posters and other words printed on household items.
Keen as he was, later he read 'Mother' by Maxim Gorki, Lenin's biography, history of the Russian revolution, communist manifesto and so on; that entire he could get to read as those were translated in Marathi. He also read 'Kamgaar' published from Bombay and came to know the situation of the working class in the city and the country.
FORMATION OF DALIT YUVAK SANGH
With the assistance of R B More and Salvi, Anna Bhau formed a youth organization called 'Dalit Yuvak Sangh' and started mobilising them in political and social movements. In this way Anna Bhau started working in the communist and working class movements. In 1936-37 he became a member of the Communist Party and contributed immensely through his writings. On the problems of mosquitoes in the labour camp he wrote a song on the plight of the workers residing there. With the initiative of Shankar Narayan Pagare he formed a cultural group and started writing songs on the peasants and workers situation. During that period there were many struggles led by the communists in the cotton mills and Anna Bhau started singing songs at the gates of these mills in solidarity to the working people.
MEMBER OF PROGRESSIVE WRITERS ASSOCIATION
Anna Bhau also became a member of the progressive writers association. This association was formed after drawing inspiration from the Russian revolution and some of the stalwarts who were members of this association included: Prem Chand, Sajjad Jahir, Faiz Ahmad Faiz, Krishanchander, Ismat Chugtai, Manto, Mazdoom Moiudeen, Rajender Singh Bedi, Rahul Sanskrityayan, MulkRaj Anand, Kaifi Azmi, Sardar Ali Jafri, Majrooh Sultanpuri and many others.
Some of the works of Russian and Indian writers were translated into Marathi and Annau Bhau read almost all of them. In this way he developed a taste of writing short stories, plays and poems. The international developments and the struggle led by the working class and the communists' world over against repression influenced Anna Bhau a lot.
During that period there was rise of fascism in Spain and also the struggle against it. Anna Bhau was greatly influenced by this development. He read reports of these struggle in the literature that he could read and in 1939 wrote 'Spain Powada'(Powada is a narration in the form of folk song). This was taken to the mill workers and was appreciated by them. Anna Bhau thus became 'Shayyar'; a poet.
CULTURAL AWAKENING
During the Second World War and after the war between Soviet Russia and Germany and eventually the defeat of fascism; Anna Bhau created a 'Staligrad Powada'. There were special programmes held even in the meetings of the Communist Party and Anna Bhau became a famous figure in Bombay and amongst the workers. Later even a booklet was published titled, "Stalingrad ka Powada".
From 1938 to 43 in Girangaon in Bombay, Anna Bhau and his associates' performed a number of cultural events in support of the ongoing strike in the cotton mills and thus created cultural awakening amongst the working class.
JOINT CULTURAL TEAM
The first Congress of the Communist Party of India was held in Bombay in 1943 and it was decided that a joint cultural team must be established in Bombay. Amar Sheikh from Sholapur and Dattatreya Gwhankar from Pune were called to Bombay. Along with Anna Bhau these two with many other cultural artists formed a cultural team called "Lal Bawta Kala Pathak". Anna Bhau contributed songs on dalit issues along with Powada's and Lavani's(another folk song narration); Amar Sheikh with his melodious voice and Dattatreya's song writing, soon Lal Bawta group became one of the most famous cultural teams in Bombay especially amongst the working people.
SONGS THAT TOUCHED THE HEARTS
In January 1945 the first conference of the Kisan Sabha was planned in Titwala in Thane district. Lal Bawta group was given the task of taking the message of holding of this conference to the people. Various songs were written on the plight of the peasantry, which became popular recital for all those who had come in the meeting. On the plight of the kisans and their demands Anna Bhau wrote a 'play' called 'Aklechi Gosht'. Later this play was staged in various corners of Maharashatra and it became very popular.
During the Bengal famine in 1946 Anna Bhau wrote a Powada on the conditions of the people in Bengal and named it 'Bangalchi Haak' (the voice of Bengal). This Powada was taken to Bengal and lakhs of rupees were collected while staging it. It became so popular that later IPTA translated it to Bangla and performed in other parts of the country. It was also staged in the Royal Theatre of London by IPTA and transformed in a ballet form.
Anna Bhau wrote extensively; some of the events on which he created Powada's and songs include: Bombay mill workers, manji Mumbai, struggle for bonus, election of the money lender, unlawful etc.
IMMENSE CONTRIBUTION
Change the world, and in one of his writings he asks Ambedkar to attack the caste system and build struggles; these were some of his important contributions. Likewise, Anna Bhau wrote extensively on the problems and issues of the working people and the dalits. In one of his novel, 'Fakira', the main character fights against British imperialism and later the same novel became basis of a film by the same title. Chitra, another novel written by Anna Bhau was on the naval mutiny and was also translated into Russian.
Anna Bhau Sathe was a devoted communist and many times for his writings and actions he had to face the wrath of the police and was even put in jail. Many times his plays were stopped forcibly by the police from being staged. He also contributed regularly through his writings in many of the communist papers and journals. He was also the president of IPTA in 1949.