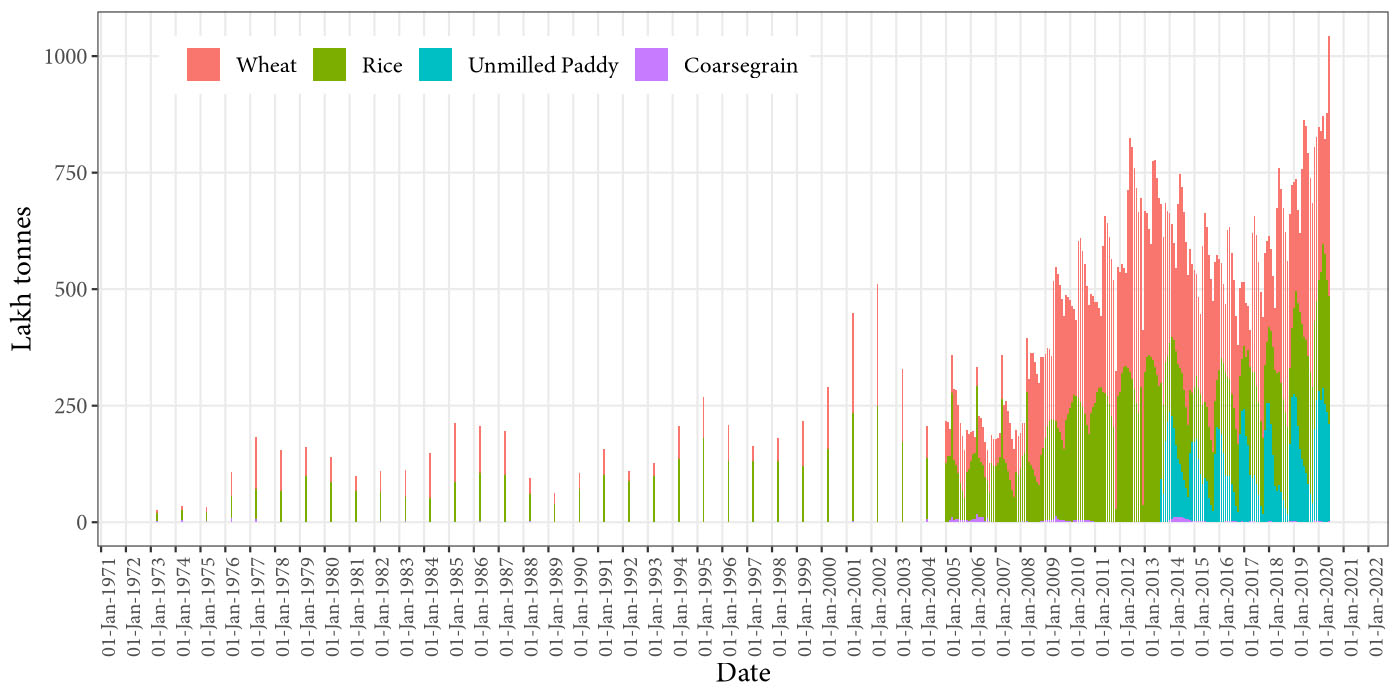 Govt Hoarding Foodgrains in Times of Hunger is Criminal: AIKS
ON June 1, Food Corporation of India had 10.4 crore tonnes of foodgrains. Never before has the government hoarded such a large quantity of foodgrains. This is 83.3 lakh tonnes in excess of what the government needs for operational and emergency requirements. The All India Kisan Sabha, in a statement issued on June 24, has said that it is criminal to hoard such a large quantity of grains during a crisis such as the present, when hunger and food insecurity affects a vast majority of people in India. It is utter callousness that instead of opening its granaries for feeding the hungry, the BJP-led central government is hoarding grain and depriving people of food.
It must be noted that this massive build up of stocks of foodgrains is not a result of a dramatic increase in procurement from farmers. About 95 per cent of procurement of wheat in the present rabi season has taken place in just four states. In fact, a vast majority of farmers are deprived of the benefit of Minimum Support Prices (MSP) and, in absence of public procurement, are forced to sell their produce at prices below the MSP in the open market. Clearly, a mismatch between procurement and distribution as a result of neoliberal policies has resulted in this build up of stocks. Over the last three decades, deregulation and reduction in government support has resulted in a steady increase in cost of production. As open market prices do not cover these costs, selling wheat and rice to government agencies, in states where the facility of public procurement is available ensures at least the MSP to farmers. On the other hand, governments wedded to the neoliberal ideology have refused to universalise the public distribution system to ensure that the foodgrain procured is used to end hunger and food insecurity in India.
The unwillingness of the BJP government to use the grain for public distribution is the primary cause of this build up of stocks. Such huge build up of foodgrains adversely affects farmers as it works to depress prices in the open market where a vast majority of farmers have to sell their crops in absence of public procurement facilities. Along with this, the FCI has been forced to incur a large amount of expenditure on maintaining the grain, further raising the economic cost of the grain. Modi-led BJP government has also been refusing to compensate the FCI for these expenses, pushing FCI under a mountain of debt, and threatening the very survival of the organisation of unmatched strategic importance to the country.
Mismanagement of India's food economy by the Narendra Modi led BJP government is responsible for this recent buildup of stocks. In times of an unprecedented pandemic and hunger, hoarding foodgrains rather than distribute it to all needy shows the BJP government's utter callousness. Hoarding such a large quantity of grain is a crime against Indian people. This grain belongs to the people; the surplus must be distributed free of cost to all needy and the government should run food for work programme with it to create employment. AIKS demands immediate extension of the Pradhan Mantri Garib Kalyan Yojana for the entire year, universalise the provision of subsidised grain and use the food stocks to massively expand employment opportunities through the MGNREGS.