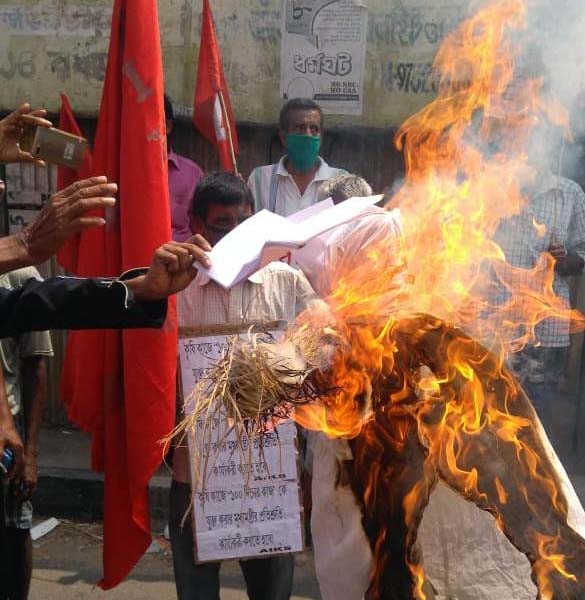 AS union home minister Amit Shah was busy delivering his 'election special' speech for West Bengal, Left activists came out into the streets to protest against the incompetence of both the central and state governments in dealing with the situation arising out of Covid-19, as well as safeguarding peoples' livelihood.
On June 9, Shah delivered his speech in virtual mode at 11 am. As he spoke, Left activists stood in roads with red flags and placards. They raised people's demands including more tests for coronavirus, food through ration shops, jobs for those who lost their jobs, central assistance to states in fighting Covid-19. The failure of the TMC government in handling Covid-19 situation was also highlighted. The state government first tried to hush up facts, then created a total confusion over lockdown rules, and is now trying to shift the responsibility for the growth of infection of the returnee migrant workers.
CPI(M) Polit Bureau member Md Salim immediately countered Shah and said, "He has no credibility to criticise the state government as they themselves have mishandled the situation. It was the BJP who supported Mamata to oust the Left. As Mamata government has ruined Bengal, so too Modi-Shah have destroyed the fabric of this country. Democracy has been sent to quarantine," Salim said.
On June 10, AIKS and AIDWA have organised protest against centre's ordinance on agriculture and agri-marketing. Other mass organisations joined them too. Throughout the state, processions, demonstrations and burning of copies of the ordinance were organised.
Left parties are organising deputations to block and administrative offices with people's demands. In all districts, demands for ration, agricultural prices, extension of MNREGA jobs, are being raised.