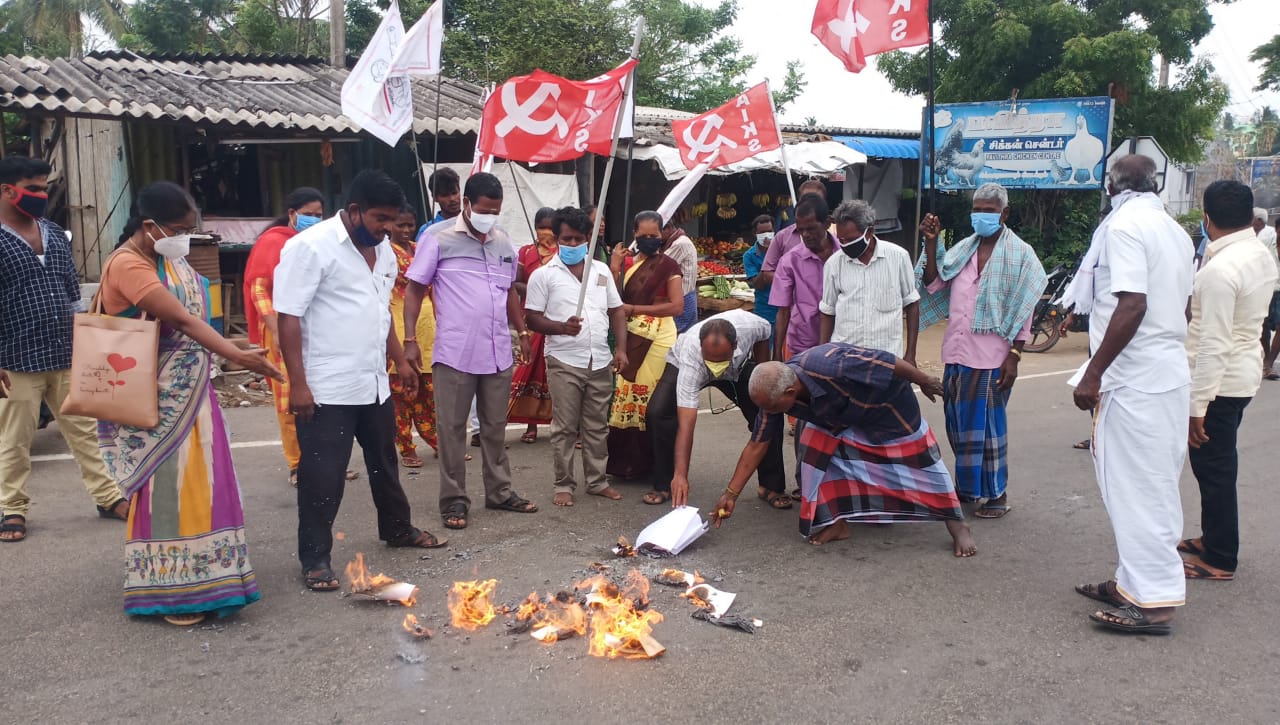 Anti-Farmer Ordinances Burnt across India
THE All India Kisan Sabha, in a statement issued on June 10, has congratulated the peasantry and workers for coming out in lakhs to burn the anti-farmer ordinances brought by the Narendra Modi led BJP government. The action saw an unprecedented show of anger against the attempts to corporatise Indian agriculture through 'Farming Produce Trade and Commerce (Promotion and Facilitation) Ordinance, 2020' and 'The Farmers (Empowerment and Protection) Agreement on Price Assurance and Farm Services Ordinance, 2020', 'The Essential Commodities (Amendment) Ordinance, 2020' and the Electricity (Amendment) Bill, 2020. Lakhs of farmers, agricultural workers, workers and women came out on the streets maintaining physical distance and burnt the ordinances and the bill.
In Delhi, AIKS general secretary and others from the AIKS centre and AIAWU centre burnt the documents. In Tamil Nadu, the protest was held at 96 centres and 2,839 activists were arrested. In Kerala, Bengal and Tripura the anti-farmer ordinances and bill were burnt in front of central government offices as well as in villages across the states. In Maharashtra, despite heavy rains in many districts, the documents were burnt in more than 100 centres across the state. Enthusiastic participation was witnessed in Rajasthan, Assam, Bihar, Haryana, Himachal Pradesh, Uttarakhand, Karnataka, Uttar Pradesh, Punjab, Telangana, Andhra Pradesh, Odisha, Gujarat, Jammu and Kashmir, Jharkhand, Madhya Pradesh and Chhattisgarh.
The massive participation is a clear warning to Narendra Modi and the BJP that militant united struggles of workers and peasantry will build resolute resistance and defeat the conspiracy to corporatise agriculture and withdraw labour rights.