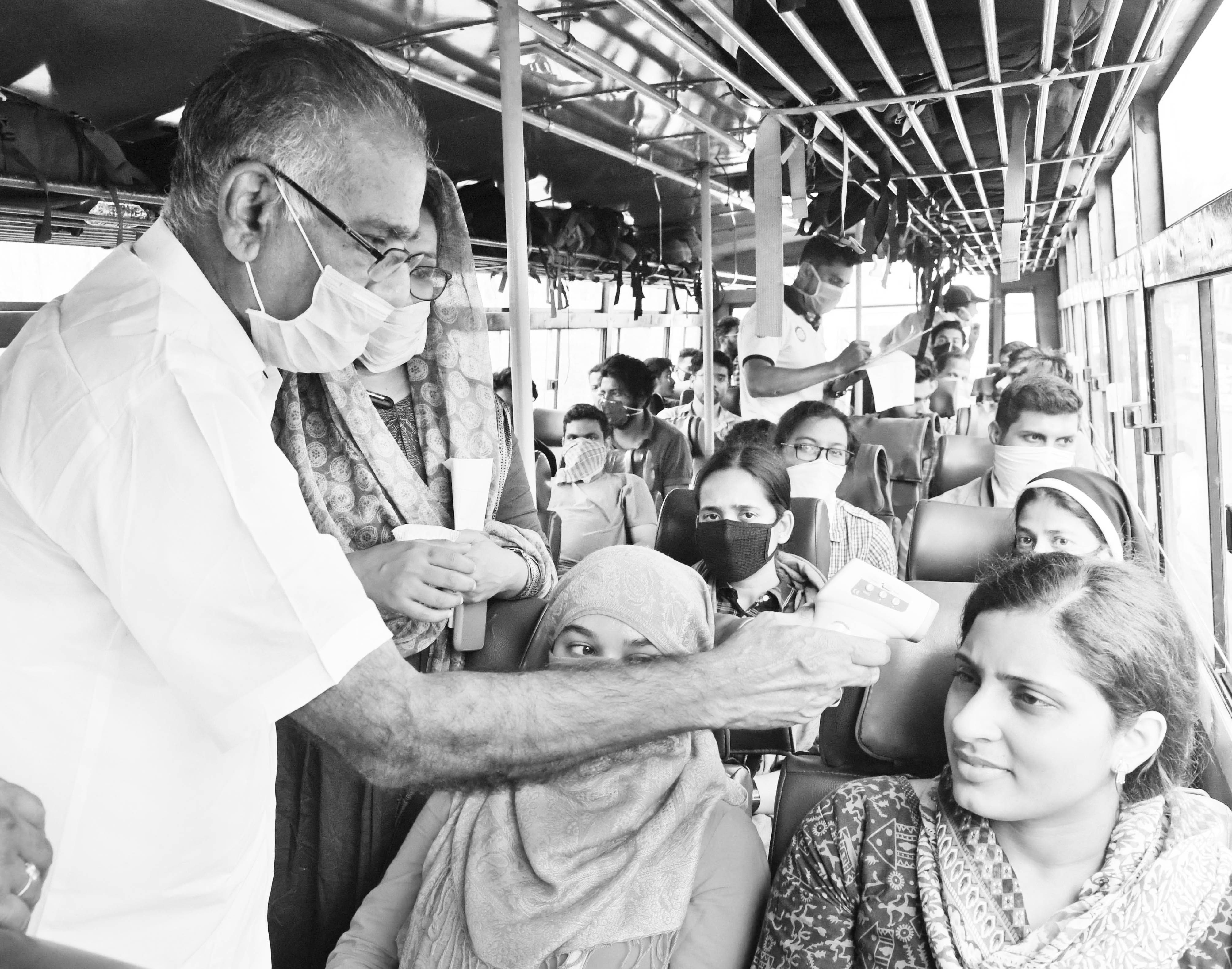 COVID-19 Containment Measures in Full Swing in Kerala
N S Sajith
THE people and the Left Democratic Front (LDF) in Kerala had put up a united fight against the deadly Nipah virus when it gripped the state two years ago and earned laurels for their efforts. In a similar fashion, as per the directions of the LDF government, the state healthcare network has been working in full swing as soon as the first case of Coronavirus Disease (COVID-19) was reported. So far, 24 cases were reported in the state and most of the patients are stable.
The government's decision to supply food to the homes of the students has been materialised even as the government ordered closure of all educational institutions, anganwadi centres, madrasas, cinema halls and malls. Examinations for students up to Class 8 have been cancelled. Mass events, hall meetings and public meetings are also cancelled and postponed. Temple festivals have been reduced to simple rituals. An android mobile app has been launched to spread awareness messages regarding COVID-19.
Strict health check-ups are being conducted in all airports. More staffers are deployed for this purpose. The state has a strong public health care network with one Primary Healthcare Centre for every 3.95 km while the national average is one PHC per 7.3 km. The state government, however, also sought the private hospitals to support the health department's efforts to contain the spread of the virus. The state government is handling the health emergency by equipping all the hospitals with state of the art facilities.
A control room has been set up with expert groups monitoring different containment heads, including home isolation, contact tracing, and training of frontline medical and paramedical staff as well as healthcare workers. Beyond the WHO-advised 14 day quarantine, the state has followed a 28-day quarantine protocol, given how there have been reports of patients elsewhere remaining asymptomatic for over 21 days from the likely date of infection.
Panchayat presidents and public healthcare officials are leading the monitoring efforts on the ground to ensure that people don't break quarantine, with healthcare workers offering all manner of support to those isolated at home. Virology institute in Alappuzha, Medical colleges in Thiruvananthapuram and Kozhikode were given permission to test the samples and the number of laboratories will also be increased.

CPI(M) collects Rs 5.30 crore for Delhi Riot Victims
As a resounding message of solidarity, CPI(M) workers in Kerala have collected funds of over Rs 5.30 crore to help Delhi riot victims. Taking up the call of CPI(M) state secretariat, people have generously contributed to the hundi collection drive held all over the state on March 7 and 8. The state secretariat has said that the money will be distributed to the dependents of those who were killed in the riots and who suffered irreparable losses.
Amount collected - Total: Rs 5,30,74,779
District-wise
Kasaragod: Rs 22,72,963
Kannur: Rs 63,26,146
Wayanad: Rs 8,71,833
Kozhikode: Rs 63,74,471
Malappuram: Rs 54,70,752
Palakkad: Rs 36,65,066
Thrissur: Rs 44,47,961
Ernakulam: Rs 47,85,794
Alappuzha: Rs 36,77,505
Idukki: Rs 22,82,800
Kottayam: Rs 20,92,860
Pathanamthitta: Rs 2,00,000
Kollam: Rs 38,04,470
Thiruvananthapuram: Rs 49,21,458
Deshabhimani units: Rs 80,700