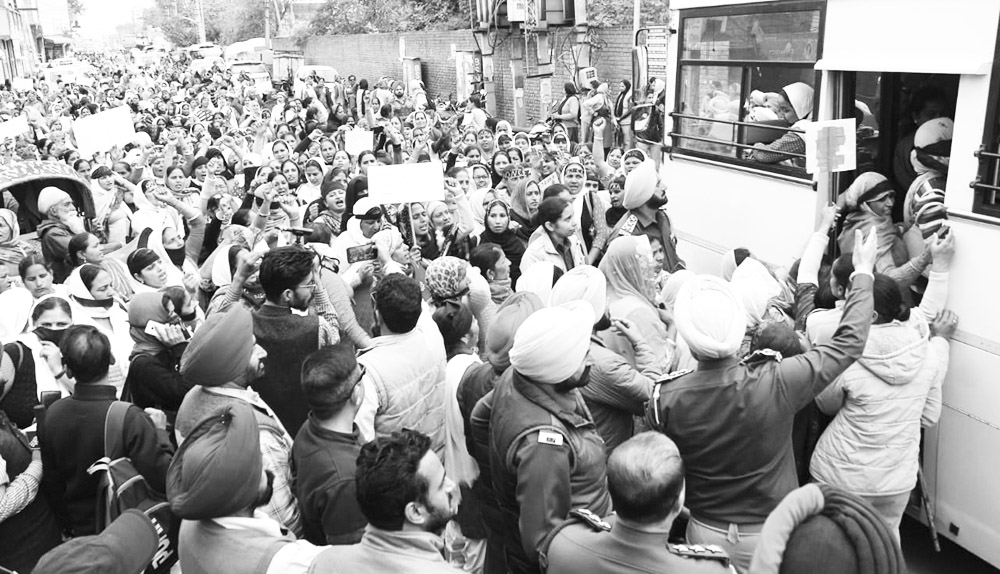 Thousands of Working Women Court Arrest on International women's Day
A R Sindhu
JAGAH hai kitni jail me teri, Dekh liya aur dekhenge! (How much space is there in your jails, we have seen, we will see)", a popular protest slogan, was literally turned into action by women workers under the banner of the All India Coordination Committee of Working Women (CITU) on March 6. In spite of heavy rains in north India, according to preliminary reports, nearly 1.5 lakh working women from 20 states, from around 300 districts, in 385 places courted arrest on the long pending demands of women of the working class.

The 'Working Women's Jail Bharo' call, on the occasion of International Women's Day (March 8), was given at the 16th Conference of CITU to bring the class narrative of the exploitation and discrimination against women back into the mainstream discourse, to bring back the legacy of International Women's Day, a day of militant struggle to claim equal rights as a part of the class and as citizens.

The commission paper on social oppression of the 16th conference points out, "The ruling classes use every feudal remnant in our country, such as the caste and gender-based discriminations, to advance not only their political interest, but also their economic interest. The class exploitation in our society is many times manifested in the form of social oppression in our society, intermingled in such a manner, it is difficult to separate." To effectively fight gender-based social oppression, it is imperative to attack the class base of this exploitation. CITU has decided to take up the foremost issue of women's unpaid labour as one of the main issues of this struggle along with the issue of violence against women and the divisive CAA/NRC/NPR.
The demands are:
1. Recognise women's work; include women's unpaid work in the GDP
2. Ensure minimum wages, equal wages for equal work for women in all sectors
3. Implement the recommendations of the 45th ILC related to scheme workers
4. Strict implementation of POSH Act in all work places
5. Take effective measures to prevent violence against women; implement Justice Verma Committee recommendations
6. Enact Act to provide 33 per cent reservation for women in all legislative bodies at the earliest
7. Withdraw the discriminatory, divisive and anti-Constitutional CAA, and the NPR/ NRC process at once.

As per the CITU conference call, state and district level CCWWs and CITU committees took up an extensive campaign highlighting the issues.Thousands of leaflets were printed and distributed along with local demands. In the background of increasing unemployment, precarity of the available jobs, high gender gap even in the highly paid jobs, violence against women and sexual harassment at workplace, this timely call was responded to by the women workers in a massive way.

It was natural that many state governments like Assam, Tripura, Gujarat, Punjab, Karnataka etc tried to stop the programme and resorted to repression. In Tripura and Assam, women workers faced the police, broke the barricades and courted arrest. In Punjab, Haryana, Madhya Pradesh, Tamil Nadu, Assam, Gujarat, etc in many places, the protesters insisted that they be arrested and taken into custody. It became a problem for the administration in many places, where the protesters refused to just be "declared arrested and released", but insisted that they be taken into custody. In Sangrur district in Punjab, where Usharani, CITU secretary also courted arrest, the administration was compelled to take them into custody and they had to be taken in 27 trips in buses!

Women workers from all sectors – public sector enterprises, banking and insurance, textiles and garments, factories, plantation, beedi, construction, brick kiln, anganwadi, ASHA, Midday meal workers, other scheme workers from SSA, NCLP, NRLM etc, domestic workers, safai karmacharis, road transport, electricity, water supply, municipal workers, self-employed women, street vendors, home based workers etc – all were part of this historic struggle.

The protest against the CAA/NPR/NRC was one of the highlights of this struggle, taking the issue out of the narrative of the 'Muslim women's protest'.

In many places, the protesters carried the placards and festoons of international and national working class women leaders like Rosa Luxemburg, Clara Zetkin, Vimal Ranadive, Ahilya Rangnekar, Susheela Gopalan etc.

IN STATES
In Andhra Pradesh, programmes were held in 11 districts, at 106 places; thousands of workers from different sectors courted arrest and also submitted a memorandum on the issues.
In Assam, militant and massive courting arrest was held in 22 districts. In Guwahati, the working women broke the barricade and courted arrest. In Tinsukia, thousands of women workers blocked the main junction in district headquarters.
In Bihar, programmes were held in 15 districts. Women workers from anganwadi, ASHA, Mid-day meal scheme, beedi industry participated.
In Chhattisgarh, events were held in five districts, including Rajnandgaon, Bhilai and Ballod, where anganwadi workers, contract workers courted arrest.
In Delhi, a symbolic programme was held at Jantar Mantar, in which around a hundred women and men participated. A R Sindhu, convenor, AICCWW (CITU) and M L Malkotia, CITU treasurer participated in the programme in Delhi. The protesters also demanded restoration of peace in riot-affected areas of Delhi where the ruling BJP leaders instigated violence. Virender Gaud, president CITU, Kamala, convenor CCWW, Ranjana Nirula, senior leader of CITU, Anju and Savita participated.
In Gujarat, the government resorted to severe repression to stop the programme. In four districts, orders were issued and the leaders of the anganwadi union were put under house arrest a day earlier. Fearing the anger of the workers, the government met the anganwadi workers' union affiliated to BMS and announced an increase in remuneration a few days back. Then the finance minister again announced the same to stop the anganwadi workers from participating. Workers were stopped from reaching Ahmedabad where women workers from nearby districts were supposed to reach. In spite of the repression, more than two thousand women workers assembled at Ahmedabad. They were all arrested and taken into custody. They were only released after the ongoing assembly session was over for the day. The programme was held in nine districts, although in four districts the mobilisation was affected because of the house arrest of leaders. Those who were arrested include Arun Mehta, state president of CITU, Kailash Rohit, and Naseemben, office bearers of CITU.
In Haryana, around 20,000 women workers – anganwadi, ASHA, Mid-day meal workers courted arrest in 22 districts. CITU state president Surekha courted arrest in Mewat district.
In Himachal Pradesh, the programme was held at block/tehsil level. Throughout the state, the programme was held in more than 20 places.
In Jharkhand, the programme was held in eight districts. Mine workers participated in massive way in the state.
In Karnataka, jail bharo was conducted in 18 districts.
In Kerala, in massive programmes held in all 14 districts, thousands of women workers from different sectors marched to central government offices and public meetings were also held. At Thiruvananthapuram, the women workers marched to the Raj Bhavan.
In Madhya Pradesh, jail bharo was held in 24 districts.
In Maharashtra, jail bharo was held in 14 districts. In a few districts, the programme was held on March 8. In Sholapur, thousands of women workers, especially beedi workers, participated. In Nagpur also massive jail bharo was organised.
In Odisha, mass courting arrest was held in eight districts.
In Punjab, militant, massive programmes were held in 22 districts and thousands courted arrest, despite heavy rain. In many districts, the police manhandled the workers.
In Rajasthan, the programme was held in Sri Ganganagar district.
In Tamil Nadu, women workers from all sectors courted arrest in all 23 districts and at 28 places. Throughout the state, a massive campaign was held to involve working women.
In Telangana, in 24 districts, the programme was held in 41 places.
In Tripura, around 3000 women workers took out a rally in Agartala, daring the police, they broke the barricades and courted arrest. Panchali Bhattacharya, Jaya Barman, Kajal Rani Sarkar etc were among the leaders who got arrested. They were kept under detention and later released.
In Uttar Pradesh, in the given situation of repression, meetings will be organised in eight districts.
In West Bengal, a militant programme was conducted at Esplanade which was addressed by Madhumita Bandhopadhyaya, secretary, CITU, Ratna Dutta and Gargi Chatterjee, apart from CITU state leaders. Around 2500 women workers were arrested and were released later. The programme was held in all other districts as well.
In Jammu & Kashmir, Uttarakhand and Uttar Pradesh, meetings were held on March 8.

ACHIEVEMENTS
This struggle, although it was on general demands and was of all working women, the scheme workers – the biggest organised force in this struggle got some benefits out of it. In Gujarat and Himachal Pradesh, the remuneration of anganwadi workers and helpers has been increased by the state governments. The Punjab union was called for meetings and all demands except for increase in remuneration were accepted before March 6. In Assam, the remuneration of mid-day meal workers has been raised by Rs 500 per month.

CLASS BIAS BY MEDIA – OLD AND NEW
It is not surprising that the mainstream media has blacked out this struggle. But even in the social media, this class action and its importance was not highlighted or even mentioned by many who claim to be 'progressive', 'leftist' and promoting 'alternative' narratives. The sharp difference between the reaction to the class action and identity politics-based actions was also very visible this time. This should be an eye opener for the working class movement.

NEED FOR WIDER UNITY
In almost all states, male leaders of CITU also participated in good numbers. The involvement of CITU committees in the campaign and preparations as well as in the actions was remarkable in this programme. Memorandums on the demands were sent to the prime minister, labour minister and minister for WCD. The massive response to the call shows the anger of women workers against the anti-people economic policies and the divisive agenda of the RSS led BJP government.

While once again congratulating the women workers for the success of this historic struggle, the first one of its kind under neoliberalism, CITU has called upon the women in general and working women in particular to intensify the struggle. It is also necessary to widen the unity of the toiling people. The CITU will take the initiative to have a closer association with the women's movement and women in other class and mass organisations to take up these issues in the coming days, in order to build a wider movement against the neoliberal and communal government and the present crisis ridden capitalist order.