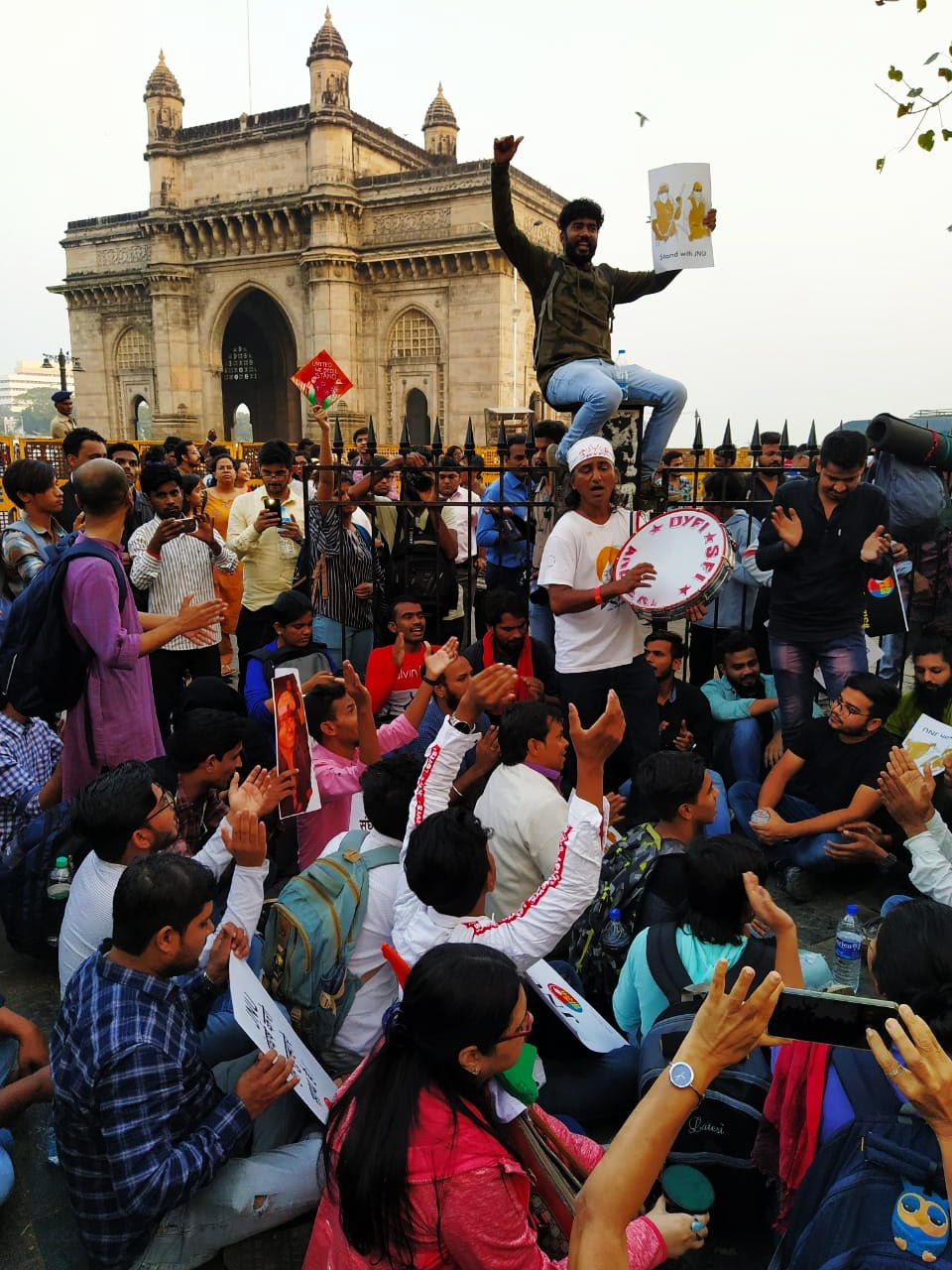 housands Occupy Gateway of India to Denounce Attack on JNU
Ashok Dhawale
MUMBAI joined the rest of the country on January 5 with vigour. From midnight on January 5 till midnight on January 6, thousands of people in Mumbai from all walks of life, irrespective of age, religion and caste, occupied the historic monument of the Gateway of India to denounce the heinous attack by RSS-BJP-ABVP masked hoodlums on JNU students and faculty members. The grievous attack on JNUSU president Aishe Ghosh and other students and teachers was condemned and the demand was made to unmask and take immediate and stringent action against the Sangh Parivar hoodlums. The Modi-Shah regime was accused of masterminding the attack in consonance with the JNU VC, the university administration and the Delhi police which is directly under the union home ministry.
The most welcome feature was the overwhelming number of students and youth, including a large number of young women, who joined this protest which was held under the national flag. Leaders of secular political parties, film and stage artistes, literary figures, teachers, intellectuals and journalists came out in large numbers to extend support.
Innovative slogans, songs, banners and placards condemned the fascistic nature of the Modi-Shah regime as shown once again in this dastardly attack on JNU, following the attacks on Jamia and AMU. Slogans were also raised against the CAA-NRC-NPR communal conspiracy of the BJP government and against its anti-constitutional steps in Jammu and Kashmir. People of Mumbai spontaneously brought food, snacks and water bottles and distributed them free to the participants, reminding us of the massive help that the citizens of Mumbai had given to 50,000 farmers during the AIKS-led historic Kisan Long March from Nashik to Mumbai in March 2018.
AIDWA-DYFI-SFI-PSF held an impressive demonstration outside Mumbai University and they then joined the protest at the Gateway of India. The demonstration at Mumbai University was addressed by AIKS national president Ashok Dhawale, AIDWA national general secretary Mariam Dhawale, DYFI national joint secretary Preethy Sekhar and Progressive Students Forum (PSF-TISS) president Maitreyee Sevekari. DYFI cultural team led by Sanjeev Shamantul put up an excellent performance.
Among those who joined the Gateway protest were film artistes Nandita Das, Sushant Singh, Varun Grover, retired justice of the Mumbai High Court B G Kolse Patil, JNUSU ex-president Sai Balaji, singer Sambhaji Bhagat, anti-communal crusader Teesta Setalwad, social activist Feroze Mithibhorwala and secular political figures Kapil Patil, Jitendra Avhad, Rohit Pawar, Milind Deora, Vidya Chavan, Sanjay Nirupam, Abu Asim Azmi and many others.
The police, who are probably still having a hangover of the earlier BJP regime in the state, filed a case under Section 153B of the IPC against a girl called Mehak Mirza Prabhu for having carried a placard with the inscription "Free Kashmir". She obviously meant Free Kashmir from the Modi-Shah government's repression. But former BJP CM Devendra Fadnavis, in the usual RSS style, castigated her for being anti-national. This was immediately opposed by all Left and secular parties, who urged the state home minister to withdraw the case immediately.
Another large demonstration was held on January 6th night at Carter Road in Bandra where the film industry of Mumbai came out in strength in solidarity with the JNU students and faculty. Earlier, the BJP's attempt to throw a party for the film industry in a five-star hotel in Mumbai had turned out to be a fiasco. Among those who participated in the demonstration were Anurag Kashyap, Vishal Bhardwaj, Anubhav Sinha, Swara Bhasker, Hansal Mehta, Swanand Kirkire, Rekha Bhardwaj, Taapsee Pannu, Zoya Akhtar, Richa Chadha, Ali Fazal, Dia Mirza, Reema Kagti, Raj Kumar Gupta, Rahul Bose, Sudhir Mishra, Neeraj Ghaywan, Saurabh Shukla, Gauahar Khan, Shweta Tripathi, Kunal Kamra. Other film personalities like Shabana Azmi, Javed Akhtar, Deepika Padukone, Anil Kapoor, Alia Bhatt, Twinkle Khanna, Sonam Kapoor, Meghna Gulzar, Pooja Bhatt and others also spoke out against the violent attack on JNU students and faculty. The programme ended with the collective rendering of the song "Hum Dekhenge" by Faiz Ahmed Faiz.
All over Maharashtra, too, students came out in large numbers in university centres like Pune, Solapur, Kolhapur, Nashik, Nagpur, Amravati, Aurangabad and Nanded, and also in other districts like Beed, Jalna, Wardha, Buldana and elsewhere. Here the SFI and DYFI took the lead, along with other organisations like the AISF, AIYF, NSUI, Rashtrawadi Vidyarthi Congress, Samyak Vidyarthi Andolan and others. There also were hundreds of students who did not owe allegiance to any student organisation but who joined the protests spontaneously.