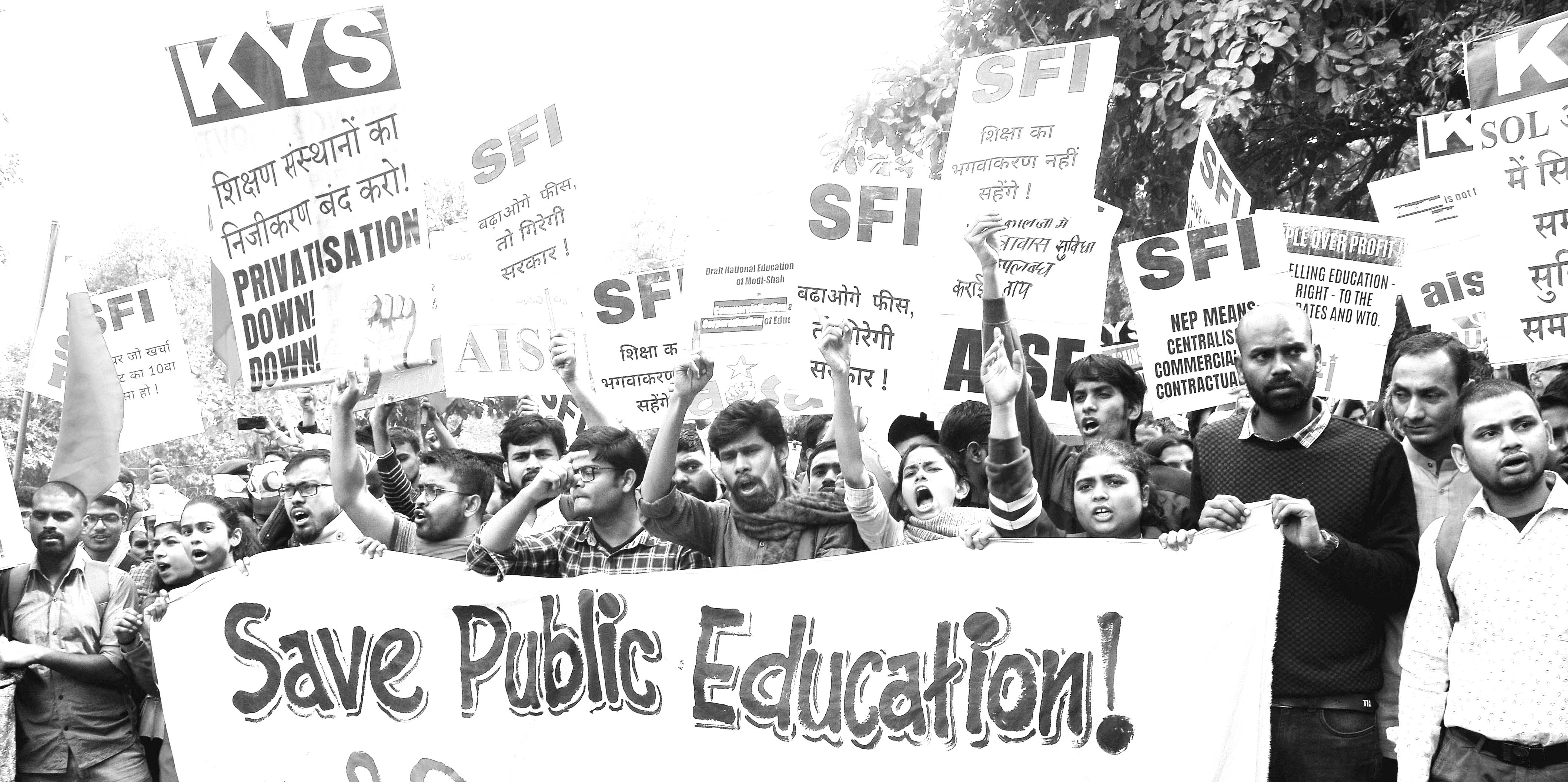 Citizens' March against Commercialisation of Education
Twinkle Siwach
ON November 23, 2019, thousands of citizens' joined the March called by Jawaharlal Nehru University Students' Union against fee hike, administrative authoritarianism, and privatisation and commercialisation of education with a demand to make education affordable, accessible and inclusive to all sections of society. The March called from Mandi House to Jantar Mantar was joined by students of IIT's, IIM's, alumni of JNU, trade unions, women's organisations, Delhi Parents' Association and members from several organisations. It was a symbolic culmination of JNU students' March to Parliament on November 18th that was stopped at Jorbagh Metro station after rounds of barricades, some students being detained and thereafter, unleashing brutal lathi charge leaving many students injured.
At Parliament Street, the march was addressed by incumbent and former parliamentarians; Sitaram Yechury, Chandrashekar Ravan, Udit Raj, Manoj Jha, Rajeev Gowda, and Purshottam Sharma. Yechury in his address emphasised that, "Education is our right and all resistance should be mounted to ensure that it does not turn into a commodity; as the present BJP government intends to turn it for maximisation of profit making". He further said that the JNU, which was carved with an elitist formation was reversed with the consistent struggles of the students right since its inception. Today JNU symbolises the true spirit of India where people from different regions, demographies and class's study and serve the nation in various fields.
There were representatives from different teachers' and students' association including JNUTA president, former DUTA president, Nandita Narian, students' union of JNU, AIIMS, TISS Mumbai, IGNOU research scholars association, IIT Delhi research scholars and representatives of students organisations and civil society organisations; they also addressed the gathering. Other speakers were representatives from JNU vision forum, followed by former JNUSU president's Shakeel Ahmad, Albeena Shakeel, N Sai Balaji and Kanhaiya Kumar.
The Citizens' March had put forward strong resistance against NEP through which government is trying to dilute public funding in higher education. The students on the one hand are suffering fee hike across the campuses whereas the teachers are put on contract basis and at the current juncture, only guest positions are available across campuses. The fund cut in the education policy has made an impact on higher education at most making the students bear the expenses. The participants in the march gave a clear slogan, "hum shiksha bachane niklehai, aao humare saath chalo" (We have come to save the education, come, walk with us).
As Chandrashekar rightly said that, "the fight is not just limited to JNU now but has expanded to the students of other universities". JNU instead has just begun a movement that has a long way to go, as we know our demands are unheard as of now. In past few days, we have witnessed protests against fee hike and students demand for equitable and accessible education, gender just safe campuses only sparkling further from one university to another. Further, there is a need to build united struggles against the government that does not value education and instead believes that "one can sell pakoras, if unemployed".