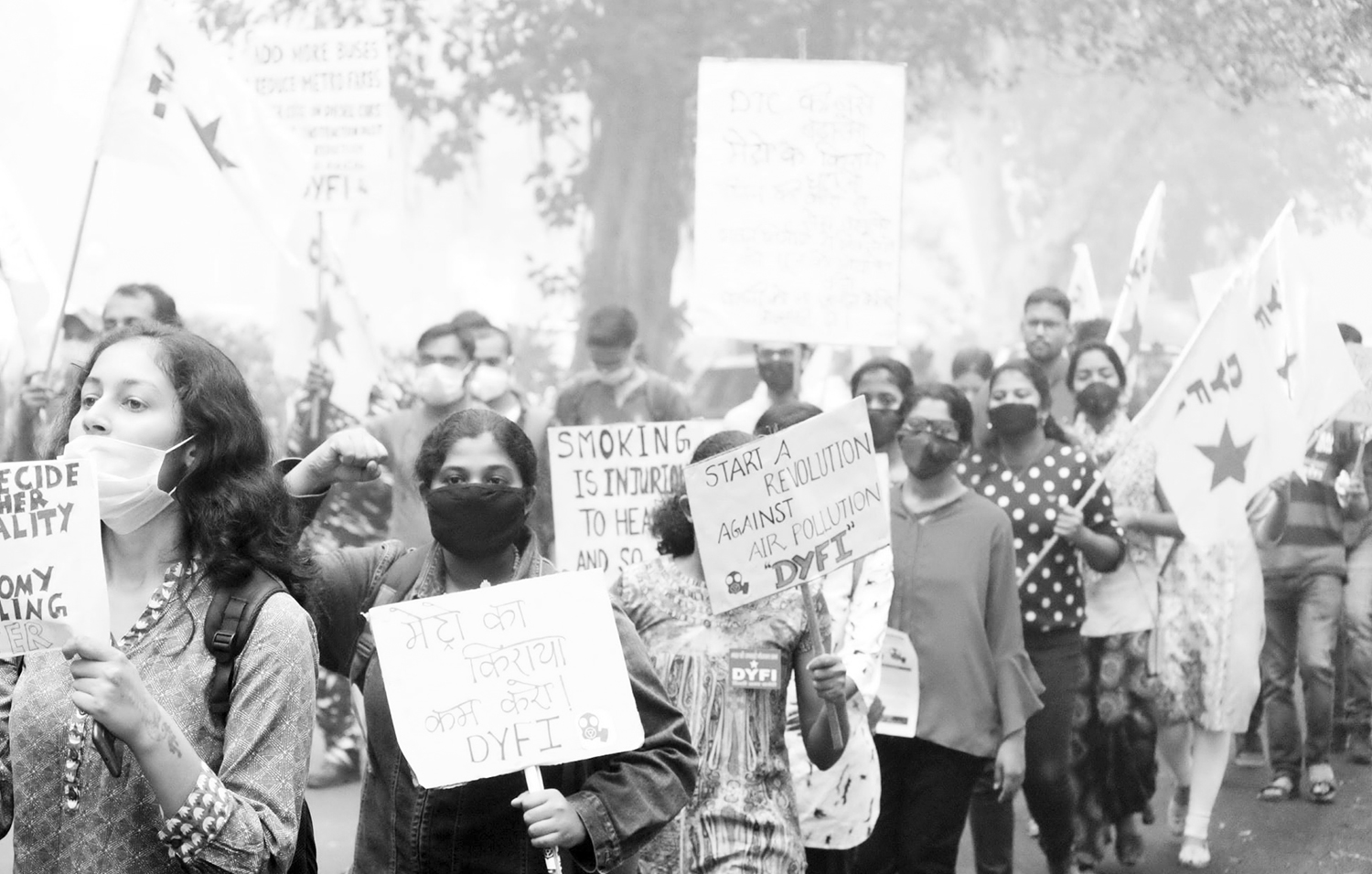 DELHI: DYFI Rally Demands Measures to Curb Air Pollution
MARCHING under the banner of Democratic Youth Federation of India (DYFI) from Mandi House to Jantar Mantar in New Delhi on November 3, about a hundred youngsters demanded that the government of Delhi, in coordination with that of Haryana and Punjab and with the required financial assistance from the union government, fulfill five demands to reduce air pollution.
demands included:
adding 10,000 more buses to Delhi's bus fleet
reducing metro fares
a cess of Rs 80,000 on each diesel car sold
dissemination and implementation of pollution-reducing regulations on construction and demolition sites
provision of the necessary equipment and infrastructure to remove and transfer crop stubble to power-generating units.
DYFI Delhi Committee has strongly condemned the scapegoating of farmers in Haryana and Punjab to cover up policy failures by the respective states and the centre. It appreciated the measures taken by the Delhi government, but insisted that they should be more sustainable and long-term. Good and affordable public transport, along with an orientation towards protecting the interests of workers and farmers, is crucial for eliminating the unacceptable levels of air pollution in Delhi.
DYFI Delhi is fighting this fight not just for the future and health of ourselves as young people, but also for children and old people who bear the brunt of air pollution in Delhi.
Vijoo Krishnan, joint secretary of the All India Kisan Sabha, who addressed the rally, emphasized that farmers could not be burdened further in their already precarious economic situation. Rajiv Kunwar, professor at DU stated that people are dying of air pollution in this country, but the government is more concerned about upkeeping the crony capitalists whose interests are fundamentally opposed to that of addressing this problem sustainably. Sanjeev Kumar, DYFI Delhi state secretary, condemned the low quality and high cost of public transport in Delhi and said that staying in Delhi was the same as being a smoker. Aman Saini, DYFI Delhi joint secretary said that it is important to strengthen the bus fleet in Delhi, which would serve as a long term solution to Delhi's air pollution problem. Anusha Paul, DYFI Delhi state committee member said that shifting the blame on the farmers is totally unacceptable. She added that the urban activities contribute to Delhi's air pollution than stubble burning. Jai Vipra from DYFI Delhi stated that this is only the first step. This is a long fight, and the involvement of every resident in Delhi is necessary.