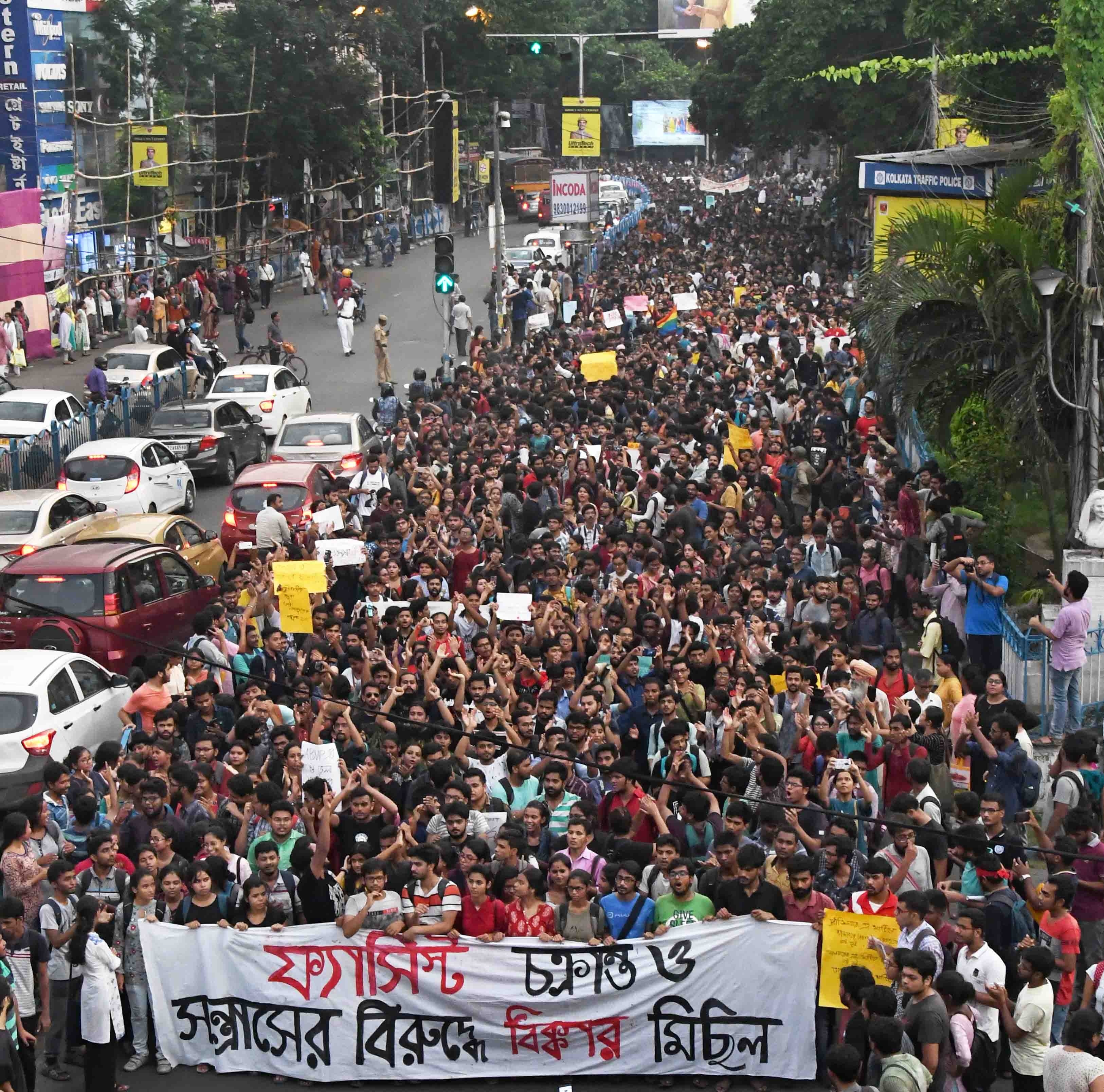 WEST BENGAL: Jadavpur University Resists Saffron Gangs
From our Special Correspondent
STUDENTS and teachers of Jadavpur University rose in unison to resist BJP-ABVP attack on the campus and another saga of protest has begun.
The ruckus started with union minister Babul Supriyo entering the university to attend a 'seminar' and 'fresher's welcome' organised by the ABVP. The programme, ultimately held, was not attended by Jadavpur University students but by BJP activists of different areas, and of different ages too. As the union minister entered the campus, students held a peaceful protest against him, some showing black flags. They were protesting against mob lynching, attacks on dalits and minorities, lockdown in Kashmir, terrorising people by threatening NRC and other anti-people policies of the Modi government.
The union minister reacted in unprecedented manner and used threatening and foul language against the protesting students. The protest became more vehement. The minister pushed and shoved students, including girl students. There are allegations that he used unsavoury remarks against girl students. He even called out vice chancellor and in front of TV camera threatened him too.VC and Pro VC refused to call police within the campus and as a result of altercation felt sick. They were admitted to a local hospital. It seemed that Babul Supriyo was more interested in creating a trouble. Despite everything, he attended the seminar and students did not block him. What they demanded was an apology for being foul-mouthed and for his rude behaviour. After the seminar, the minister faced another protest. The governor rushed in and finally Supriyo left the university campus in his car. The teachers pursued the students to let him leave.
But by then, BJP and RSS gangs from outside entered another part of the university. They started vandalising university property. They entered Arts Faculty Students' Union room and ransacked it. Computers were broken. Portraits of freedom fighters and Che, Lenin were torn down. They burnt cycles and blocked university gate by burning tyres. Students were mercilessly beaten by the mob.
BJP senior leaders publicly threatened to attack again. BJP state president Dilip Ghosh warned of a 'surgical strike' to destroy Jadavpur University.
In response to this attack, students organised a huge rally on the next day. Thousands of students came out from the campus and marched in the streets with roaring slogan 'No to Fascism'. "Desh bechne waalo ko ek dhakka aur do (give one more push to sellers of the country)", "Awaz do sab ek ho (let us be one)", rendered through the rally. O montrimoshai shorojontri moshai, theme thak (Oh Mr Minister, Mr Conspirator, stop right there), read a poster, borrowing a line from Satyajit Ray's Goopy Gyne Bagha Byne. Protest songs were rendered too. SFI Kolkata district committee joined in the march as many ex-JU and citizens marched in solidarity.
ABVP threatened to cordon Jadavpur University on September 23. In response, almost entire Jadavpur University stood together. The teachers joined in a virtual human chain outside the university gates as hundreds of students gathered inside to resist if such attack really occurs. A large banner depicting courageous words 'Will not surrender till death/ will not accept fascism' adorned the gate.
However, BJP rally in the name of ABVP was thin in number and police blocked it quite peacefully half a kilometre away from the university.
Jadavpur University was victorious again.