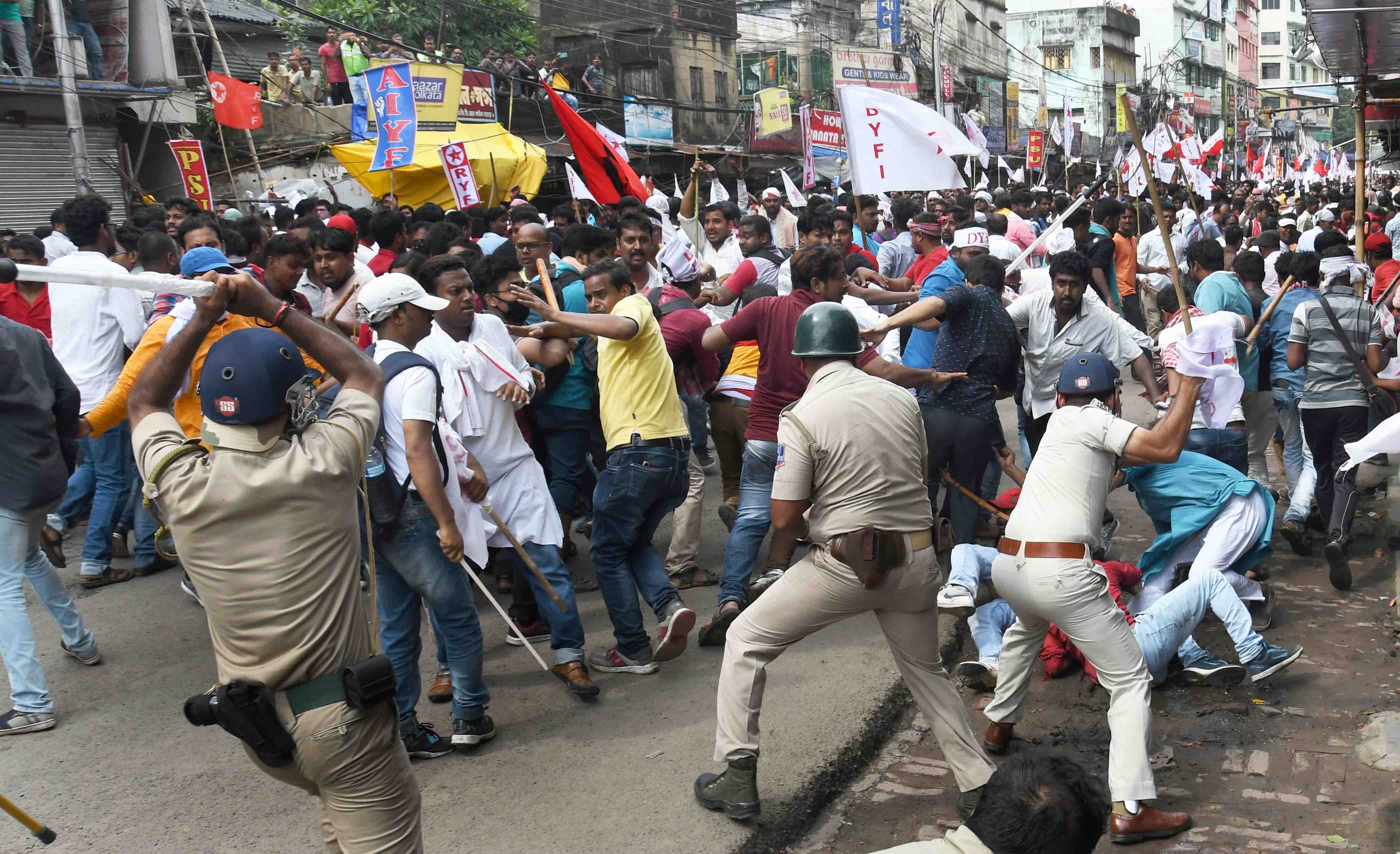 Youth-Students Resist Brutal Police Attack
From our Special Correspondent
LEFT student and youth organisations in West Bengal had organised a massive movement resisting barbaric attacks of police and administration, stirring up the atmosphere of increasing resistance in the state.
12 Left student and youth organisations, including the Democratic Youth Federation of India and the Students' Federation of India, had started a huge campaign on the question of jobs, creation of industries in the state, and access to education for all. DYFI led a signature campaign through mock applications for jobs. Camps were held in towns and villages where tens of thousands of youth filled up the form. Reflecting the gravity of joblessness in the state, even M Tech and B Tech degree holders signed for a job along with less educated youth. The campaign ran for more than a month.
Even before the march started, DYFI and SFI activists spent days and nights in villages and hundreds of street corner meetings were organised to spread the message. The march of 12 organisations started from Singur on September 12. Singur was chosen as the process of industrialisation had suffered serious setback in Singur in 2008 and the process could not be reversed in the entire TMC regime.
On the first day, the marchers, at least ten thousands of them, marched 19 kilometres, raising the slogan of jobs and education. It was colourful, enthusiastic march of youth brigade through Durgapur Expressway to Dankuni.
On the 13th, the march to Nabanna, the state secretariat, was scheduled to start from Howrah station. Thousands of students and youth from all over West Bengal joined in the march. It was also decided after a discussion with the administration that a team will submit deputation in the secretariat. But as the march proceeded, huge number of police moved forward and all of a sudden began to attack the rally. The marchers stood their ground as police began merciless lathicharge, injuring large number of rallyists. Frontline leadership of 12 organisations were injured in the brutal attack. SFI state secretary Srijan Bhattacharya suffered injuries in head and later had to undergo stitches. DYFI state president Meenakshi Mukherjee was brutally attacked by male police personnel. DYFI state secretary Sayandip Mitra along with more than 150 activists suffered injuries. 62 of them had to be hospitalised, some were left unconscious in the baton charge.
But it was an afternoon of resistance. Thousands of marchers fought pitched battles, unarmed, but resilient with courage for more than two hours. Apart from batons, steel barricades, RAF battalions, police charged water cannons and massive tear gas shells. Police also threw stones and bricks from roofs of multi-storied buildings on the road. TMC cadres joined police and even was caught red handed. The brutal police chased the activists in alleys and beat them up. On the other hand, the marchers pushed forward and forced police to retreat in points.
Altogether, 22 SFI-DYFI activists were arrested including two girls. They were kept in custody for three days and were released on bail on the 16th. Large number of students and youth gathered around the court and joyous mood was witnessed after their release.
Left Front called for immediate protests throughout the state. Protest marches were organised in all districts. Students and youth organised Black Day on September 14 and a rally was held in Kolkata.
CPI(M) Polit Bureau member and former general secretary of DYFI, Md Salim, strongly condemned the police attack and said Mamata Banerjee government was playing with fire. They would not be able to stem the protests through barbarity.