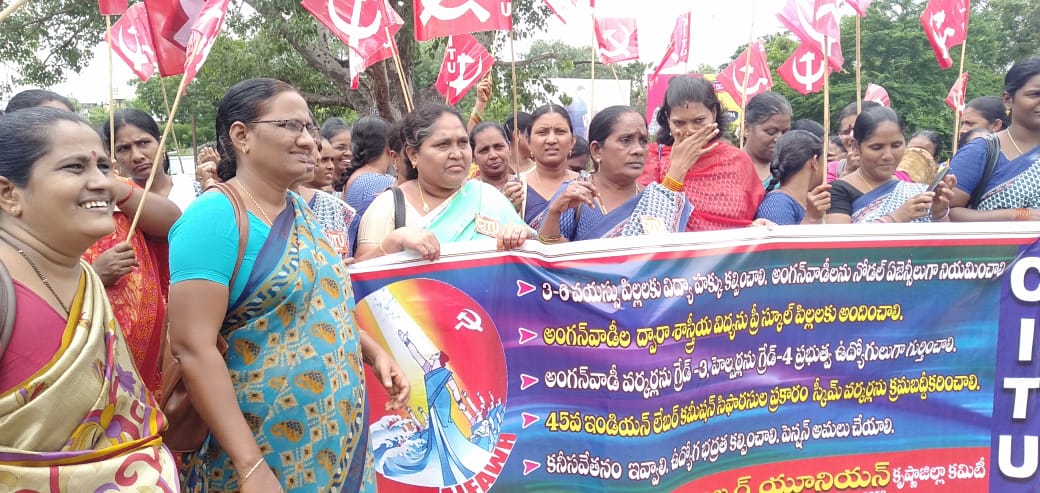 Anganwadi Workers Protest Action
LAKHS of workers in states of Assam, Andhra Pradesh, Bihar, Gujarat, Haryana, Himachal Pradesh, Jharkhand, Kerala, Karnataka, Madhya Pradesh, Maharashtra, Punjab, Pondicherry, Rajasthan, Tamil Nadu, Uttar Pradesh, Uttarakhand and West Bengal held demonstrations on September 5 at district and block level and gave memorandum to the minister for WCD, government of India. In Haryana and Jharkhand, the anganwadi workers and helpers were on strike against the state governments.
All India Federation of Anganwadi Workers and Helpers had given this call to press for the long pending demands of the more than 26 lakh anganwadi workers and helpers in the country and against the government policy of opening up of unscientific pre-schools throughout the country. AIFAWH has also raised the issue of the labour law changes by the Modi government in this protest.
The demands are as follows
· Institutionalisation of ICDS
· Right to education for 3-6 years old children
· Scientific pre-school education only through anganwadis for the future of the children
· Regulate/ban unscientific pre-schools or convert them into anganwadis
· Regularise anganwadi workers and helpers and all scheme workers as employees; pay minimum wages and pension
· Withdraw the pro-employer change in the labour laws
AIFAWH's protest action was synchronised with the AIKS-CITU call for action against the anti-labour policies and privatisation spree by the Modi government on September 5, 2019, the anniversary of the Mazdoor-Kisan Sangharsh rally last year.
This protest was also in coordination with the protests by ASHA and Mid Day Meal workers held on September 3-4 respectively throughout the country on the same and similar demands which were called by the All India Coordination Committee of ASHA workers and Mid Day Meal Workers Federation of India.