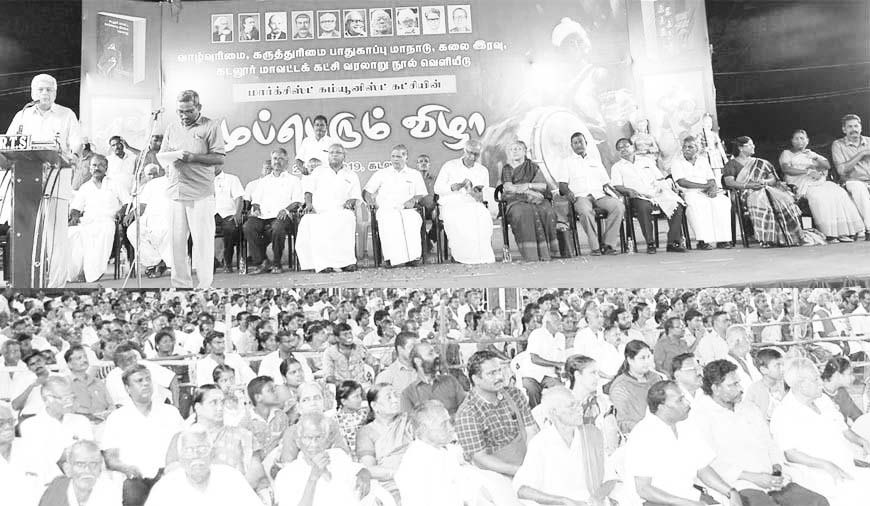 TAMIL NADU: Public will Oppose Tyrannical Modi Govt
VB Ganesan
MODI government, elected the second time, has become tyrannical and started demolishing the foundation of the Indian Constitution in a pre-designed manner, said Polit Bureau member Prakash Karat at a public meeting held in Cuddalore, Tamil Nadu on August 24. The country's economy is in doldrums and the government has failed to provide a tangible solution to the crisis. It is imperative that the increase of such onslaughts will cause the public to explode against the government and people will surely descend on streets against this tyranny, he said.
The Cuddalore district committee of CPI(M) has organised a festival on the theme – right to live and right to expression. A cultural night was also organised in which a book chronicling the history of the Party in Cuddalore district was released by Karat. On the occasion, he spoke about the heroic history of the communist movement during the freedom struggle and the renegade history of the Rashtriya Swayamsevak Sangh (RSS).
Karat recalled that stalwarts like AK Gopalan were lodged in Cuddalore prison during the freedom struggle and two communist prisoners from Andhra Pradesh were shot down in a firing at Cuddalore jail. He added that during the freedom struggle, right from the Andaman Cellular Jail, most jails in the country were filled with communists. When the CPI(M) was formed in 1964, the first Polit Bureau members who were affectionately called the 'Navaratna' had the distinction of serving a total of 34 years in jails, both before and after the independence. "Does a single RSS or BJP leader have such an illustrious history?" he challenged.
Karat said that the Modi government, within a period of three months of getting elected the second time, is out to destroy the very foundation of the constitution of our country. On one side the right to express opinion and fundamental rights enshrined in the constitution are being denied and on the other side, the sources of livelihood of the people of this country are being destroyed, he added.
Annulling Article 370 of Jammu and Kashmir and destroying the state beyond recognition, branding anyone who is expressing a contrary opinion as anti-national, and continuous atrocities unleashed upon Muslims and Dalits including mob-lynchings contravene the federal philosophy and civic rights of the constitution, Karat said. Similarly, the Modi government has pushed the workers of Ordnance Factory Board and Railways to fight for their basic livelihood.
Karat assured the gathering that as done by the communists during the freedom struggle, the CPI(M) will take forward spontaneous movement of the people by uniting all the secular and democratic forces in the country.
G Ramakrishnan, Polit Bureau member, K Balakrishnan, CPI(M) state secretary, U Vasuki, Central Committee member and other senior leaders of the Party also spoke on this occasion.