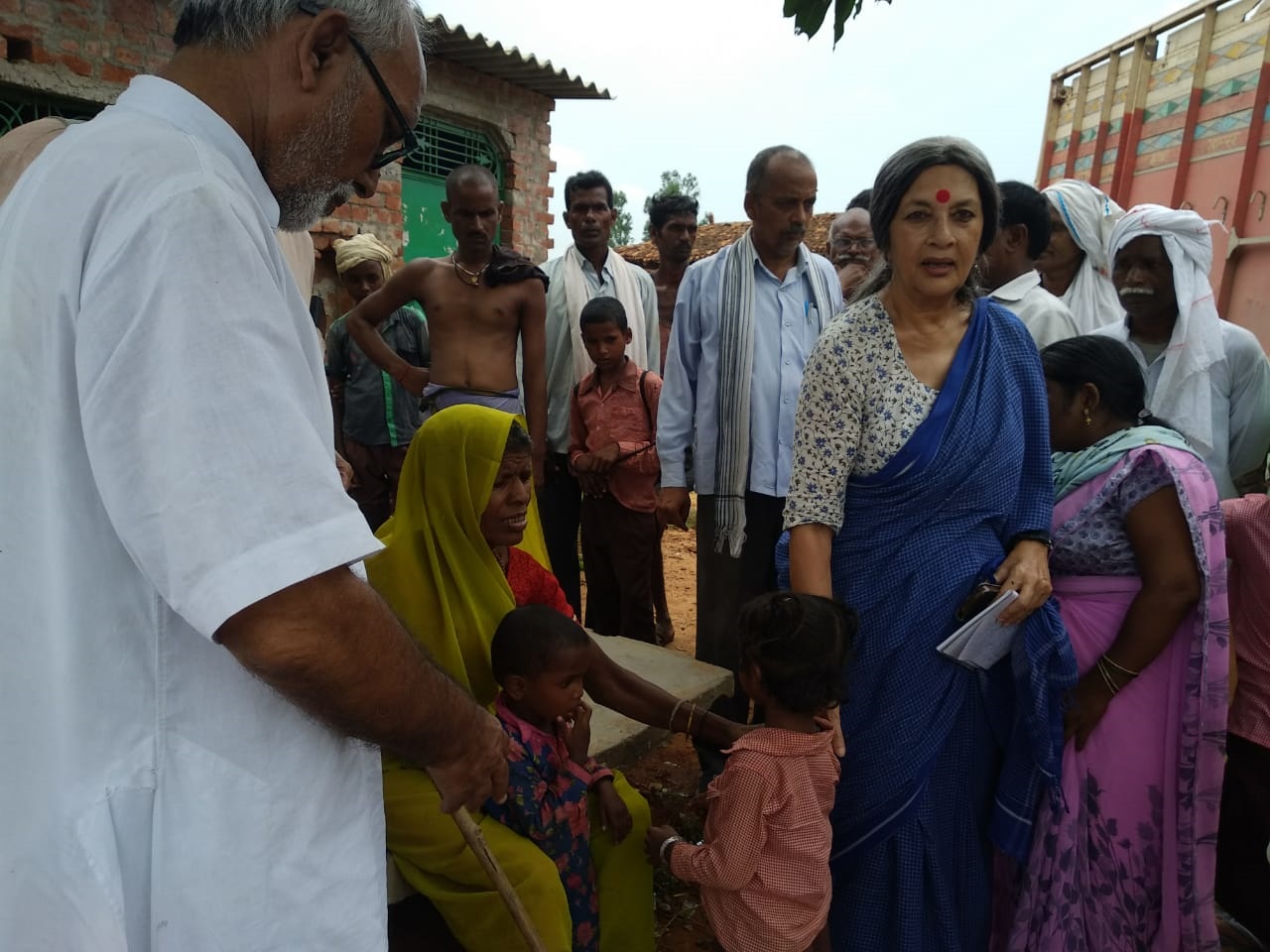 Brutal Attacks and Brave Resistance
Subhashini Ali
A WIDE swathe of rocky hills and forests stretches from Mirzapur to Sonbhadra in Uttar Pradesh, home to various tribal groups – Gonds, Kols and Bhils. The area is rich in minerals and water-resources and has seen the establishment of cement factories, Hindalco, large power plants, the Rihand and Kemur dams at the cost of the poor and their land. Promises of compensation and jobs never materialised.
The attacks are unrelenting. Powerful politicians, bureaucrats, babas and strongmen regularly occupy their land forcibly. Every year sees the death and maiming of a few poor people. These deaths go largely unnoticed except by their communities and those who are involved in their struggles.
What happened on July 17, 2019, however, was so brutal, so brazen and so bloody that it created a storm of protest. In broad daylight, 32 tractor-trolley loads of armed goons accompanied the pradhan of the area to Umbha village where they tried forcibly to occupy land that was being tilled by dozens of Gond tribals for more than five decades. The pradhan, Yagdutt, fraudulently claimed that, of the 600 bighas being tilled by the tribals, he had bought 112 bighas from the society that claimed ownership of the land. He had tried to unsuccessfully occupy the land in February also and this time he had come with a huge contingent of goons.
Gond men and women were working on the land. Some of them were resting under a large jamun tree to escape the blistering heat. They saw the trolleys in the distance and contacted the police for protection but it was not forthcoming. In a few moments, bullets rained down on them. Ten people, including three women, died on the spot, many more were wounded.
The incident elicited horror and protest. The area was placed under curfew but CPI(M) state secretary, Hiralal, along with local comrades managed to reach the village and meet the affected people and, on August 6 , a central delegation of the Party comprising Brinda Karat and Subhashini Ali, Polit Bureau members, Hiralal and several CPI(M) leaders from Mirzapur and Sonbhadra visited Umbha.
We met many relatives of those who had been killed and maimed and also several who had suffered injuries but had been discharged from the hospital. We were told that the dependents of all those killed have received compensation of Rs 20 lakhs from the state government and the injured also have received medical and monetary help. Also, they continued with the tilling of their land.
In the village, we met Sita, an elderly widow who could hardly walk because she had been shot in the foot. She lost one of her sons, Ram Sunder, and one of her daughters-in-law, Saraswati, on that fateful day.
Most of the villagers were working on the land. When we went there to meet them, we saw the jamun tree under which many of them had been sitting when they were attacked. A branch of the tree, hit by bullets was still lying on the ground. Next to the tree was a small brick embankment (puliya), pock-marked by bullets. All ten people killed had died here. Rajinder, son of Ram Singh, was shot in the head. His grandmother, Kerwa, was also shot. We met Mohan whose brother, Jawahar, had also been killed.
A little distance from the tree, women were working in the flooded fields, transplanting paddy seedlings. This is what they had been doing on the 17th also when the murderous gangs arrived. We spoke to them and they told us that they had rushed to confront the goons. They had tried to stop them and had faced bullets and lathis with great courage. One of them, Krishnavati, told us that her sister-in-law, Kamlavati had also been wounded.
The stoic courage displayed by all whom we met was amazing. Their determination to protect their land, even at the cost of their lives, was unshaken. They have worked for years to make this land extremely fertile, yielding two crops every year. They have toiled to build homes, look after their families and educate their children. They have been paying Rs 3000 a bigha every year to the Society that claimed to own the land they were tilling.
We talked to them about what they wanted from the government. A major problem that they face is, despite the fact that they are recognised as Gond tribals, most of them have not been able to access tribal caste certificates. There is only a primary school in the village, so many children do not study beyond the fifth class. The government has promised to build a secondary school for them and they are insistent that it should be built in their village and not in the village where the pradhan lives. The village does not have a ration shop and they are not being given Antyodaya ration which they are entitled to. Most importantly, they have not yet been given pattas to the land they are tilling. It is the pattas which will protect their rights and also free them from the huge burden of the payments they have been making to the Society for years. We promised them that we would take up these demands with the state government and we have already sent a letter to the CM.
From the village, we came to Madiyaun Block (Mirzapur) where hundreds of tribals, dalits and poor peasant families had come from villages as far off as Chandauli district, carrying red flags in their hands. The public meeting was addressed by Kisan Sabha and CPI(M) leaders. Ramadhar, CPI(M) leader of so many land struggles in the area who had been brutally murdered by landlords two decades ago, had not only helped poor, landless people to occupy surplus land but had also taught them to fly red flags from the roofs of their huts. Even after his martyrdom, the flags and the land are still in the possession of those who had fought with him.
Brinda Karat and Hiralal assured those who had come with so many stories of oppression and injustice, that the CPI(M) was determined to once again organise the poor against eviction and violent attacks. They appealed for unity and for strengthening of organisations of labourers and peasants so that their rights could be ensured and their struggles taken forward.