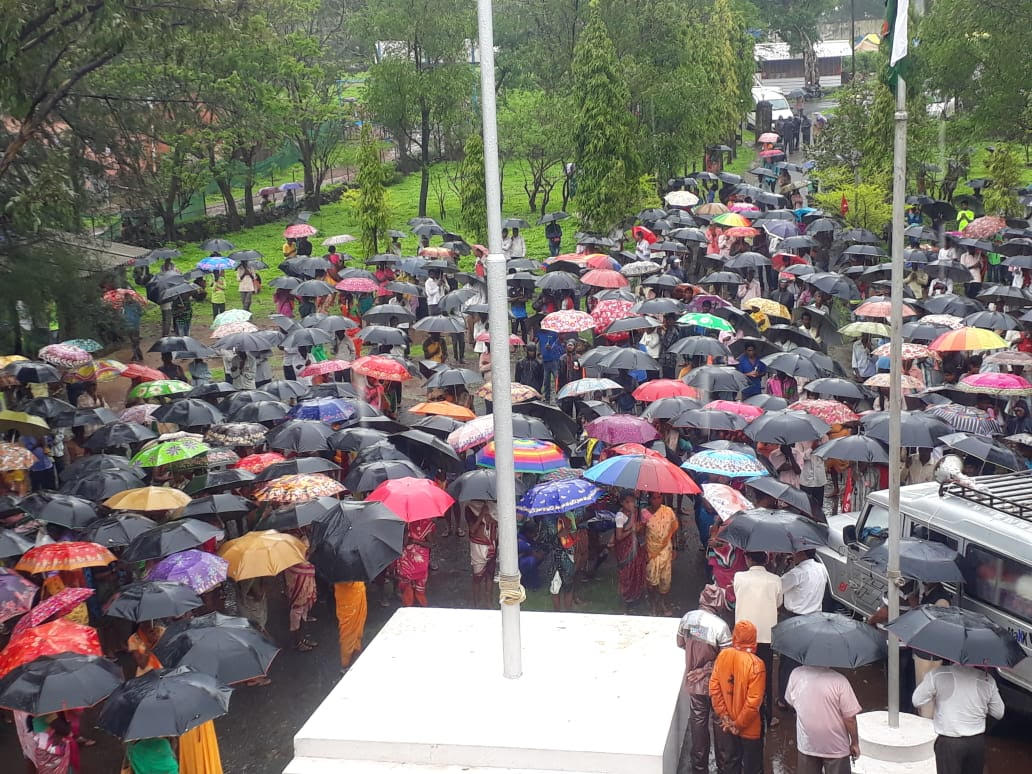 AIKS Rally Flays Forest Dept Attacks on Adivasis
Kisan Gujar
ON July 5, 2019, a large and angry rally of thousands of adivasi peasants led by the All India Kisan Sabha (AIKS) marched to the Additional Collector's Office at Jawhar in Palghar district of Maharashtra. Despite torrential rains, they laid siege to the office for four hours, with umbrellas in hand.
The peasants had come to denounce the forest department officials who had demolished some houses and had dug holes in the forest lands that had been cultivated by adivasis for generations and for which claims under the Forest Rights Act (FRA) were pending.
The background to this latest attack by the forest department was the impending hearing before the Supreme Court on the petition challenging the Forest Rights Act (FRA) and the condemnable move by the BJP central government to push draconian amendments to the Indian Forests Act, 1927.
Leaders and activists of other mass organisations like AIDWA, DYFI, CITU and SFI from eight tehsils of Palghar and Thane districts – Jawhar, Mokhada, Vikramgad, Wada, Palghar, Dahanu, Talasari and Shahapur – also took part in this action. Tribal women participated in the rally in large numbers.
The four hour long gherao was lifted in the evening only after the tahsildar himself came before the rallyists with a written assurance to the AIKS leadership that all such depredations by the forest department would be stopped forthwith.
This action was led by AIKS national president Ashok Dhawale, state president Kisan Gujar, vice presidents Barkya Mangat and Ratan Budhar, joint secretary Radka Kalangda, state council members Raja Gahala, Edward Vartha, Yashwant Ghatal, Kiran Gahala, Sunil Surve, Krishna Bhawar, Chandrakant Ghorkhana, Chandrakant Vartha and Sadashiv Sable, CITU state joint secretary Vinod Nikole and district joint secretary Laxman Dombre, DYFI state president Sunil Dhanwa and joint secretary Ramdas Sutar, AIDWA state vice president Lahani Dauda, general secretary Prachi Hatiwlekar, joint secretary Sunita Shingda, SFI state joint secretary Vilas Bhuyal and others.
This action was followed by a district-wide CPI(M) workshop at Jawhar to prepare for the coming state assembly elections due in October 2019. The workshop which continued till night, took several important decisions.
An AIKS delegation met the collector of Palghar district on July 8 to discuss this and other matters concerning the implementation of the FRA, and other burning issues of the people like forced land acquisition for the proposed bullet train and expressway, PDS, old age pensions and so on.