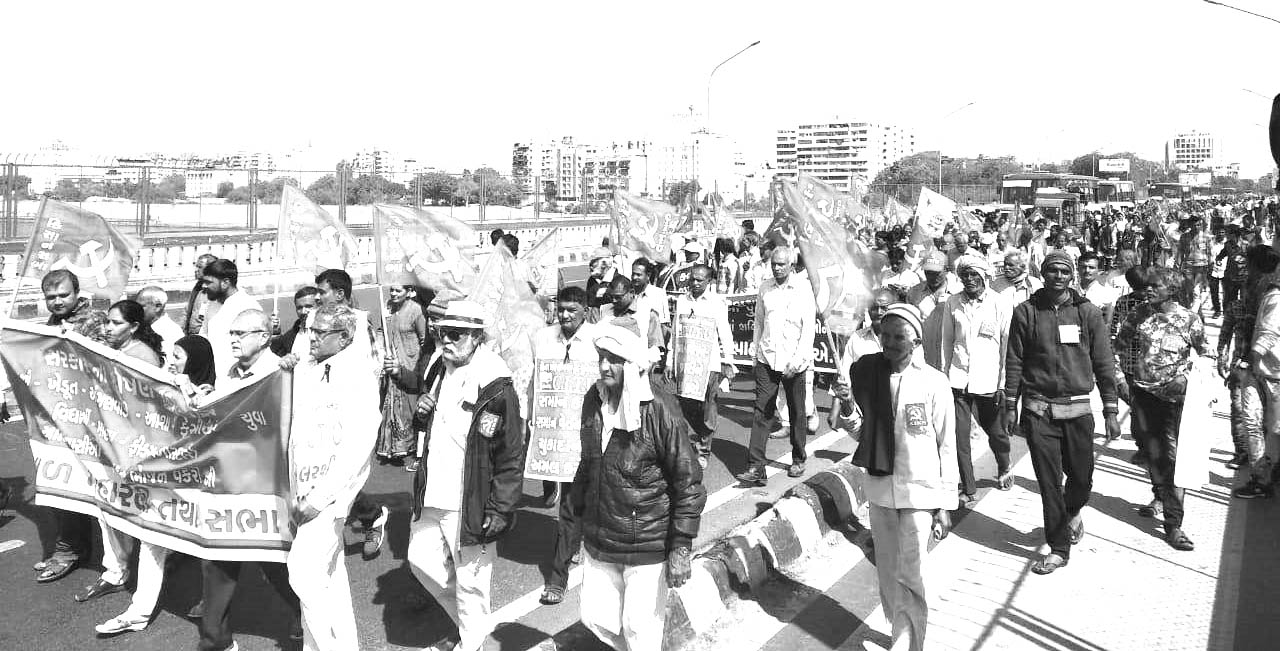 Workers, Peasants Rally against BJP Govt
Arun Mehta
Anchor AFTER many decades, Ahmedabad witnessed a three kilometre-long, 10,000-strong huge rally carrying red flags on February 17. The rally was organised by CITU, AIKS, Gujarat Anganwadi Karmachari Sangathan, Gujarat Asha-Facilitator Health Workers Union, AIDWA, SFI, DYFI and AARM. Workers, peasants, anganwadi workers and helpers, Asha workers-facilitators, women, youth, students and adivasis from 22 out of the 33 districts of Gujarat participated in the rally which took off from Sardar Garden near Nehru bridge.
The rally began by paying homage to the 44 martyrs of CRPF jawans killed recently in Pulwama through a terrorist attack. AIKS president Ashok Dhawale, CITU secretary A R Sindhu and Asha workers national leader Surekha Rani led the rally.
The rally, with a large number of flags, placards and banners, painted the city red, halting the traffic en route. It culminated in a public meeting at the well-known Sabarmati river front ground in Ahmedabad. In spite of rumours spread all over Gujarat about riots and curfew at Ahmedabad and a bandh observed the previous day on February 16 to condemn the Pulwama attack, more than 10,000 people participated. Hence this rally became very historic for Gujarat, being one of the largest such rallies in the city in recent times. All newspapers and electronic media gave it good publicity. The largest participation was of anganwadi workers and helpers, Asha workers and Asha facilitators.
The public meeting was presided over by AIKS leader Pragjibhai Bhambhi. CITU state general secretary Arun Mehta delivered the welcome speech, placed the background of this rally and lashed out at the anti-working class, anti-farmer, anti-people policies of the Gujarat state government and also the central government.
AIKS president Ashok Dhawale warmly congratulated all mass organisations for holding this impressive statewide rally and public meeting in Gujarat in spite of adverse conditions. Paying homage to the Pulwama martyrs, he condemned the attacks on innocent Kashmiri citizens in some parts of the country. He also questioned the grave security lapses that led to this massacre. He alleged that the Modi regime had betrayed every single promise that it had given to all sections of the people during the 2014 elections – loan waiver and fair prices for farmers, permanent, regular jobs and minimum wage to scheme workers and to the working class in general, bringing down price-rise, two crore jobs per year to youth and right to education for students.
On the contrary, demonetisation and GST had broken the back of the farmers, unorganised workers and small businessmen. It was only the huge corporate houses – both Indian and foreign – that were flourishing as a result of the BJP government's policies over the last five years, because it is precisely to them that the Modi-Shah duo would turn to finance the coming general elections, Dhawale said.
Knowing that the ground is slipping below their feet, as seen from the BJP defeat in the recent assembly elections in three states, the RSS-BJP is now playing its pet communal and casteist cards. Dhawale called for widening and intensifying the peoples' struggles and for making all-out efforts to defeat the BJP in the coming elections in order to ensure a change of policies.
CITU secretary and general secretary of All India Federation of Anganwadi Workers and Helpers, A R Sindhu criticised the anti-working class policies of the central government. She said that the central government has been giving crores of rupees concessions to Adani and Ambani and the corporate sector but is not ready to give funds for malnourished children and women. It is repeatedly cheating Anganwadi and Asha workers.
She said that during the last budget the government did not give sufficient funds for even declared increase in wages of anganwadi workers. Increased wages require allocation of Rs 4,200 crore for one year but budget allocation is only Rs 1,900 crore. "It did not take any action on the recommendation of 42nd labour conference to regularise scheme workers. Nothing is being done to ensure minimum wage of Rs 18,000 to all workers and minimum pension of Rs 6,000," Sindhu said. She declared that the working class will definitely teach a lesson to the Modi-led BJP in the coming Lok Sabha election.
Surekha Rani narrated the inspiring experience of the victorious struggles of the Haryana Asha movement and appealed to all Asha workers to build a strong organisation in Gujarat.
The public meeting was addressed by Anganwadi Karmchari Sangathan general secretary Kailas Rohit, CITU secretary Satish Parmar, vice president Ramchandran, AIKS state president Dahyabhai Gajera, Asha Workers Union secretary Ashok Sompura, joint secretary Pushpa Parmar, SFI secretary Nitish Mohan, DYFI president Altaf Syed and Yogendrasinh Gohil, AIDWA secretary Hansa Bariya and AARM secretary HasmukhVarli.
Concluding the public meeting, Arun Mehta said that the Gujarat state government, in the name of development and Vibrant Gujarat, is throwing labour laws in the dustbin. Wages of workers and scheme workers are very low compared to many other states. He declared the future course of action. There will be burning of the state budget all over the state and dharna programme at Gandhinagar before the state assembly. Pragjibhai Bhambhi congratulated all participants and called to make a success of the action programmes. AIKS state secretary Purushottam Parmar gave the vote of thanks.
The rallying workers demanded Rs 18,000 minimum wage and Rs 6,000 pension to all workers, loan waiver of farmers and Rs 5,000 monthly pension to poor farmers and agricultural workers, to make permanent all scheme workers as per the 42nd labour conference recommendation and pay Rs 1,500 increase of wages of anganwadi workers and helpers announced by the prime minister in September 2018.
The also demanded an increase in retirement age to 60, to save Integrated Child Development Services (ICDS) and National Health Mission (NHM) nutrition, substantial increase in wages to anganwadi and Asha workers, pay wage increase immediately to facilitators as per written promise given by health minister and implementation of equal work-equal wage judgement of the Supreme court.
The demanded removal of fixed term, contract and outsourcing system in all employment, to stop atrocities on women particularly dalit women, respectable jobs to unemployed youth or pay them Rs 8,000 unemployment allowance, to stop privatisation of education at all levels, stop acquisition of lands of farmers and adivasis for bullet train and real estate and lastly, to start MNREGA work with full allocation of funds.
These demands were presented to the chief minister and concerned ministers through demonstrations at district level and memoranda was submitted on December 26, 2018 and January 24.
More than 1,30,000 handbills were distributed, 6,000 posters were put up in districts, and district-level jatha programmes were carried out by all mass organisations. Several meetings at the anganwadi project and zonal level and Asha block and PHC level were held for preparation of this rally.