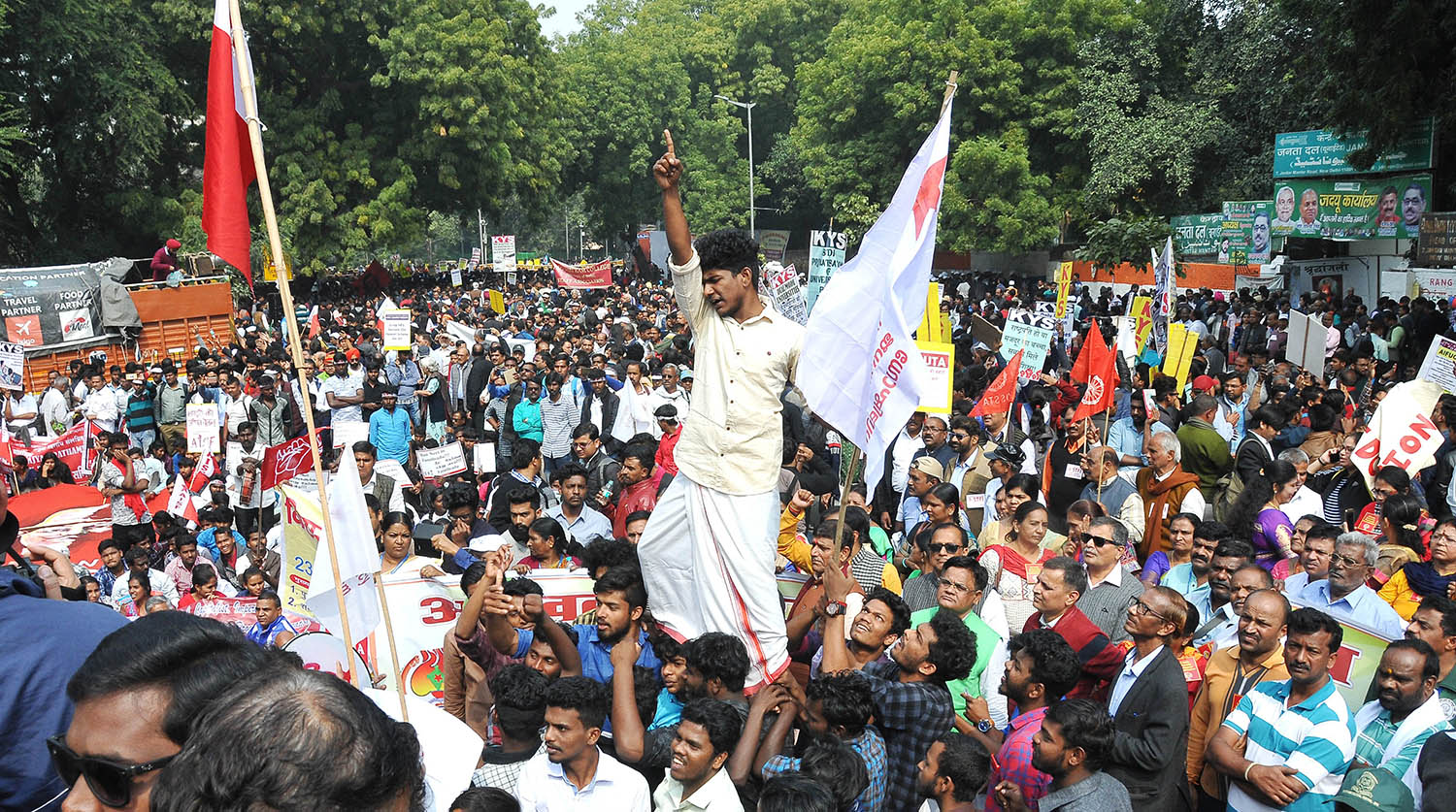 United March for Education
Mayukh Biswas
ON February 19, student organisations including SFI joined a protest action in the national capital that saw the participation of teachers and non-teaching staff. Thousands of students, teachers, non-teaching employees and parents from different states converged at Delhi on February 19 to march under the banner of the Joint Forum for Movement on Education (JFME) and demanded a reversal of the privatisation policies that have led to social exclusion and denial of rights. The JFME rally was held with the slogan of 'save education, save nation'.
It was organised through the joint initiative of the AIFUCTO, DUTA and FEDCUTA. National-level Secondary School Teachers' Association and all-India students' organisations like SFI, AISF, AIDSO and AISA also participated in the rally. Responding to the union government's failure to bring about a coherent national education policy and take steps to alleviate the present crisis in the public-funded education system, throngs of stakeholders from all levels of education marched from Mandi House to Jantar Mantar, wherein the rally culminated in a massive public meeting that was addressed by student leaders, eminent educationists, members of Parliament and leaders of all major national political parties including CPI(M) Polit Bureau member Nilotpal Basu.
JFME raised the issues like extension of the Right to Education to provide free and fully-funded education from KG to PG levels, strengthen government schools and implement Allahabad High Court judgement on government schools throughout the country, immediately stop closure/merger/amalgamation of government schools, restore constitutionally-mandated reservation in teaching jobs through an institution-wise roster, give preference to government school students in public-funded institutions of higher education and public sector jobs, make cogent policy to enable persons with disabilities and ensure equal opportunities for them at every level from KG to PG, as well as teaching jobs, full and assured public-funding of higher education, public-funding of education should be minimum 10 percent of GDP, abolish NEET and other centralised tests ,withdraw National Medical Council Bill- 2017, abolish new pension scheme and restore defined pension scheme for all employees, maintain healthy pupil-teacher ratios across institutions and levels of education, make permanent appointments against all substantive teaching and non-teaching posts. The JFME submitted the demands in the form of a comprehensive memorandum to the PMO. It will continue to mobilise the wider public through its campaign and, in the coming days, review and decide the future course of action.
A day earlier on February 18, around 10,000 students from across the nation stormed the streets of the country's capital on February 18, with the slogan 'save education, save nation, save democracy'. This has happened right after the capital witnessed massive marches by both farmers and workers from around the country in the last few months. This march, organised by five major left student organisations of the country, began from Ramlila Maidan and concluded at Parliament Street. Many leaders of the students including the general secretary of SFI Mayukh Biswas, SFI joint secretary Dipsita Dhar, AISF president Shuvam Banerjee, former JUNUSU president Kanhaiya Kumar, AISF secretary Vicky Mahesari, AIDSO secretary Ashok Mitra, PSU leader N M Safiullah ,AISB general secretary Soumyadip Sarkar spoke at the meeting organised at Parliament Street and SFI all India president VP Sanu presided the entire meeting.
The central demands raised included - a fully funded common education system, an increase in budget allocation for education, the implementation of the Bhagat Singh National Employment Guarantee Act (BNEGA), better implementation of existing reservations in both government and private institutions, immediate disbursement of scholarships, protection of the federal character of education, an end to its communalisation, and an end to gender based atrocities in education.
All sections, except the corporates, of Indian society have registered their anger and protest over the extreme ill-treatment they have received from the Narendra Modi government. This includes people cutting across categories such as farmers, workers, Dalits, religious minorities, teachers, the unemployed youth etc. Students have been one of the worst affected sections in the country under the NDA regime. In a shameless attempt to hide the failure of the government to provide jobs to the citizens, it was said in the budget speech that employment generation today "is not confined merely to government services or factories". There has been the most reckless shattering of dreams of millions of young people; deceit could not have been more criminal and crueller! It is this frustration and grudge of this young generation that is being misused by the 'gau-rakshaks' and 'jihadis'. But it is only damaging our nation, destroying the idea called India. Hence, SFI has given a slogan, "dharma ke nam pe mat todo-naujawanon ko rozgar se joro" (don't divide us in the name of religion/-unite the youth through employment)." In this period, there have been a series of attacks on the educational institutions and an attempt to weaken the Indian education system. The 'Manuwadi' BJP government is also trying to sabotage the very idea of education and its societal duty.
With this march, we can be sure that students too have registered their protest against all these attacks, by declaring their unflinching resolution to fight the Modi government's undemocratic anti-student policies with all their might. Intensive campaign was organised throughout the country highlighting the issues of education as part of this 'chalo Delhi' campaign. Street corner meetings, rallies, conventions, class campaigning and seminars were done in all states to reach all democratic and secular sections. Students also organised protest on various issues in different corners of our country.