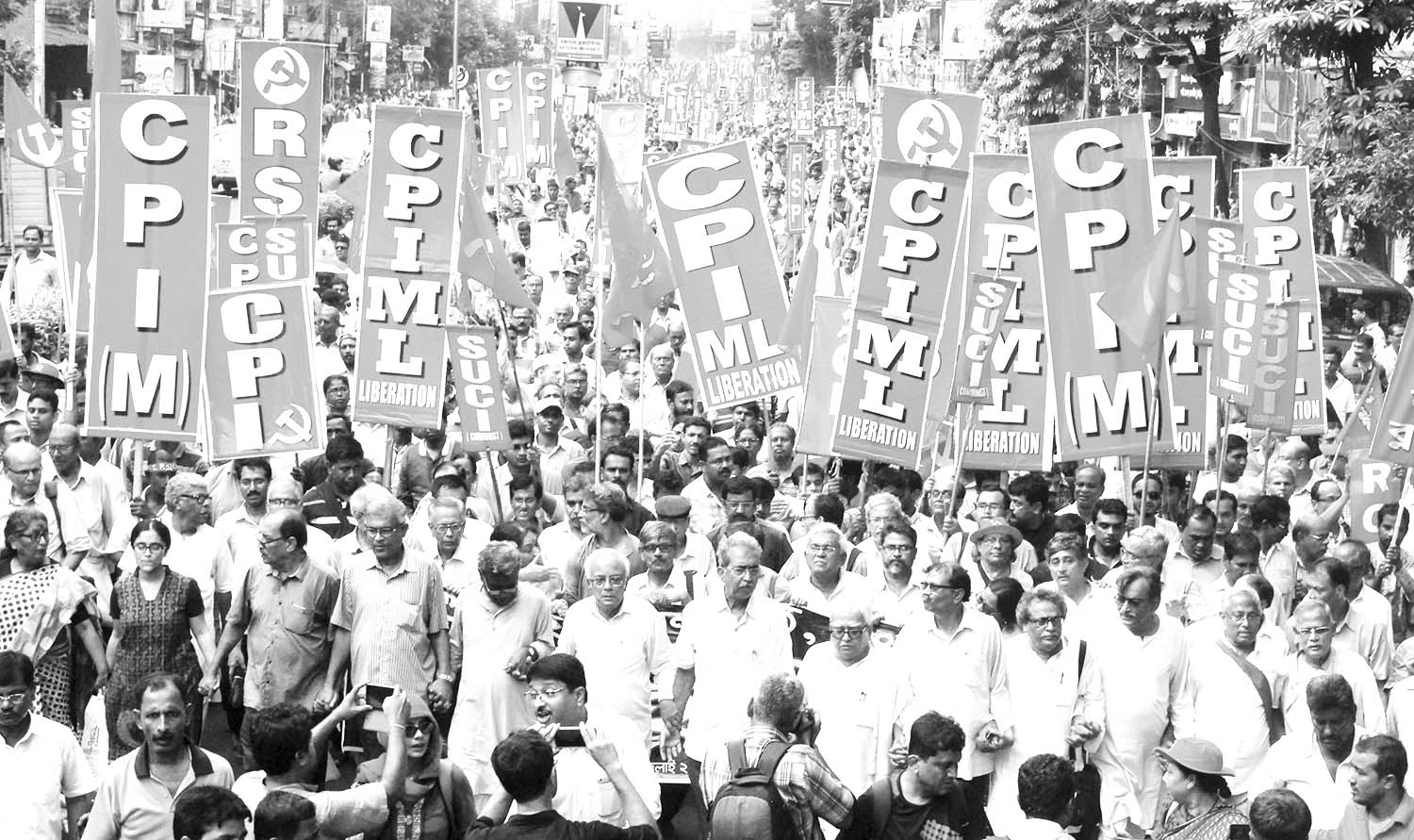 Harmony is the Conscience of Bengal Massive Left Rally Sends Message
From Our Special Correspondent
TENS of thousands of people marched in Kolkata on July 12 strongly denouncing communal forces and hailing the state's legacy of harmony. The huge rally once again expressed the determination to thwart the attempts of communal polarisation in West Bengal.
West Bengal has witnessed communal tension and polarisation, sporadic clashes in recent times. These incidents, a rarity for almost four decades, have haunted the atmosphere of the state. The most recent disturbances took place in some parts of North 24 Parganas, including Baduria, Basirhat. In the face of extreme provocation and inaction of state administration for at least three days, the people of those areas resisted efforts of communal conflagration unitedly. However, the entire state felt concerned.
CPI(M) and Left parties came into streets immediately, both in the affected areas and in other parts of the state. Rallies, street corner meetings were organised to maintain peace and harmony.
The rally on July 12 was organised by 20 political parties. Apart from Left Front constituents, CPI (ML-Liberation), SUCI (C), other Left parties, RJD, NCP, JD (U), WB Janata Dal participated in the rally. The procession, splattered with festoons and posters against communalism, started from Mahajati Sadan in North Kolkata, a heritage place from the time of national movement. The stream of humanity walked through Chittaranjan Avenue and Chowrangee to merge in Rani Rasmoni Avenue.
People from all walks of life participated in the rally. Thousands of people began to reach the starting point much before the schedule; suburban trains, metros and buses were full, indicating spontaneous urge among the people. Residents of Baduria, Basirhat also joined in. They carried posters raising questions about the deliberate inaction of the police and administration. Youth and students raised innovative slogans against the divisive forces. The participation of women was particularly notable. Apart from slogans against all shades of communal forces, the TMC government was castigated for the miserable failure to contain communal forces. The rally cautioned BJP- Sangh Parivar that Bengal would not be their easy prey.
After the rally, Surjyakanta Misra told media persons that the people of Bengal are facing twin dangers of the BJP and the TMC. The state administration failed to react because TMC is involved in the disturbances. Both the RSS and the fundamentalist forces have been nurtured under the TMC regime.