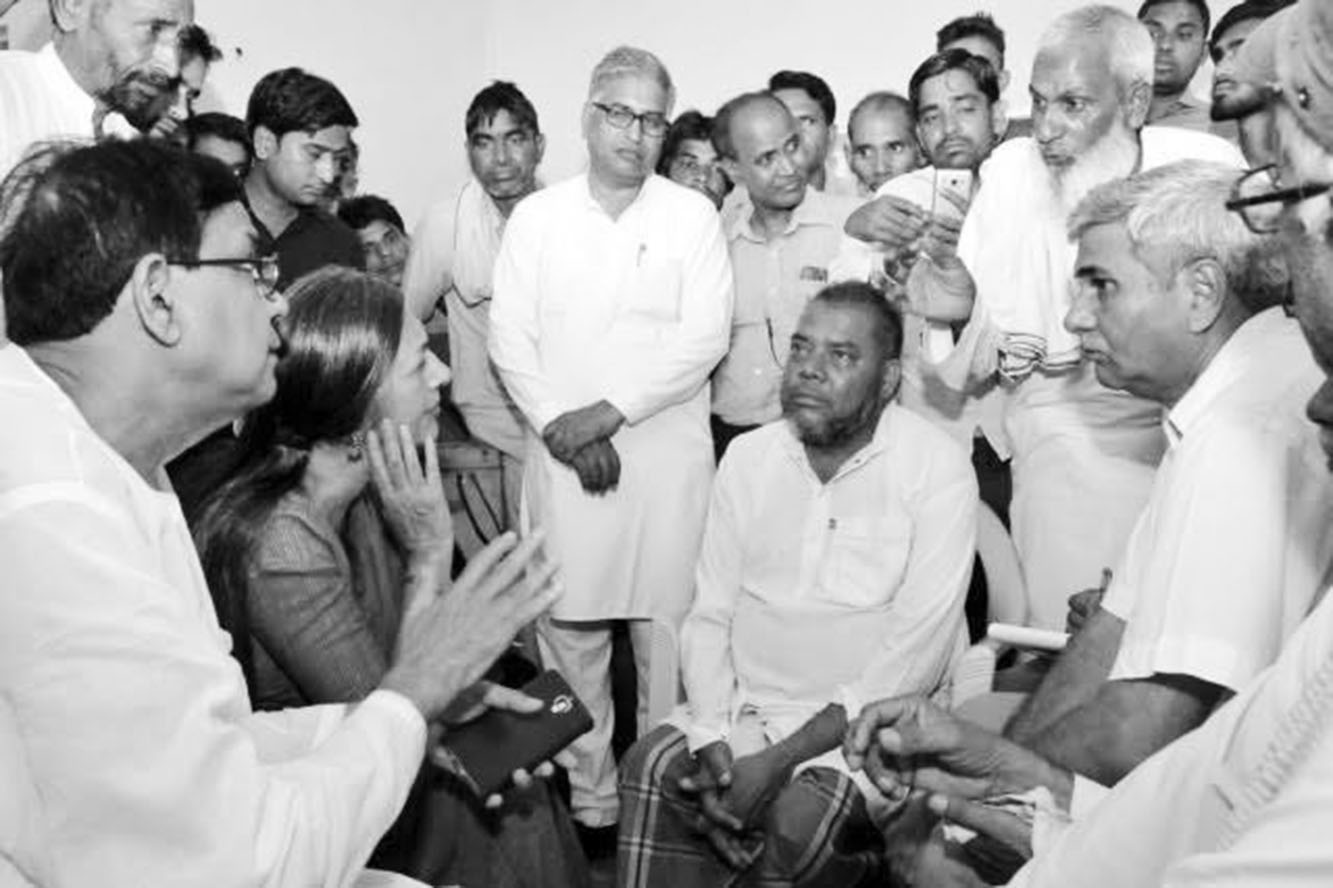 Lynching by a Communal Mob: CPI(M) Delegation Meets Victims Family Members
A CPI(M) delegation comprising Polit Bureau members Brinda Karat, Md Salim (MP) Surinder Malik (Haryana state secretary), Asha Sharma (Delhi state secretariat member), Satbir Singh and other local leaders went to the village of Khandavli in Haryana on June 24 and met the family members of Junaid, Shakir, Hashim who were lynched by a criminal communal mob on the Delhi-Mathura local train two days ago.
The delegation assured the grieving family, father Jalaluddin and mother Saira and others of their support and solidarity against the heinous crime committed by communally motivated criminals against their sons. The delegation condoled the death of 15-year old Junaid and expressed sorrow at the grievous injuries to Shakir and Hashim.
Saira, the mother, told the delegation that it was with a lot of sacrifice that she had brought up her sons and educated them. Junaid had just completed the course at the Madarsa in Surat, Gujarat and it was to celebrate that, that she had given him and his brothers 1500 rupees to buy new clothes. She wept when she said that he was on roza fast and therefore he had not had even a drop of water the day he was killed. She said my sons were rushing back to break their fast at home but " I could not even give him his last morsel."
The delegation learnt that not a single government or ruling party functionary has contacted the family or expressed sorrow at what has happened. The father and brothers have been called to the thana several times but till now only one criminal has been arrested.
The delegation was told that young men travelling on this train to and from Delhi with identifiable signs of being Muslims, such as the skull cap or beard are targeted for communal abuse by groups on the train.
Bhajanmandalis with battery operated mikes have converted many general compartments into exclusive religious zones and there are many aggressive and abusive comments made when Muslim men enter the compartments. The delegation was told that harassment has become a common experience and there is fear and apprehension when travelling. Several times complaints have been made to the police but they have been ignored.
This specific incident was motivated entirely by communal considerations. The question is how are armed men allowed onto trains. All the initial attackers were carrying big knives. They incited other passengers to join them in the lynching. Clearly, if such incidents can occur in a crowded train, it is because the perpetrators are confident of political support and patronage.
The CPI(M) holds that it is the sustained toxic propaganda of the Sangh Parivar against the minority communities which has led to such a situation where Muslims feel unsafe in public places and where such spaces have been communalised. This is the reality of the "sab ka saath, sab ka vikas" slogan.
The CPI(M) demands:
(1) immediate arrest of those guilty
(2) identification of the political connections of the criminals and appropriate action
(3) security on all the local trains travelling on this route
(4) compensation for the family and
(5) proper free treatment for Shakir and Hasheem.
The CPI(M) will organise protests against this and other incidents.