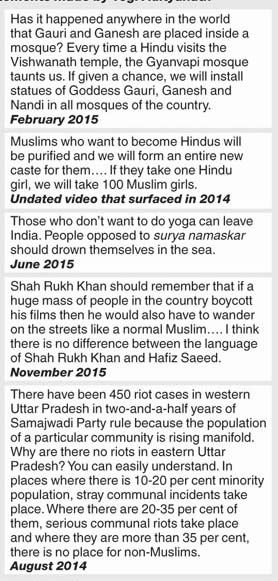 ON February 10, 1999, Yogi Adityanath and his armed supporters desecrated a graveyard in Muslim-dominated Panchrukhiya village in Maharajganj district of Uttar Pradesh. When the police acted swiftly, they fled and on the way, they fired at a group of Samajwadi Party workers who were demonstrating against the then BJP government in the state. In the attack, at least four persons were injured. One of them, Head Constable Satyaprakash Yadav, who was the personal security guard of the Samajwadi Party leader leading the demonstration, Talat Aziz, later succumbed to bullet injuries. A first information report filed by the police at the Kotwali thana in Maharajganj turned out to be the first in a series of such legal entries triggered by incidents involving Adityanath, directly or indirectly, in the years that followed.
The FIR in the Panchrukhiya case names Adityanath and "24 other identified persons" for attempt to murder, rioting, carrying deadly weapons, defiling a place of worship, trespassing on a Muslim graveyard, and promoting enmity between two religious groups. It was the first clear hint of the extent to which Adityanath was ready to go to manufacture a riot, and partly because the revelation came merely a year after he joined active politics, becoming a member of Parliament for the first time from the Gorakhpur seat in 1998.
Adityanath formed his anti-muslim outfit, the Hindu Yuva Vahini, in 2002, after which, the outburst of communal riots became unusually frequent in Gorakhpur and its neighbourhood. The region witnessed at least six major riots in the very first year since the group's formation – at Mohan Mundera village in Kushinagar district, Nathua village in Gorakhpur district, and Turkmanpur locality in Gorakhpur city in June, at Narkataha village in Maharajganj in August, and at Bhedahi village in Maharajganj, and the Dhanghata locality of Sant Kabirnagar in September. Most of these cases started off as criminal incidents that turned communal after Adityanath or other leaders of the Hindu Yuva Vahini jumped in.
In 2002, for instance, Adityanath and his followers arrived at Gorakhpur's Turkmanpur locality and escalated a squabble between a Hindu and Muslim over a minor quarrel into a full-blown communal confrontation in which stones were thrown, a street brawl erupted and the police were called in. In all, between 2002 and 2007, Gorakhpur and its neighbouring districts witnessed at least 22 major riots, most involving him or his henchmen.
Hindu-Muslim riots had erupted in and around Gorakhpur, caused primarily due to the communal activities of Adityanath and his group in the run-up to the Assembly elections in 2007. Two persons were killed, property worth crores was burnt, and the area remained under curfew for several days during that January-February period. Adityanath and over a dozen leaders of the Hindu Yuva Vahini were arrested while they were marching towards the troubled areas of Gorakhpur on January 28, 2007, a day after he made an inflammatory speech aimed at turning a small criminal incident into a communal riot. The arrest was timed so as to prevent the group from carrying out its threat of burning the tazia, that Muslim residents were to take out as part of a Muharram procession on January 29. Adityanath remained in lock-up till February 7, when he managed to get bail.
Many of these FIRs against Adityanath, are still being investigated by the Crime Branch-Crime Investigation Department, the investigation and intelligence wing of the state police. Most of the FIRs against him from that time are still alive.