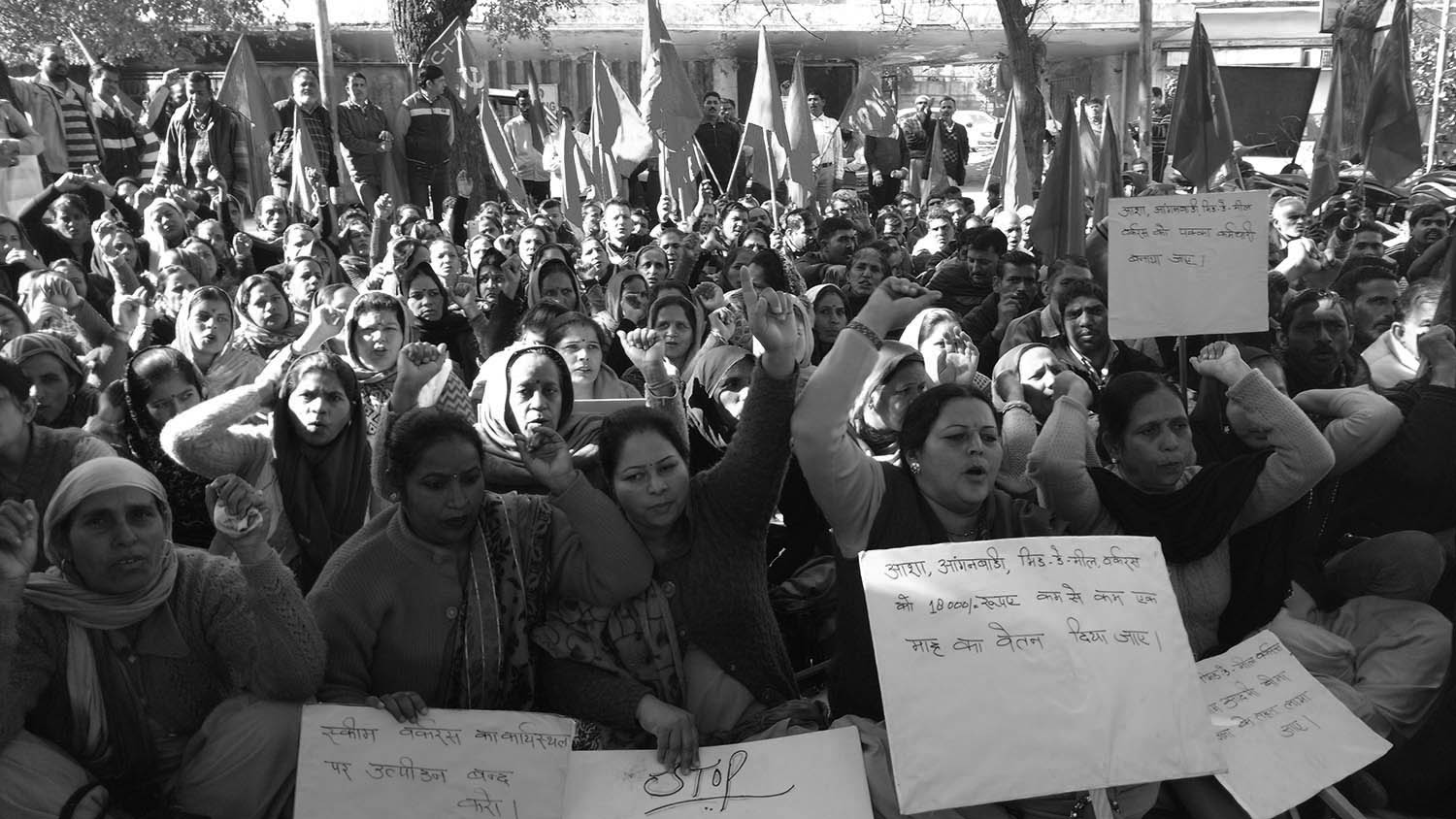 Scheme Workers Stage Protest in Jammu
Workers of various central government schemes including ASHA, Anganwadi and Mid-day Meal and those employed in contingency work staged a day-long protest in Jammu on January 20 in support of their long-pending demands. Hundreds of such workers from different districts of Jammu region participated in the protest. All workers holding red flags and placards in their hands raised slogans demanding minimum wage of Rs 18,000 per month and social security benefits. A rally started from the Press Club in Jammu and after passing through various areas culminated at Indira Chowk.

Addressing the gathering, CPI(M) MLA and CITU state president M Y Tarigami said that the recommendations of the 45TH Indian Labour Conference to regualrise all scheme workers, to pay them minimum wages and to provide them all social security benefits and pension have not been implemented by the government. The 46TH ILC again emphasised the need to implement these, but it has not been done. The common response the authorities give when they are pressured for implementation of the measures and for improvement in the working conditions of the scheme workers, is that the National Health Mission (NHM) will be discontinued in 2017, he said.

It is also a fact that the allocation in the central budget for the health sector has been decreasing for the past two years, and is only one per cent of the GDP whereas it should be increased to five per cent of the GDP as recommended by the World Health Organization. Tarigami said that ICDS is the only scheme to address the serious issues of child and maternal mortality and child malnutrition. At a time when India ranks 97 out of 118 in the world huger index, it is utmost important that we strengthen ICDS with proper financial allocation. ICDS could help arrest the malnutrition in the country. It is because of the services of 27 lakh anganwadi workers and helpers who are grassroots level functionaries delivering the services to nearly 10 crore children and two crore pregnant and lactating mothers. Despite 45TH Indian Labour conference recommendations, ICDS workers and helpers are getting remuneration far less than the minimum wages, they have no social security or pension, Tarigami said.

CITU leader Sham Parsad Kesar said that ASHAs play a crucial role enabling the poor population to access the public health services as well as imparting health education and primary health care to the rural and urban poor. Their work has helped significantly reduce infant mortality rate and maternal mortality rate, and increase institutional deliveries as well as prompt identification of infectious diseases. ASHAs work in arduous and often unsafe condition day and night, but they are not recognised or compensated adequately. In the past two years, their workload has increased considerably while the payment of meagre incentives they receive is being delayed, in some cases for up to six months.

Kesar urged upon the government to make NHM a permanent health care programme of the government, give a minimum wage of Rs 18,000 per month to ASHAs, appropriate training and their promotion as auxiliary nurse midwifery (ANM) on seniority basis, social security benefits like pension, gratuity, maternity benefits, no harassment of ASHAs at workplace, restroom for ASHAs at every health centre, and all facilities applicable to BPL card holders.

Addressing the gathering, state CITU general secretary Om Parkash said that there are more than 25 lakh Mid-day Meal workers who are working as cook to provide food to 12 crore children in government- and government-aided schools across the country, but they are paid a meager wages of Rs 1,000 per month. He said MDM workers should be given Rs 18,000 per month as wage and provided all social security benefits including pension. Others who spoke on this occasion were Om Parkash Khajuria, Rani Devi, Sunita Bhagat and Kanta Devi. The president and general secretary of Asha Workers' Union in their addresses urged the government to accede to all their genuine demands. They also warned the government that if their demands are not accepted, they will launch a state level struggle.