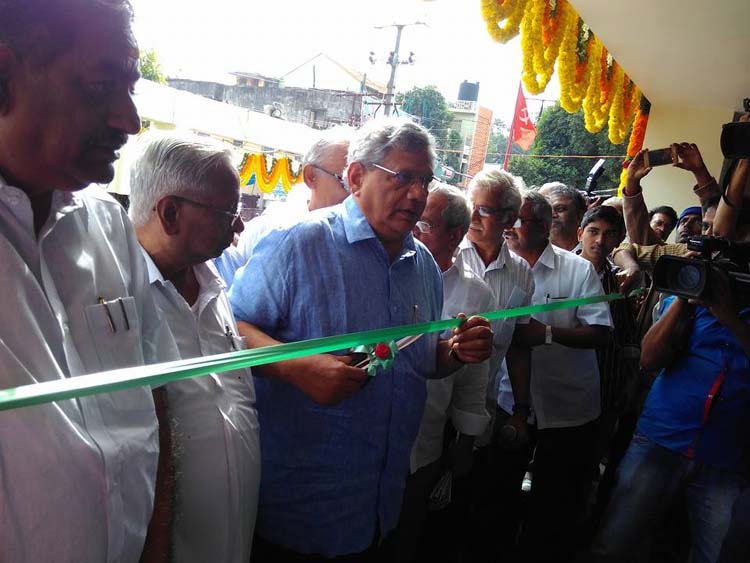 ANDHRA PRADESH: Makineni Basavapunnaiah Vignana Kendram Inaugurated in Vijayawada
P Satish
Makineni Basavapunnaiah Vignana Kendram, a centre created to build unity among people and to serve as a venue to promote art and culture, was inaugurated in Vijayawada on December 13. MBVK has facilities to serve as a cultural centre. It has a 650-seat capacity auditorium, which would be in reach of everyone. It will serve as a centre where discussions, seminars, debates on issues concerning public would be held. It also has a huge library.
CPM general secretary Sitaram Yechury inaugurated the Makineni Basavapunnaiah Vignana Kendram. After inaugurating the building, at a meeting held on the occasion, he recollected the services of the great leader to the people.
Speaking on the current situation in the country, he said demonetisation is an instrument to further pauperise the poor and benefit multi-national companies. The prime minister claimed that black money would end with the withdrawal of notes of higher denominations, whereas in reality corrupt practices grew by leaps and bounds after demonetisation of Rs 500 and Rs 1,000 notes.
He said the poor and the middle classes are endlessly waiting in queues outside banks and ATMs and on the contrary, newly printed banknotes are being directly sent to the rich. So many instances of confiscation of wads of new notes in the possession of the rich during raids are stark examples of this phenomenon. The whole exercise of demonetisation will immensely benefit the corporate entities and further pauperise the poor.
"Four motives cited by Prime Minister Narendra Modi to introduce demonetisation were eradication of black money, corruption, fake currency and to obstruct terror funding. None of these has been fulfilled even one month after the ban on high value notes," he said. The government demonetised Rs 15.44 lakh crore worth currency, but 82 percent of the amount was already deposited in banks by December 9, he said.
Yechury said each of these aims has proven to be wrong, both factually and by empirical evidence. The statement of Modi to root out black money by these measures is preposterous as black money is stashed in foreign banks, in the form of jewellery and in real estate. Instead of taking concrete actions to recover black money from these sources, the Modi government chose to attack all the people of this country by its mindless measure, he said.
The demonetisation has hit the economy badly and the country's GDP was likely to come down by three points as per international agencies. The people are saying that demonetisation announced by the prime minister was a pain caused by 'Tughlaqi Farman'.
Finding faults with Modi's recent mantra of a cashless economy, Yechury said the union government was making India a market for multinational companies involved in e-commerce. "How is it possible to turn the country cashless, when such transactions are mere two percent?" he questioned. Cash transactions account for 48 percent of total transactions in the US and 80 percent in China, whereas Modi is talking about 100 percent online transactions, which is divorced from reality. In the guise of online transactions, there is an overt attempt to favour multinational companies at the expense of small and retail traders.
It is crystal clear that the move was to benefit MNCs that are into credit/debit card sector and online payment firms like Paytm. Modi has now shifted the goalpost to digital payment, a word missing in his TV speech on November 8. "It makes no sense in a country like ours, unless the goal is to exclude the poor and the downtrodden from participating in India's economy," he said.
Yechury pointed out that about four lakh workers in cotton, leather and jewellery sectors have lost their employment after demonetisation and sales dipped by 40 percent in automobile sector. "The Modi government is creating illusions on demonetisation, while frustration is increasing among the people," he said.
He dismissed Modi's statement that he was not allowed to speak in parliament and reminded that the then Prime Minister Manmohan Singh was in parliament for about 20 hours when a discussion on the 2G scam was going on. "Modi did not come to parliament to participate in discussion on demonetisation, but he told people that he was not allowed to speak," Yechury said. While parliament is going on, Modi chose not to address there, whereas he spoke extensively outside parliament, this is unbecoming of a prime minister, he said.
Modi has reduced India as a junior partner to the US in defence and economic policies, and the recent defence cooperation agreement signed between America and India and the demonetisation exercise were parts of this process, he said.
The government did not reveal the content of the recent defence deal to the country and parliament and the defence pact would be dangerous to India, as our army would be part of NATO's activities in various countries despite the country not being the member of NATO. He demanded the government to introduce the deal in parliament and take its consent.
India's interests in the Indian Ocean region had now been equated with the US' interests and strategic objectives and the people must be wary of the right wing forces that were channelising and galvanising the public dissatisfaction to suit their agenda, he cautioned. The Left parties have to be vigilant of these attempts.
Trend across the globe -- be it Brexit or the victory of Donald Trump or Italy episode -- is that the right wing forces are gaining strength purely on public dissatisfaction over the existing system. In India too, we find similar conditions, he said. The central government had not just failed to boost the economy but had also allowed the secular fabric to be torn down by these forces, he said.
CPI(M) Polit Bureau member B V Raghavulu exuded confidence that the Makineni Basavapunnaiah Vignana Kendram will be focal point for all progressive activities in the days to come. CPI(M) Andhra Pradesh state secretary P Madhu hoped that this centre shall promote an alternative culture among the people which will be contrary to the prevailing retrograde culture being propagated by the ruling classes.